Peter Copping and Oscar de la Renta's Women
Society swans have been the lifeblood of Oscar de la Renta for decades. After a year and a half at its helm, Peter Copping reflects on the Ladies Who Lunch: "They're a dying breed, aren't they?"
---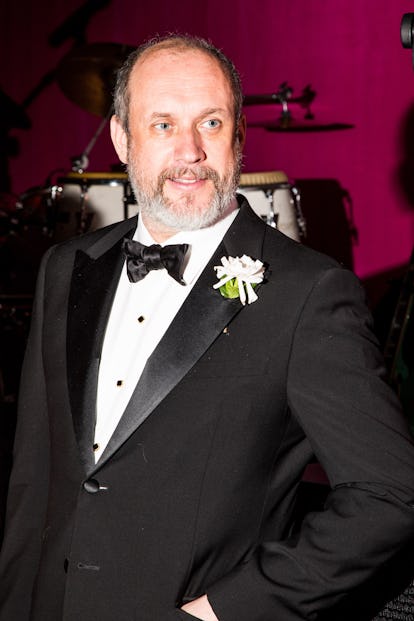 Photo by Jonathan Schoonover.
Cocktail hour was coming to a close at the New York Botanical Garden Conservatory Ball on a recent spring night, and no one could find Peter Copping. Publicists, photographers, reporters were all in a tizzy because the creative director for Oscar de la Renta and the unofficial man of the hour – the gala was sponsored by the label – was nowhere to be found.
Copping, it turned out, was already there. He had slipped in unnoticed and sidled up to a back corner of the bar with Cornelia Guest, daughter of the late society swan and Slim Aarons muse C.Z Guest. Only one photographer had snapped their picture as they glided through the crowd, stopping Guest to get a full-length of her dress, unaware of her companion's identity. When he realized his mistake, the photographer approached Copping, asking for another shot.
"You don't have to stalk him," Guest giggled, her hand on Copping's shoulder. "Because I'm going to stalk him." The designer blushed noticeably beneath the dimming twilight.
Copping is always slipping by under the radar. Unlike his peers – and his predecessor – who command devotion through the sheer force of their larger-than-life personalities, he prefers to recede into background and let his work do the talking for him. He doesn't avoid the spotlight, but he doesn't seek it either – you won't find him pole-vaulting between galas or making the rounds among the remaining Ladies Who Lunch. Against type, he's on Instagram, but you won't see many selfies there either; he prefers paintings by the Old Masters, or close-ups of his delicate creations and designs for de la Renta, like the resort dress recently worn at the Tony Awards by the Hamilton star Renée Elise Goldsberryt.
"In Paris, we probably went to two events like this a year," Copping told me, referring to himself and his partner, Rambert Riguad. "When you're outside of the States, in Europe, people don't live like this. Definitely not to the same extent. Here you could go to one of these things every night."
In New York City, in his new role, how many does he attend? "More than I would like," he said smiling, his British humor sneaking out. He shrugged, now more serious. "Probably one or two a month."
When Oscar de la Renta came to New York in 1963 to design for Elizabeth Arden, he quickly made a name for himself by catering to a group fondly referred to by Women's Wear Daily as The Ladies – The Ladies were Guest, Babe Paley, Gloria Guinness, Marella Agnelli and any number of other society swans who needed de la Renta's seductive designs to hopscotch between estates in Palm Beach, summers in Corsica, and black-tie galas in Manhattan. Eventually, these women became the lifeblood of his business, bewitched by a man who knew his way around a dance-floor as well as a sewing machine.
"Oscar knew my mom when I was in her stomach," said Guest, whose parents used to host de la Renta in their home in Roslyn, New York, when he was a recent arrival. "He really knew me all my life."
Even by the end of his life, de la Renta had cast under his spell a new generation of swans, though increasingly celebrities numbered among them. His last high-profile commission was the dress for Amal Clooney, for her wedding to George.
Copping, 49, enjoyed a much more slow-burn climb to prominence. Like any good English designer, he did his due diligence at Central Saint Martins and the Royal College of Art before eloping for Paris to work in the back-rooms of labels headed by colorful designers, everyone from Christian Lacroix to Marc Jacobs at Louis Vuitton, where Copping designed womenswear. When he landed the top job at Nina Ricci at 42, his task was to lead the venerable, 77-year-old label into the future with a steady hand, a skill that would prove useful when the then 82-year-old de la Renta personally blessed his appointment to the label he founded.
The stakes and the constituencies he would have to please were laid bare when he showed his first collection in February 2015 – in his front row were standard-bearers like Nancy Kissinger and Barbara Walters, but also a new generation represented by Taylor Swift and Karlie Kloss. By his spring 2016 collection, critics agreed he was finding his groove, with Vogue.com remarking "nothing feels as good as when a designer completely and utterly nails it."
"It's really been very nice. There have been a lot of women who have come and told me what they like; that's what's been nice about being here," he said, holding court in the back with Guest still as well-wishers stopped by. "The collection is large enough that there's something for everyone."
As dinner hour approached, the designer was surrounded by women wearing the delicate floral-accented gowns he'd created, all craning their necks like Pez dispensers to catch his eye. A year and a half into the job, many had not yet met him.
Arianna Rockefeller, whose grandparents were close with de la Renta, was full of praise: "I haven't met him yet, but I think he's doing an incredible job of carrying on the legacy. My grandmother is still close with Netta [Annette de la Renta], and wore Oscar a lot, so it feels fun being the next generation." "I'd love to meet him," gushed an unrestrained Gillian Miniter, one of the gala's chairs, who recalled de la Renta as the ultimate charmer, "Just a great, great man."
At his table, Copping remained reserved. He did not dance, not even when table-mates Rudy and Judith Giuliani took a spin around the dance floor after the plates were cleared. He did not circulate among the women in his dresses to flatter them, but instead warmly greeted them when they introduced themselves. He's by no means a recluse: He knows the Giuliani's by way of Palm Beach, he explained, and a number of other guests who were seated at the Oscar de la Renta table to our left ("Marjorie Gubelman, do you know her? She's quite fun, isn't she?" he said), but didn't seem overly concerned with mingling.
"Do you know who she is?" he asked me, pointing to a striking brunette in red making the rounds. It was Rockefeller. "Well, she looks lovely," he said. Something happened, though, when others made overtures to him, a warmth seemed to wash over his face. It was hard to identify in New York, in a jaded fashion industry, but it dawned on me that it was kindness.
Guest, a direct conduit of the late designer's social circle and one of Copping's newfound friends, recalled the first time she met the shy Englishman, at a dinner party organized by Alex Bolen, the label's chief executive officer, and his wife Eliza, de la Renta's stepdaughter.
"I was sitting on the floor playing with the dogs, and he came in and sat down on the floor with me and started playing with the dogs! He was so sweet, so happy to be on the floor with me."
Copping, too, was similarly effusive about Guest, but not particularly because of her lineage. In fact, what he finds appealing about her is that she's a part of that world but is "completely unpretentious." "When you think of her pedigree, sometimes people like that aren't always like that."
As the night was drawing to a close, I circled back to the subject of society swans, the women who have for so many years formed the backbone of the Oscar de la Renta business. We looked around the room and they were all over: philanthropic staple Alexandra Lebenthal, with a white flower in her hair, threw her head back in laughter as she grasped the hand of fellow chairman Deborah Royce. Gaia Matisse, the feral great-great granddaughter of Henri Matisse, was escorted around the room in an almost completely sheer gown, by a new breed of socialite, the so-called "Rich Kids of Instagram."
"They're kind of a dying breed, aren't they?" Copping said.