Design Daddy
Peter Marino is hell-bent on making his mark. Horacio Silva talks shop with the architect extraordinaire.
---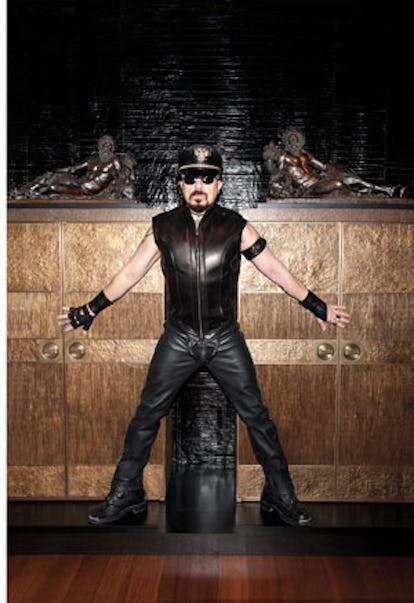 Peter Marino doesn't do anything halfway. When the assiduously leather-clad architect and king of retail was tapped by Chanel to build a tower in the Ginza area of T­okyo, Marino embedded the 10-story facade with 700,000 light-­emitting diodes to simulate a high-tech version of the label's ­signature tweed. For Louis Vuitton Island Maison—a flagship housed in a glass-and-steel pavilion on a resort in Singapore, which also boasts a hotel, a casino, a mall, and a skating rink—Marino topped off the project with an impossibly large Richard ­Deacon sculpture, whose ­suspension from the ceiling was ­arguably the most logic-defying gesture in the surreal undertaking.
So it should surprise no one that when Marino staged the first exhibition of his art, in mid-February, the event was far from low-key. "Pedro loves a big production," Marino said, referring to the six poured-bronze cabinets on show—and to himself in Spanish and in the third person, as is sometimes his wont. "Maybe it's because I work a lot with fashion houses who would love to create a zap gun that prevents knockoffs, but I always said that when I made art, it would be something that no one could ever copy."
It was the afternoon of Marino's vernissage at Chalet Mata, the five-story home in Gstaad, Switzerland, he designed for tycoon clients Maurice and Tracey Amon, and Marino was giving a tour. In a few hours he would become a solicitous host to guests and friends like Prince and Princess John Radziwill, ­Edgar and Danièle de Picciotto, and Baroness ­Hélène de ­Ludinghausen. But for the time being, he was happy to play the part of dutiful docent.
The six cabinets in the show, he explained, were inspired by the residential doors he'd had built over the past two ­decades— ­including one for the Amons—and each weighed several hundred pounds and took eight men eight weeks to complete.
Marino, hobbling from a recent skiing accident, was by his own admission a poster boy for pharmaceuticals. He was dressed in his signature bespoke biker gear, wearing one of several leather ­outfits created for the week's festivities by Joan ­Bergin, the ­costume designer known for her work on The ­Tudors. Yet his enthusiasm for the cabinets was anything but dulled. Marino, who claims to be "allergic to archi-speak," ­expounded on ­time-honored foundry techniques and industrial-strength bank-vault pivot hinges with a geeky zeal that ­rivaled a watch fanatic discussing the intricacies of Swiss haute horology. "It's the medication," he said, when it was pointed out that he typically avoids jargon. "I swear."
He also explained why he decided to show the cabinets alongside pieces from his personal art collection, including bronze antiquities and modern paintings and sculptures by Andy ­Warhol, Not Vital, Robert Mapplethorpe, Damien Hirst, and Claude Lalanne. "It's obviously relevant, now that there is such a blurring of fashion, architecture, and art," he said. "But let's face it, I am not going to go down in history as being supertrendy or as defining any one period."
The valentine to bronze—arguably the most intransigent of materials—and the ubiquitous presence of Claudio Conti, a filmmaker who had been tailing him for over a year and a half, ­suggested that "Pedro" is concerned about leaving his mark. "I have to admit," Marino offered, "that when they made the decision to blow out the mosaic floor I did at Barneys in Manhattan, which I thought would be around for hundreds of years, the temporal nature of what I do washed over me like a tsunami. I realized that I barely have a record of my work. So despite ­having said no to movie projects in the past, I agreed to do ­Claudio's—even though I am not sure who would want to see a movie about me."
Conti, whose access to Marino has included joining him on hard-hat tours in China with Bernard Arnault of LVMH and cross-country bike rides with Harley enthusiasts, said he was not concerned about his subject's appeal. "Peter is a compelling mix of talent, charm, and irreverence," Conti said. "Who else do you know who can get Jacqueline de Ribes on the back of a motorbike or who plays tennis in leather?"
The film, like the gleaming Marino bronzes, seems destined for the ages.
Photography assistant: Reto Schmid