Peter Philips Creates Five Sharp, Color-Saturated Beauty Looks
The creative and image director of Christian Dior Makeup goes back to his New Wave roots.
Photography by Willy Vanderperre
---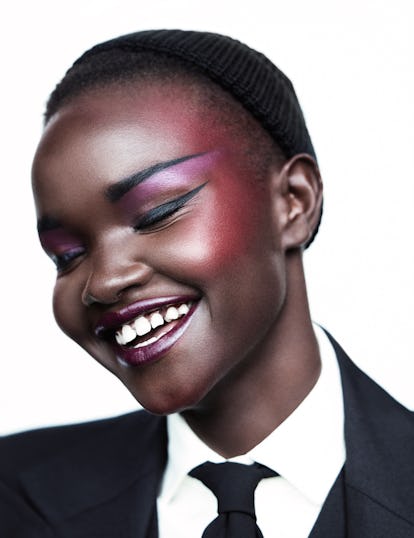 Photographed by Willy Vanderperre; Makeup by Peter Philips; Styled by Olivier Rizzo.
College reunions don't usually involve a cast of glamorous models and a slickly produced magazine shoot in a hangar-size photo studio in Paris. Unless, of course, your alma mater happens to be the Royal Academy of Fine Arts, in Antwerp, where the dream team behind this story—the photographer Willy Vanderperre, the stylist Olivier Rizzo, and the makeup artist Peter Philips—met and first collaborated in the early 1990s. "I remember when we started shooting together, it was just daylight and a reflector, and slowly the spotlight came in, and then studio lights," says Philips, who is the creative and image director for Christian Dior Makeup. "Now Willy is a lighting virtuoso. And Olivier, well, he's still a perfectionist."
The same might be said of Philips, who has spent the past two decades pushing beauty boundaries for the catwalks and campaigns of labels including Dior, Dries Van Noten, Chanel, and Alexander McQueen. The Antwerp native's passion for product development—he served as the global creative director of makeup at Chanel before heading to Dior in 2014—is proof that creativity and commerce can coexist. Over the years he has developed countless cult (read: constantly sold out or wait-listed) polishes and pigments.
It wasn't logistically easy reuniting the former classmates for a shoot during Paris haute couture week in January. Philips had to leave early for a show, and time was of the essence. "Luckily, we know each other so well we can practically read one another's minds," Philips says. "We don't need a big debate or three-hour briefing, just a few key words." In fact, for this shoot they needed only two: "new" and "wave." Specifically, a contemporary take on the graphic makeup looks of Steve Strange, the vocalist of the British band Visage, whose 1980 hit "Fade to Grey" practically defined the synth-pop genre.
Philips created a flawless, dewy canvas for his update to club-ready war paint using his new Dior Forever foundation. Taking a cue from the French photographer Guy Bourdin's work from the '70s, he extended blush to the models' chins, foreheads, hairlines, and jawlines. "Sometimes when the light is bright or there are shadows, your neck and jaw can look soft. This little trick helps define them," he says. For impactful eyes, Philips drew "gothic New Wave" shapes on lids, and applied intense color straight onto the models' skin, with no layering. "I just blended the edges where the colors meet. That's why they really pop." And in what might be the most New Wave–y gesture of all, Philips used tape and paper stencils to create angular shapes around the eyes.
The resulting looks feel totally of the moment, yet also reminiscent of Philips, Vanderperre, and Rizzo's creative origins. "The three of us went our own ways, but we still try to shoot together when our calendars allow us to," Philips says. "Naturally, our work has evolved, because beauty and fashion have evolved. But deep down we are still those boys from Antwerp going to raves. On set, we play the same music as on our low-budget shoots 25 years ago. We gossip and just have fun."