Som Time
Peter Som is ready for his close-up at Bill Blass, the legendary house where he started his career.
---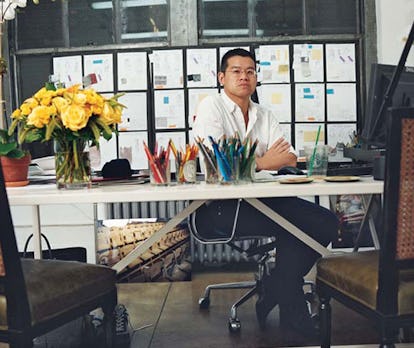 Late last November, Peter Som swooped into London's Cipriani to dine with a group of locals that included Tamara Mellon, Camilla Al Fayed and Vanity Fair editor Elizabeth Saltzman Walker, who gave the dinner in his honor. The hostess feared that the seemingly shy Som might be intimidated amid this particularly boisterous group, but she was pleasantly surprised. "He got down and dirty with the rest of us," Saltzman Walker says. "He listened to all the girl chat, took it in and captured a few of the girls' hearts. And it's not even like he is some swanky boy toy. He is actually pretty serious, but he fit right in."
Som's social insouciance should bode well for him in his newest role. In July he was named creative director of women's wear at Bill Blass, charged with updating the fashion house that has had serious succession woes since its namesake founder retired shortly before his death in 2002. Som, who will oversee every aspect of the women's division, including the numerous licensed collections, will show his first work for Blass for the prefall 2008 season. (Michael Bastian has been hired to relaunch Blass men's wear.)
In fact, Som's appointment brings him back to where he started. Fresh out of Parsons School of Design in the late Nineties, the designer, now 36, landed his first job as a design assistant to Blass. Som now readily admits that he was wide-eyed, a little green and too shy to develop a personal rapport with his boss. Yet he fondly recalls observing Blass, cigarette dangling from a corner of his mouth and bons mots and zingers on the tip of his tongue. "He had confidence, which at that point in my career I didn't necessarily have," Som says. "He loved the grand gesture, and he didn't really mince words. If something didn't look good on a client, he'd just say it and give them something else."
Blass, of course, was as well known for being one of New York's most prominent walkers as he was for designing, and he had complex, long- lasting relationships with many leading socialites. He would accompany them to galas, his duties sometimes extending to being a godfather to their children. Some women even misunderstood his attentions and threw themselves at him.
They had reason to—he was always considered among the most dapper of men. Even when he served in the Army Corps of Engineers' secret camouflage unit during World War II, he had his uniforms tailored, and he considered his war years a training of sorts for his future on Seventh Avenue. Once there, he put almost every major American socialite, from Nancy Reagan, Casey Ribicoff and Lynn Wyatt to Carolyne Roehm and Blaine Trump, in his clean, luxurious sportswear.
Som regards Blass as a kindred spirit, design-wise. "Mr. Blass didn't try to be cool or try to be hip or downtown," he says. "He knew exactly who his customer was, and he knew exactly the life they lived. He was friends with a lot of them."
In hindsight, Som's responsibilities as an assistant now seem fraught with significance: During his 18 months at the house, his main task was to resketch Blass's fashion illustrations in a postcard-size format for the run-of-show bulletin board. Thus he comes to his new challenge with practice at playing Blass.
But playing Blass and assuming his mantle are two different things. Som is the fourth designer to attempt to do so, after seven volatile years that saw Steven Slowik, Lars Nilsson and Michael Vollbracht each try and ultimately fail. All of them struggled, particularly when trying to balance the needs of existing customers with the need to bring in new, younger women. Meanwhile, NexCen Brands, which also owns the Athlete's Foot, bought the Blass brand from Michael Groveman and Haresh Tharani for $54.6 million in December 2006. Given such turbulence—and the reality that the Bill Blass heyday is now long past and its core devotees long gone from the forefront of fashion, if not from this earth—many industry observers wonder whether the house can regain its relevance.
Groveman, who remains the firm's chief executive officer, says that Som's mandate is "to put his own twist on the timeless American style that Bill Blass stands for. Peter's job is to bring it into the 21st century."
Som admits that he is nervous but ready for the task. "I'm not even attempting to fill Mr. Blass's shoes," he says. "I'm not going to try to re-create him. I'm me, and I think I bring something to the table that we both have in common—a love of luxury and feminine clothing. For me, the [Blass] woman is a romantic. She could be in finance or a curator, but she is a romantic. She also wants to put on clothes and feel crisp and clean and unencumbered. It's a streamlined romance; I'm never one to dazzle women in ruffles."
Bergdorf Goodman senior vice president Linda Fargo calls the appointment a "hand-in-glove fit." "Like Blass himself, Peter, at his core, relates to and designs for women who embrace refinement and femininity without silly frills and overstatement," she says. "I think the Blass customer is definitely still there. She has probably dipped her toes into some other designers since then, but I think if they build the brand and market it correctly, and the design is there, people are always drawn to something that is well done."
Som, who will continue to design his seven-year-old namesake collection, certainly comes to the house with an already established fan base. Scarlett Johansson, Camilla Belle, Claire Danes and Mandy Moore have all been spotted in his creations. Actress Ginnifer Goodwin says that she, too, has long admired Som's designs, and says she bonded with him over cheeseburgers at New York's Balthazar restaurant last year. "You meet him, and you immediately feel like he is an old friend," Goodwin says. "That's his contagious energy. He is a wonderful collaborator. When he works with me, it's about me feeling original and feeling that the clothes creatively express who I am even though he has designed them. In that way, I can feel terribly comfortable and confident."
And if that sounds conspicuously like Blass, then so be it. "It is surreal," Som says. "It feels like a full circle, and I feel all grown up. It's a big honor, and I hope I do him proud."
Peter Som in his design studio