Pharrell Williams Loves Chanel Necklaces and Handbags
The musician stars alongside Kristen Stewart and Cara Delevingne in a new campaign; Sibling closes up shop; and Chloé finds a new creative director.
---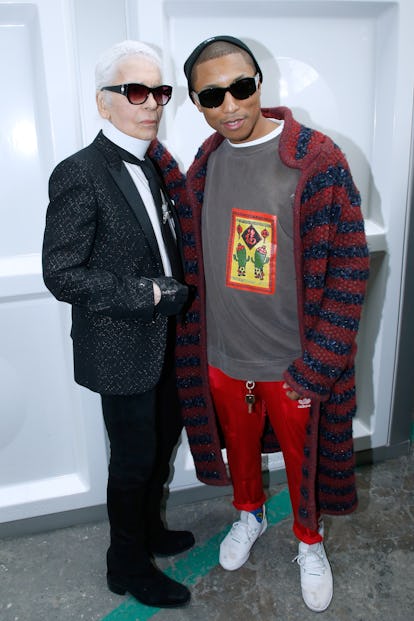 Bertrand Rindoff Petroff/Getty Images
Adele
The chanteuse's "Send My Love (To Your New Lover)" is just the first of 25 songs — including Mitski's ferocious rock, Future's astonishingly prolific bars, and Missy Elliott's comeback anthem — that tell us where music is going.
Marillier, Garance
The 19-year-old French actress, who stars in Julia Ducournau's horror film Raw, feels sorry for people who can't look past the cannibalistic gore of her new movie and would never, ever be a vegetarian.
Moss, Kate
Joining the short film sequel to Love Actually — Red Nose Day — as part of her world-domination plan. Because where else do you go when you've mastered modeling, model-agenting, photography, interior design, and music, but onto the big screen?
Ramsay-Levi, Natacha
The rumors were right all along: Natacha Ramsay-Levi, creative director of womenswear at Louis Vuitton, will take over for Clare Waight Keller at the helm of Chloé. Keller, for her part, was rumored to be eyeing posts at Burberry or Céline, though WWD refutes this.
Sibling
The London-based label designed by Cozette McCreery and Sid Bryan is shuttering after nearly a decade in the business. "Walking away but not forgotten," McCreery wrote on Instagram early Friday morning.
Williams, Pharrell
The musician and Chanel muse joins Caroline De Maigret, Cara Delevingne, and Kristen Stewart as the face of the brand's latest campaign — making him the first man to star in a Chanel handbag campaign.
Kate Moss reveals the circumstances of her first kiss and discusses her childhood crushes: