Pharrell's Hat Wins Big
In case you missed it, here are the best style stories of the week.
---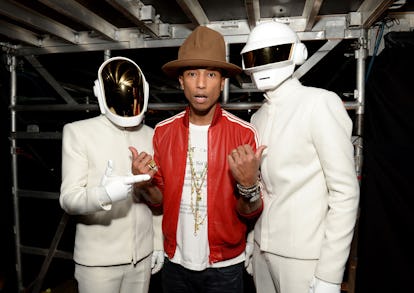 American Apparel Cast 62-year-old model Jacky O'Shaughnessy in the brand's new lingerie campaign.
Barneys Cast 17 transgender men and women in new spring 2014 ads. Did not want to be outdone by American Apparel.
Beyoncé Wore 10 million worth of diamonds to the Grammys. Because she's Beyoncé, and why not?
Cavalli, Daniele Roberto and Eva's son is leaving the family business. His parents are glad they never changed the brand's name to Cavalli & Son.
Depp, Johnny Is receiving an award from the Make-Up Artists and Hair Stylists Guild for wearing makeup really well. Next year, will receive an award for having naturally shag-tastic hair.
Deschanel, Zooey Designed a capsule collection of ultra girly, quirky dresses for Tommy Hilfiger to be worn exclusively with black tights.
Hathaway, Anne Broke up with her long-term stylist Rachel Zoe. So long, nipple dresses.
Heatherton, Erin The Victoria's Secret Angel has designed a collection of jewelry, has been trying to keep busy since breaking up with Leo.
Kloss, Karlie May be too famous to walk at New York Fashion Week. Still not famous enough, in our opinion.
Lawrence, Jennifer Signed a multimillion-dollar three-year contract with Dior in an attempt to stay on top of our best dressed list.
Moss, Kate Stars in new Alexander McQueen ad campaign, shot by Steven Klein. Can you say dream team?
Obama, Michelle Wore Alaïa to the State of the Union; makes Cher Horowitz green with envy.
Perry, Katy Gets bangs, looks more Lizzy Caplan than Zooey Deschanel.
Pharrell Wears a Vivienne Westwood hat to the Grammys. Kills @GiseleTendril in the process.
Ramsey, Aaron The professional soccer player has signed with Elite model management. Because if David Beckham can…
Research Says Shopping can make you happy and reduce sadness. Also, going braless prevents sagging. Your choice.
Rihanna Admits that she would like a bigger butt to make her bright orange mini Chanel suit even shorter.