Pharrell Williams' Life Is Getting the Movie-Musical Treatment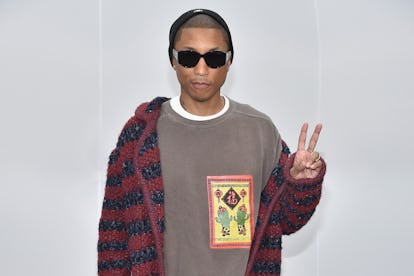 Pascal Le Segretain/Getty Images
Pharrell Williams made his big Hollywood play from behind the big screen with this year's award season contender Hidden Figures, but now, the musician is set to put himself in front of the camera. To a certain extent, anyway.
According to The Hollywood Reporter, Fox has secured the rights to a movie musical inspired by Williams's childhood in Virginia Beach, Virginia. The project, titled Atlantis, is reportedly being described as a Romeo and Juliet-style tale with the addition of a musical element. Williams, who was born in Virginia Beach, grew up in a housing project named the Atlantis apartments until age 7, reports Refinery29.
Michael Mayer, known for directing Broadway hits that include Spring Awakening and American Idiot, a show based on the music of Green Day, will head the project, and Martin Hynes will write the screenplay (Hynes also happens to be working on the script for Toy Story 4). Williams, meanwhile, will produce the project, although there's no official word yet on whether he'll play a role musically.
Williams produced and wrote the soundtrack for Hidden Figures, starring Taraji P. Henson, Octavia Spencer, and Janelle Monáe. The film received three Oscar nominations, including a nod for Best Picture. He also produced Roxanne Roxanne, a biopic about hip-hop star Roxanne Shanté that recently premiered at the Sundance Film Festival.
And it seems we can expect Atlantis to be just as "Happy," and the hit-writing, hat-wearing father of three to be himself. Williams previously revealed in an interview with NPR that growing up in the Atlantis apartments was "probably the most fun I ever had in my life … because the music was everywhere, you know, it was like air, it was like you go outside to hear music, you are in the house, someone's playing music. It was just music was just like second nature."
Take a Tour of Pharrell Williams' Art-Filled Apartment:
15 Ways to Instagram Like Pharrell