Philip Johnson's Glass Act
A few weeks ago I was invited as a friend's "plus one" for a Saturday afternoon tour of famed architect Philip Johnson's Glass House, nestled in the hills of preppy enclave New Canaan. Turns out...
---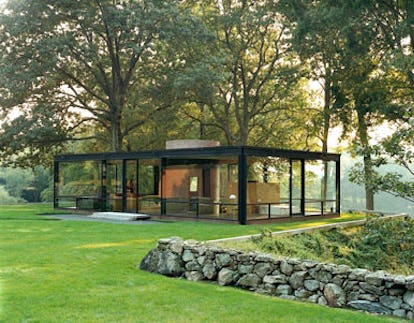 Our peppy tour guide, a seventy-something art historian from Greenwich, led us down the driveway, past the Donald Judd concrete circular sculpture (Johnson commissioned it so car headlights wouldn't hit the house), pointing out the various buildings he had built on the sprawling property: his Gehry-esque office, a short walk across the meadow from his doorstep; the bunker-like art gallery; his squat brick guest house (that's where he watched TV, she told us). "It's not that much bigger than my apartment," one person — a New Yorker, obviously — sniffed as we tip-toed into the open, 1,700 square foot digs, which is, amazingly, just as Johnson left it. There was his bed, his Mies van der Rohe Barcelona chaise, the table at which he had his morning coffee and stared out at the trees. (We even got to walk around his bathroom — great lighting.)
I'm not sure how Johnson would feel about the fact that 7 For All Mankind jeans used the property in its fall 2008 campaign (courtesy of a generous donation to the House's trust), but there's evidence the man liked to have a good time. The art gallery, where he and partner David Whitney housed a staggering collection of works by Warhol, Stella, and Johns, boasts a wine closet. "They had a lot of parties," our guide giggled.
Go see it for yourself: tickets for 2009 tours go on-sale tomorrow at philipjohnsonglasshouse.org.
Top image: Philip Johnson's Glass House Below: 7 For All Mankind ad shot at the property.