Out of the Picture
After more than three decades as its director, Philippe de Montebello is exiting the Metropolitan Museum of Art for a life in academia.
---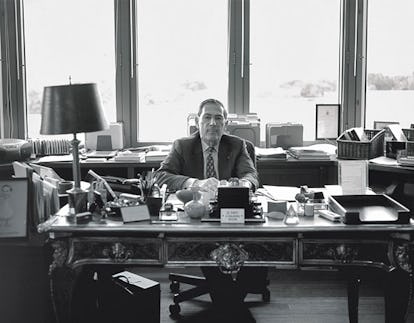 Philippe de Montebello, the velvet-voiced, impeccably patrician director of the Metropolitan Museum of Art, seldom appears in anything other than a suit, on the left lapel of which is often fastened a tiny red pin in the shape of a rose. Presented to him in 1991, it's an insignia of the Légion d'honneur, a distinction awarded by the French government to those who have contributed to the glory of the republic, whether by writing a best-seller, curing a disease or running an American museum that displays beaucoup de French art. Clearly de Montebello is proud of his rosette—he was born in France to a grand old family, and even after almost 60 years in New York, he retains both the rolling consonants and the regal bearing of a Gallic aristo. But beneath his lapel, hidden from view, is a far humbler object to which he's even more attached. "This is my agenda," he says, reaching inside his jacket and pulling out a strip of paper printed with his appointments for the day. "This," he says, peering down at it through his rectangular, wire-rimmed glasses, "provides a certain structure to one's life. The notion that I will get up in the morning and won't have one of these frightens me."
It's a reality that de Montebello will soon have to face. In January he announced his retirement from the Met, effective December 31, 2008, or when his successor is found, whichever comes first. In the months since, the museum world has been atwitter about who might follow him into the august post—one of the most powerful positions in the art world—and, so far, the board of trustees hasn't come up with an answer. This seems to suit de Montebello just fine; he's not particularly looking forward to his last day. "I suspect that it will be a very difficult and heart-wrenching moment," he says on a picture- perfect June afternoon in his office, where the view of Central Park competes for attention with the oversize Claude Lorrain landscape on the wall. "It will be kind of a divorce. The museum has been my mistress for 40 years, and I'm leaving her. Or my wife has been my mistress, and the museum has been my wife. I think I spend more time with the Met than I do with her!"
Marriage or affair—however he chooses to view it—de Montebello's relationship with the museum began with a coup de foudre. He arrived as a curatorial assistant in 1963, straight from New York University's Institute of Fine Arts, where he was pursuing a graduate degree—"I had not applied for the job," he points out. "They had come to fetch me at the institute"—and, with the exception of a four-year stint as director of Houston's Museum of Fine Arts, he's been there ever since, ascending to his current role in 1977.
Under de Montebello's stewardship, the museum has doubled in size; debuted a slew of new galleries, most recently for Greek and Roman art; become the most popular tourist attraction in New York (4.6 million people visited last year); and cemented its reputation in the eyes of the international art world as one of the most important encyclopedic museums anywhere. Perhaps most impressively, the museum has acquired some 84,000 works of art over the course of de Montebello's tenure—including high-profile blockbusters like van Gogh's Wheat Field With Cypresses and Vermeer's Study of a Young Woman—about 300 of which will be on display as part of "The Philippe de Montebello Years: Curators Celebrate Three Decades of Acquisitions," a salute to the outgoing director opening in late October.
The show is a fitting tribute to a man who is still happiest when discussing—often hotly debating—the merits of a proposed purchase or show, despite the fact that his job has become more and more "administrative," as he puts it, with an increased focus on fundraising, budgets, legal issues and insurance. "Curators deal with Philippe most intimately in terms of exhibitions and acquisitions," says Helen C. Evans, the Met's curator for Byzantine art and organizer of "The Philippe de Montebello Years," pointing out that his ability to see beyond his own taste is a rarity. "He's encouraged the diversity of taste of his staff. He has never limited our acquisitions to what he would wish to live with. It's a chance for us to recognize that."
De Montebello's reign has not been without controversy—but then to maintain such a prominent post for more than 30 years without kicking up a little dust, one would have to be almost catatonic. Most recently he found himself ensnared in the international scandal surrounding looted antiquities, finally hammering out a deal, in 2006, to return 21 classical works of questionable provenance—including the Euphronios krater, a 2,500-year-old Greek bowl that was a centerpiece of the Met's classical collection—to the Italian government in exchange for long-term loans. Through it all he's made no apologies for the way the Met has gone about acquiring antiquities, on occasion buying pieces whose routes from the dirt to the display case could not be clearly traced. At the time when most of these objects were unearthed, he says, their countries of origin "were completely indifferent to what was in the ground and were demolishing their great temples to build local schools. So from a certain point of view, there was a lot of rescuing."
Though reportedly the stress of negotiating with the Italian government caused him to break out in shingles, today he plays down the magnitude of the drama. Most people, he insists, "have not paid much attention to what the papers have written and really don't care. They're interested in seeing antiquities here, and they see no reason why, to look at Greek art or Mesopotamian art, they have to go to Baghdad or Athens or Rome."
At the other end of humanity's time line, de Montebello has also taken heat for his seeming indifference to—at times even disdain for—the artwork of his own era. In 1999 he outraged most of the art world when, after New York Mayor Rudolph Giuliani threatened to cut off funding to the Brooklyn Museum of Art because he deemed some of the works in its "Sensation" show of young British artists "sick stuff," de Montebello very publicly sided with the mayor. In an op-ed in The New York Times, he said of the show, "I think the Emperor has no clothes." He also took the opportunity to pronounce Kiki Smith's Tale, a sculpture depicting a naked woman on all fours trailing excrement, then on view at the Whitney, as "disgusting and devoid of any craft or aesthetic merit," never mind that several of Smith's pieces were already part of the Met's permanent collection.
When asked whether he's come around to contemporary art in the years since, he says only, "It interests me intellectually," and then breaks into a tight-lipped smile that makes clear he's holding his tongue. His explanation of why the museum has increased its programming in contemporary and modern work is a bit more revealing. "We do more in modern and contemporary and more in photography out of a realization that we are dealing with a public who is ill-served by general education," he says. "Most people walking into a room of Buddhist art have no clue who is the god or goddess or what is the difference between Buddhism and Zoroastrianism. They stand in front of a baroque painting that represents Hercules and his labors, and they barely know what it is. Hercules is a cleaning product, probably, to most of them. With modern and contemporary art, you don't have to have too much knowledge of mythology or of the Bible or of the Koran or of whatever else, which, frankly, is sad to say."
This kind of talk has not made de Montebello many friends in West Chelsea. But George Goldner, the chairman of the museum's drawings and prints department, points out that de Montebello is director of the Met, not, say, Dia:Beacon, and he can't rightly be expected to be personally moved by everything the museum displays. "I know he's been criticized by these militant contemporary characters who insist that everyone has to love contemporary art as almost like a religious principle," he says. "Obviously if he were the director of a contemporary art museum, it would be something else, but he's not. Isn't it enough that he supports it at the museum?"
And indeed one artist who recently had a solo show at the Met describes de Montebello as nothing short of welcoming. "He seemed to like the work, and he smiled," the artist recalls. "He was friendly, for a guy named Phileeeeep de Montebelloooo."
That name, of course, can be imposing—though not as much as the full version of the moniker: Guy-Philippe Lannes de Montebello—and de Montebello's unflappable self-possession and persistent formality do little to soften the image of him as King Philippe, ruler of the snobs. When he first announced his retirement, New York magazine asked in a headline, WHO'S SNOOTY ENOUGH TO REPLACE PHILIPPE DE MONTEBELLO? and went on to judge the rumored short list of potential successors on a scale of hoity-toity-ness it dubbed the "snootometer." (Neil MacGregor, director of the British Museum, received the highest score, in part because the magazine found a picture of him pointing to a painting with his pinkie.)
Elitist is a label that de Montebello accepts, but he's quick to point out that his definition of "elite" has everything to do with achievement and nothing to do with whether one is, like himself, descended on one side from the Marquis de Sade and on the other from one of Napoleon's favorite generals. "Elite refers to a category of people who have made a conscious decision to improve themselves," he says. "We all respect people who do the best they can and who want to lift themselves up, and we tend to not respect people who don't care. They have a slovenly behavior, a slovenly mind, so be it. They'll not make a very great contribution to mankind." To his mind, the very act of stepping inside a museum makes one an elitist because it represents a choice to become educated. When he was addressing a group of summer interns a few years ago, one asked what the museum was doing to combat elitism. He recalls responding: "Where are your friends? They're hanging around outside the drugstore in your neighborhood, wherever that is. You chose to come indoors in the summer and learn about great works of art. That makes you an elitist. You have come to better yourself. That is what elitism is. Do I have to apologize for that?"
Despite his icy reputation, de Montebello, who with his wife of 47 years, Edith, has three children and four grandchildren, has a sense of humor—at times even a schoolboyish one. When asked what he does for fun, for instance, he shoots back, "That can be printed?"
"He's not a snob in any way," says one staffer. "He certainly has opinions about what's appropriate and not appropriate to do in the museum, but it's from the point of view of 'Are we advancing the mission of this museum?' He feels strongly that there are only a few places in the world where we can be in the presence of great art, and he wants to preserve that place for people."
Ask virtually anybody in the museum world, and they'll tell you that he's done a very good job of doing just that. Tom Freudenheim, former director of the Baltimore Museum of Art and London's Gilbert Collection as well as the former assistant secretary for museums at the Smithsonian, where he oversaw all of the institution's museums, has known de Montebello since the two were classmates at NYU. "Philippe instinctively recognized that not only are the works inside the Met treasures, but that the institution itself is a treasure," says Freudenheim, "and that it was a really important place that he could play with a little bit but that he shouldn't mess up. And he really didn't. Quite the contrary. The Met that Philippe is leaving is an even greater museum than the one he inherited, and that's very difficult to manage in this climate, when everybody's trying to make institutions in some way come down to the lowest common denominator. He's been able to find the perfect balance between seriousness and pop, which is something that, in a way, nobody else has been able to accomplish."
So why retire now? Despite two titanium knees, the 72-year-old de Montebello still plays tennis four times a week, "and I only play singles, so when I'm playing, I'm really playing," he points out. Age, of course, is one factor. "A 72-year-old man should not be mapping what the Met should do for the next 25 years," he says. "It's because I know I don't have my finger on every pulse of what the latest thinking is that it's time for someone else who does." And anyway, he says, he's not particularly interested in planning for the future. "I'm more interested in reflection," he says. "I want to think about what I've done and why. What really is a museum? Is a museum useful anymore in today's world?"
In an attempt to answer these questions, de Montebello is embarking on a second career. Starting next fall, he'll be teaching graduate courses in the history of museums at his alma mater, NYU's Institute of Fine Arts. As a man who is, he admits, "terrified of idleness," he sounds downright gleeful about how much work his new post will entail. "I'll probably be working harder than I do here for the first couple of years," he says. "I mean, this is graduate school. One course for one semester is 14 two-hour lectures. Do you know what it takes to prepare 14 two-hour lectures? It'll be full-time!"
So while that daily agenda probably won't be necessary, de Montebello wants it made quite clear that he's not taking himself out of the game just yet. "I am not retiring," he says. "Next year you'll find me in the library boning up for my courses. I am not going on a cruise."