Art of Living
Power curators Philippe Vergne and Sylvia Chivaratanond always see eye to eye.
---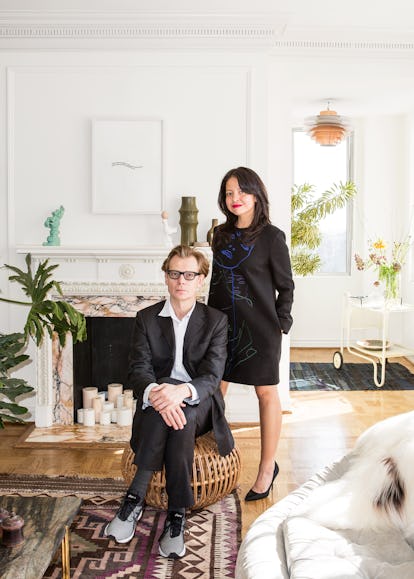 Ties That Bind The lives of Philippe Vergne and his wife, Sylvia Chivaratanond, are so subtly intertwined that they seem pulled from a Nora Ephron script. Consider that Vergne, who is the new director of the Museum of Contemporary Art Los Angeles (MOCA), first got a taste for art as a child when his mother, an art historian, took him to see a Salvador Dalí exhibition at the Pompidou Center in Paris. As it happens, Chivaratanond, who is an adjunct curator for the Pompidou Center, found her calling when, as a college student majoring in pre-law, she saw a show called "Helter Skelter" at MOCA. Mike Kelley was among the artists featured in that seminal 1992 group show, and his traveling retrospective, on view at MOCA through July 28, is the first exhibition to open there under Vergne's tenure. Kelley's Four Part Butter-Scene N'Ganga (1997) was also the first acquisition Vergne made for the Walker Art Center in Minneapolis, where he once served as chief curator and deputy director and where, in 1998, he met Chivaratanond, who was doing a curatorial fellowship. Vergne went on to become the director of the Dia Art Foundation—a position he held until MOCA tapped him earlier this year. In 2002, the couple married at a hippie restaurant in Topanga Canyon, in a ceremony officiated by a minister whose first name—"by sheer coincidence," insists Chivaratanond—was Dia.
Manhattan Transfers When searching for an apartment in New York two years ago, the couple had one requirement: room to accommodate their 400 boxes of books. They settled on a raw loft space downtown, which they kept open, save for a "bookshelf box," designed by the architect Vincent Bandy—the fiberboard unit holds their library on its outer walls and contains the kitchen and his and hers bathrooms within. The couple sleeps in one corner of the apartment; their 3-year-old son, Indra, in another. Scattered throughout are modern pieces including a tufted Togo couch, a Le Corbusier Sling chair, and a Marcel Wanders for Droog dining table; works by Hans Bellmer, Gedi Sibony, and Jay Heikes lean against the walls. It is, by all regards, a home meant for entertaining, as evidenced by the seated dinner for 26 friends that they hosted in March as a farewell before decamping to L.A. Their newly acquired home there is a four-bedroom French Art Deco apartment in Hancock Park. Sun-drenched and glamorous, it called for what Chivaratanond describes as "fat, sexy furniture" like a Percival Lafer–style suede sofa, Brazilian leather and rosewood chairs—and little else. "Stuff gives me anxiety," Vergne says. "I like minimal—almost nothing."
On the Same Page With his tall, lanky frame and laid-back demeanor, the Paris-born Vergne is often referred to as the rock 'n' roll curator. Chivaratanond, on the other hand, is peppy and petite and was born in L.A. to a Mexican mother and Chinese father. She practices yoga daily; aside from tennis, he finds exercise demeaning. But that's where their differences seem to end. "We never argue about anything aesthetic," says Chivaratanond. Both count cerebral artists like Kelley, Paul McCarthy, and Kara Walker among their favorites. And in terms of fashion, they share a preference for rigorous designers. She likes Céline and Rick Owens; he wears Comme des Garçons and Jil Sander. Off-duty, he sports Carhartt workwear, noting, "It's my gangster look."
Vergne and Chivaratanond in their L.A. apartment, with a Richard Prince joke painting and sculptures by Cameron Jamie and Urs Fischer on the mantelpiece. Chivaratanond wears Stella McCartney dress. Photograph by Jeremy Liebman.
Chivaratanond with Ed Ruscha, 1999. Courtesy of subject.
The couple's wedding, 2002. Courtesy of subject.
Their traditional French croquembouche cakes. Courtesy of subject.
Mike Kelley's Four Part Butter-Scene N'Ganga, 1997. Courtesy of Collection Walker Art Center, Minneapolis.
Vergne and Chivaratanond like the work of artist Paul Chan. Courtesy of the artist and Greene Naftali, New York.
Chivaratanond collects Vincent Van Duysen bowls. Courtesy of When Objects Work.
A painting by their son, Indra. Photograph by Jeremy Liebman.
Artists Gedi Sibony and Kara Walker at the farewell dinner, New York. Courtesy of Shawn Brackbill.
Vergne, seated at the head of the table.

Photographs: Shawn Brackbill
A wall hanging by Heather Levine, another young artist on her radar. Photograph by Nicole LaMotte.
The couple in front of their "bookshelf box," New York. Chivaratanond wears J. Mendel dress. Photograph by Jeremy Liebman.
Franz Erhard Walther's Schichtzeichnung, 1978–'81, in their L.A. apartment. Photograph by Jeremy Liebman.
Sturtevant's Untitled (Empire State), 1997, in their L.A. apartment. Photograph by Jeremy Liebman.
A detail of Doug Aitken's 2010 Sonic dining table, which can be played like a percussion instrument. Photograph by Jeremy Liebman.
Work by Michele Quan, a favorite young artist of Chivaratanond's. Photograph by Jeremy Liebman.
A Serge Mouille ceiling lamp above the Sonic dining table in the couple's L.A. apartment. Photograph by Jeremy Liebman.
Tired Seat P., 2005, by Nari Ward, in their Manhattan loft. Photograph by Shawn Brackbill.
Special thanks to: Little Miss Party Planner, Cobblestone Catering, Nine Cakes, Paperfinger. El Royale Interior Design by Christopher Allen.