3.1 Phillip Lim Opens Up
Banks performed at the designer's store opening celebration.
---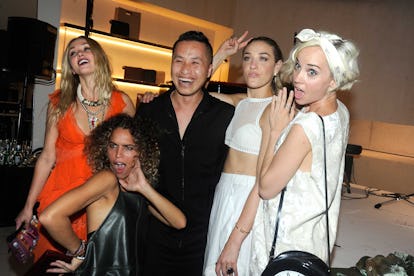 Photographer: Sherly Rabbani
What: The opening of the new 3.1 Phillip Lim boutique.
Where: 48 Great Jones street in NoHo
When: Tuesday, September 9th
Who: Phillip Lim was joined by designer Richard Chai, director Baz Luhrmann, and a bevy of beautiful models, including Hilary Rhoda and Garrett Neff.
Why: A beautiful crowd, a beautiful store, and a beautiful performance by rising star Banks? We're in.
Photos: 3.1 Phillip Lim Opens Up
Kate Greer, Cleo Wade, Phillip Lim, Mia Moretti, and Margot.

Photographer: Sherly Rabbani
Photographer: Sherly Rabbani
Vinoodh Matadin and Inez van Lamsweerde.

Photographer: Sherly Rabbani
Photographer: Sherly Rabbani
Photographer: Sherly Rabbani
Photographer: Sherly Rabbani
Photographer: Sherly Rabbani