Phoebe Robinson Is Kicking 2020 to the Curb
The comedian, who stars as the emcee in the Amazon Prime comedy special "Yearly Departed," talks finding the silver linings before leaving this year behind.
---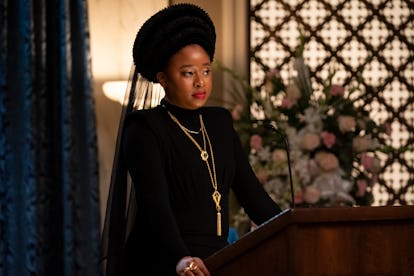 Photo courtesy of Amazon Prime.
Earlier this year, Phoebe Robinson received a message from Rachel Brosnahan and some of her producing partners, which include Nathalie Love and Samantha Ressler (the duo behind production company We the Women), Bess Kalb, Paige Simpson, David Jammy, and Katy Mullan. Together they figured the comedian, who has hosting experience from her time as one-half of the comedy duo 2 Dope Queens, would make a fine master of ceremonies for a comedy special that would be "a nice way to tell 2020 to get the f outta here," Robinson explained over the phone.
The "triple-threat situation" that the comedian would have felt foolish to not join turned out to be Yearly Departed, a comedy special that doubles as a funeral for 2020. "The fact that it was an all-female lineup, all-female writers room, and directors, it just felt like such a cool opportunity to be on a set that is run by so many women," the comedian said. "Hollywood is moving in the right direction, and allowing all sorts of people to have these incredible job opportunities."
The Yearly Departed lineup boasts some heavy hitters, such as Sarah Silverman, Natasha Legerro, Tiffany Haddish, Ziwe Fumudoh, Natasha Rothwell, and Patti Harrison. The conceit is that each comedian on the lineup stands up to give a eulogy for something they are happily saying goodbye to in this tragically depressing year, from casual sex to TV cops to "making America great again." Brosnahan makes an appearance as well, giving a fond farewell to something nearly all of us gave up at the start of quarantine, and likely won't be happy to welcome back into our lives once the pandemic is over.
It's not until the end of the show—which includes appearances from surprise special guests throughout—that it becomes apparent that much of it was shot separately and edited together later with VFX to keep everyone safe. "There was one scene where I was standing in so people could have an eye line, and I was in and out in 10 minutes," Robinson explained. "Even though we were all shooting separately, it didn't feel like I was alone, it felt like I was with all these other hilarious women."
For Robinson, there is one thing she's ready to let go of before we usher in the new year: "the stress of it all." Like many people abiding by the rules of quarantine, the comedian has not seen her family in months, and she said she's looking forward to the day she gets to visit them. "I was always such a teenager where I was like, 'My parents are annoying! Don't talk to me!' And now, what I wouldn't give to be at my parents' place, my mom barging in my room without knocking on the door or my parents monitoring how many vegetables I've eaten," she said with a laugh. "I wish I could have that now, so I think the stress and the isolation are what I'm so happy to say goodbye to."
This year was not all doom and gloom, though. For the past few months, Robinson has been tucked away in Palm Springs while working on her third book, another essay collection that covers a wide range of topics from "quarantining with my boyfriend, running my company and what that's like" to "performative allyship." She's had time to catch up on television (The Sopranos and Living Single, to be precise) and rom-coms (How Stella Got Her Groove Back and Happiest Season made the cut). And this summer she finally launched her own imprint, which took her by surprise, as she joked she always thought it might be something she'd do in her 40s.
"I was a big reader as a kid and was always writing my own stories, so there was always a part of me that wanted to be involved in publishing," she said. "I'd hear stories about how Toni Morrison would edit books that she wrote, and I was like, that seems like a lot of effort, so maybe I'll just run my own imprint instead. I had no idea what that entailed, I was like, that's way more work," she laughed. "But it's been really exciting to have an imprint, and much like Yearly Departed, it's predominantly female, predominantly women of color, so it's really cool to have it reflect the way I think publishing should look like in the future."
Robinson also revealed that if there's one comedian she thinks should be on everyone's radar in the future, it's Dewayne Perkins, a writer on The Amber Ruffin Show and actor on the Saved by the Bell reboot. "He's so cool, too cool for me which is why I like him, because I'm such a dork and I like to be around people who are cool and know how to present themselves in a way that is aspirational," Robinson joked.
On the note of laughter, Robinson had one final message to send before signing off: it's okay to laugh right now, even if everything feels like it's on fire. "I know sometimes I feel bad laughing or not feeling depressed about the state of the world, so I want to say, to anyone who's thinking about watching this but they're not sure, give yourself permission to laugh and feel good, too. You need that!," she said. "Being sad all the time isn't going to change Covid, or make it go away faster, or make the vaccine come faster. It's good to have a reminder of feeling good, laughing, feeling uplifted, and let you know that next year will be better than this year."
Related: The Duo Behind 'We the Women' Can't Wait to Say Goodbye to 2020