Swimwear Shouldn't Be a Nightmare, According to One Up-and-Coming Designer
With her new collection Phylyda, Berlin-based swimwear designer Lydia Maurer is taking on all shapes and sizes.
---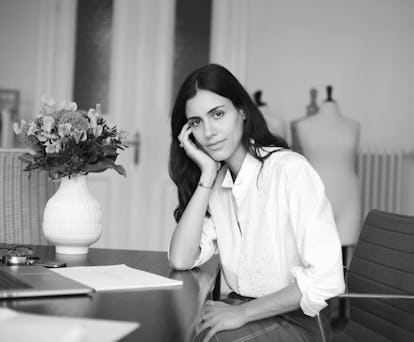 Lydia Maurer, a veteran designer who cut her teeth at Givenchy and Paco Rabanne, launched a chic, covetable swim line for all shapes earlier this year. Although the brand is still in its infancy, Maurer already has big plans for shaking up the industry. Here, the designer talks about how she got her start in fashion, flattering silhouettes, and the places that inspire her creations.
How did you get your start in fashion? My first experience was at Stefano Pilati's very sensuous YSL, which was an incredible lesson in my appreciation of sophisticated fabric and color. Following YSL, I joined the then-budding Rue du Mail label: I was eager to get involved in more diverse activities, and directly assisting a creative director like Martine Sitbon was a real godsend. She was very much designing for her muses and that creative process, in connection with the women that came into the studio regularly, really stuck with me.
Why did you decide to go into designing swim? After I left Rue du Mail, I worked for Givenchy and Paco Rabanne. I felt increasingly drawn to a more honest and female-friendly approach to design: I wanted to offer a line that enhances and celebrates individual beauty for as many sizes as possible. It just seems so antiquated to categorize fashion as 'straight' and 'plus size.' What about the sizes in between? Swimwear should be associated with positive memories, and yet for most women, shopping for it is nothing short of a nightmare.
What was the experience of getting your business off the ground? I moved to Berlin about a year ago to build my company after spending 16 years in Paris, working as a designer for most of it. It probably sounds like a quite bold move to make but I was very fortunate to have the moral (and, more often than not, hands-on) support of my family and my partner who live here, and to find very skilled talent for the different aspects of the business.
What were the main pieces you began with? The pieces I first started developing were the bottoms, as, for the most part, they needed to be fitted and adapted to all different sizes, which requires more time. I started with the Ariane [style], the Chloe and also with the Sol, which cinches the waist and ties just above the navel. The next step was to develop one top for each body type and to develop sizing schemes for them to provide choices that are truly adapted to different morphologies.
What is the key to great fit? A good fit is directly related to our self-confidence, especially in swimwear as it is the one garment that exposes us the most. This is why it's so important to me for Phylyda to make great fit available to as many sizes as possible and for women to have the option to buy separates in their real size. All Phylyda pieces are developed on and together with different fit models who have diverse silhouettes. We have a few fittings each week. The fittings are crucial as they really mark the decisive moment when design ideal and reality come together to create a piece that is beautiful but also functional.
You made your samples in multiple sizes to fit different shapes of women — why? Most swimwear designers do not do that. I developed the pieces with honest diversity in mind so inherently offering samples in multiple sizes fits my concept and I would love to see more of this diversity in fashion media as well. I feel that, especially for 'plus size,' there are often designs that have only been scaled to fit larger sizes without consideration for a flattering look. So, during development, I made sure to fit all the designs on different silhouettes, and if they didn't look striking on a certain size, they were dropped.
Who are you designing for? She is not a trend seeker, but a woman who reaches for timelessly seductive pieces that emphasize her natural beauty. When traveling, she enjoys exploring and spending time with her loved ones so she values well crafted, versatile pieces; a love of color and sensuous texture is an important part of her style. I just see her as an individualist who likes her wardrobe to be effortless and for it to adapt to her lifestyle. That's why it was important to me to propose combinable separates and pieces that can be played with by way of sashes and ties.
If one of your swimsuits could be packed by a style icon and taken anywhere, who would the icon be and where would she go? I think that Phylyda cannot be represented by just one woman so I would choose the entire cast of 'Bridesmaids,' they're such amazing comedians, and I'd send them to the Eden Roc in Saint Barths. And I'd love to tag along!
What swim trends are you seeing among women right now? I've been seeing a plethora of new trends around! For the more boho woman, the trend seems to have shifted from the traditional, embellished and tasseled triangle bikinis to more whimsical, retro styles with balloon or ruffled sleeves. the '80s sexy cut-out one-piece suit launched by Norma Kamali has made a comeback–but it's a style which is of course the most photogenic in the glossy pages. I think that it's really interesting how much swimwear has evolved outside of the beach environment this past year, it's great to see women mixing their pieces with their outfits, I think that that gives incentive to be more creative and also more mindful of quality.
Is there a certain beach that inspires you?
Oh, there are so many! I grew up in Mexico and I'm half Colombian, half German so I got to travel quite a bit and I have a few extraordinary memories of the exotic beaches of Akumal, Tulum, or of the Rosario Islands, but also of pink sandy beaches on Crete or romantic creeks in southern Sardinia. All these early memories are deeply ingrained in me and keep forging my inspiration.
Where are you excited to travel this summer? This summer, I'm going to take a trip down to the Algarve region of Portugal, I imagine beautiful, less busy bay's at Praia da Marinha or Praia da Rocha and visiting the region around Praia Verde, too. Just exploring, enjoying the local cuisine and spending time with loved ones.
What's next for your brand? In the near future, I'm working on rolling out our e-commerce to host our collections. I'd ideally like to develop it further to offer limited editions on a regular basis which would be a great opportunity to become more reactive to our customers and to continuously cater to their desires and needs. I am also extending our offer to more ready to wear references including some knitwear next season!
Photos: Swimwear Shouldn't Be a Nightmare, According to One Up-and-Coming Designer
Lydia Maurer. Photo courtesy Phylyda.