Pierpaolo Piccioli Takes Valentino to Moscow
The newly solo creative director of Valentino opens his first shop since taking over control, while Salvatore Ferragamo still fishes for a design team and Ivanka Trump gets in hot water mixing business with still more business.
---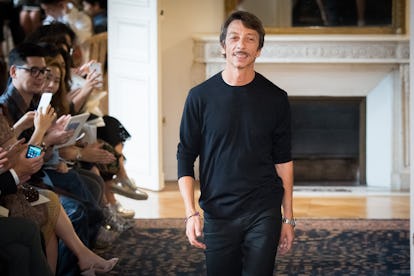 WireImage
Baryshnikov, Anna The daughter of ballet legend Mikhail Baryshnikov and supporting star of Manchester by the Sea is ready for her leading lady moment. She wouldn't say no to the Hillary biopic, either.
Blanchett, Cate Will star as a spider woman — literally, not of the superhero, magical powers variety — in an art film about the Australian redback spider that doubles as an ode to female empowerment.
Collins, Petra Artist, photographer, quirky beauty aficionado, would like to sleep in a room that's just a bed, preferably with Rihanna, please.
Ferragamo, Salvatore Finally found itself a womenswear designer. Dior alum Fulvio Rigoni has come on board, two months after Paul Andrew was announced design director for women's shoes.
Hadid, Gigi Not-so-secret musical theater fan. Loves to sing "Popular" from Wicked.
Piccioli, Pierpaolo The Valentino designer has been relatively quiet since his solo debut in October following the departure of design partner Maria Grazia Chiuri to Dior. But now he's back, with a well-timed Moscow fete, and ready to chat.
Taylor-Johnson, Aaron The actor and Nocturnal Animals star talks working with notoriously meticulous, and well-heeled, director Tom Ford.
Trump, Ivanka Took the opportunity to capitalize on her 60 Minutes appearance alongside her father — her eponymous brand sent out an email blast shortly after the television spot publicizing a $10,800 bracelet she had worn that night. So much for keeping the business and the presidency separate.
Watch W's most popular videos here: