Pierre Niney and Charlotte Le Bon: Resurrecting Saint Laurent
The young actors take on the roles of Yves Saint Laurent and his muse Victoire Doutreleau in a designer biopic.
---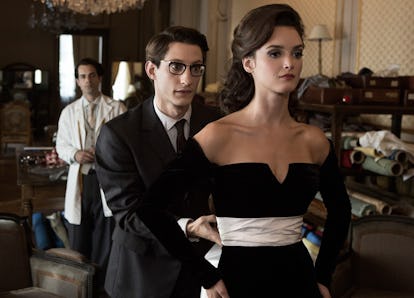 When Yves Saint Laurent took the reins at Christian Dior in 1957, he not only inherited an illustrious fashion atelier, but he also gained a partner in crime, Dior muse Victoire Doutreleau. The French model followed Saint Laurent when he opened his own house, and the two were often perceived as a platonic golden couple. The same description might be applied to the young actors, Pierre Niney and Charlotte Le Bon, who were chosen to portray Saint Laurent and Doutreleau in the Weinstein Company's forthcoming biopic Yves Saint Laurent, directed by Jalil Lespert. (Another biopic, Saint Laurent, is also slated for this year, but only Lespert's received the blessing of the venerable Pierre Bergé.) Niney, 25, is no neophyte, having already racked up two César nominations for his roles in J'aime Regarder les Filles and Comme des Frères. Le Bon, meanwhile, worked for years as a model, doing campaigns for Lolita Lempicka and Garnier Fructis. The 27-year-old Canadian was also a weather announcer on the French channel Canal + and had a role in Michel Gondry's 2013 film L'écume des Jours. The duo is likely to have some heady publicity days ahead—at least they're sure to have some help in the wardrobe department.