Pierre Niney on Frantz, the New French Film Grappling with European Nationalism
As Europe contends with a rising wave of nationalism, François Ozon's film appeals against divisive politics: "There's always talk about building a million dollar wall that's always bigger and stronger," Niney says.
---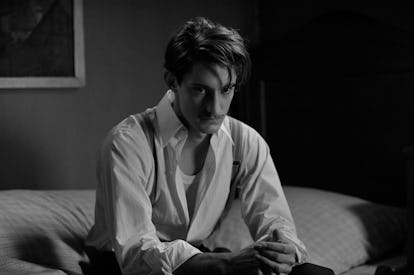 Jean-Claude Moireau – Foz
Best known for playing the title character in the film Yves Saint Laurent, the striking 28-year-old French actor Pierre Niney returns to American theaters today in the new film by the equally stylish French director François Ozon, who's best known in these shores for Young and Beautiful and the Charlotte Rampling thriller The Swimming Pool.
Frantz, his latest, is something of a departure, but a successful one at that, nominated for 11 César Awards, the French equivalent of the Oscars, where it's up against the Isabelle Huppert drama Elle in the Best Picture category. Niney plays Adrian, a young French soldier who is overcome with guilt for killing a German soldier in combat during World War I. Overcome with guilt, he tracks down the soldier's family in Germany, and arrives under the guise that he and the soldier were close friends. During his stay, Adrian meets Anna (Paula Beer), Frantz's heartbroken fiancée, who falls in love with the visitor. Complications, not altogether unforeseen, arise.
The film was shot over a course of three months in Germany and Paris, and alternates between black and white and color. "I thought it was going to be a boring black and white war movie, but I was thrilled," Niney said recently. "I felt as though I was watching a well-written series on Netflix." Niney, a classically-trained theater actor, signed onto the project for its political significance at a time when Europe is dealing with the rise of nationalism. "The film is about fear, and the way others look at you when you're an unwanted foreigner," he said. "It's incredibly relevant, so I thought it was important to make this movie now."
The film bears so much political resemblance to our present day. The German community hates Adrian just because he is French.
I thought it was very modern and factual, and the message was really strong but not in a political, boring way. Ozon really wanted to make a movie about love and guilt, all those beautiful classic subjects. The main idea was the importance of understanding someone from another country, and the importance of going across borders between cultures. To go beyond fear, to stay connected.
As a European, is there a personal experience you had that you can relate to?
I am moved and shocked by any solutions that advocate the idea of cutting people off from one another. There's always talk about building a million dollar wall that's always bigger and stronger. I've always been sensitive to this subject. I don't have anyone in my family living this drama.
There were really some emotionally trying parts of the film. How did you get into character?
I started by studying WWI and the effect it had on the young people in France who weren't prepared to go to this horrible war. I studied history books, films, and paintings from the era. I discovered painters as I was researching the emotional parts of Adrian, painters like Egon Schiele and Manet. François Ozon, was working as a painter on this, with moments of color, as a painter would do. François composed the whole movie as a painting, playing with memories of the character, both real and fake.
Why do you think the film alternates between black and white and color?
From the beginning François didn't want to do something rational. He didn't want to say the truth is going to be black and white, the lies in color. He purposely made something that wasn't logical. I love that you have to re-read the movie, and understand it in your own way, and with your own feeling and sensitivity. We presented the movie in many cities, and there were new crazy theories every night..
What did you learn from working with Ozon?
Most importantly, he is also the cinematographer, so he's behind the camera all the time, which is not the case with all the directors. He was always talking to us during shooting, he had one eye on the camera and one eye on us, whispering things. I've never done it this way. He'd be like, 'Stand up, look at her, take her hand, leave the room.' He was always alive.
Did you learn German for the film?
Yes, I did. I didn't know a word of German before. I worked for three months before the movie. I had all these different coaches. But the best coach was Paula, she had such a beautiful and soft voice, it went against every cliché you could imagine about the German language. It was the softest and most poetic way to learn.
Do you speak it well now?
No, not at all. It was a flash. I learned my text really well. A few other words and important words to do improvisation around, but I cannot speak German today unfortunately.
You're such a good liar…
I'll take that as a compliment.
What's your final opinion about Frantz? [Spoiler Alert] Adrian feels so awful about killing Frantz even though he didn't know him in real life. Then the more we learn about Frantz we find out he was a bad person—that he cheated on his wife and lied to his family.
I agree, the idea that you should not believe appearances and everything that is shown to you is important. It's a comment on today. We are living through images. We accept the truth without checking facts. I also think the idea is that when someone dies, you get a more perfect image of them. I do believe something special happened between Adrian and Frantz, though. That's the strength of the movie.
Did you see the original film? [Ernst Lubitsch's "Broken Lullabies"]
No, me and Paula didn't watch it until we finished filming. When you're making a movie you don't want to think about what you've seen, and think they did it better in the other movie and change your performance. I didn't want my mind to be polluted with that. When I finally watched it, I liked it, but thought François' was more interesting. In the original you know he's Frantz's killer from the beginning. In this one you're always discovering new things.
Your upcoming film is another post-war film, this time set in WWII; you play award winning writer Romain opposite Charlotte Gainsbourg. There seems to be a pattern here.
[Laughs] Yes, I guess so. It was a gift to work with her. It's a romantic movie about a mother and son relationship. My character goes to war, but I enjoyed that the director had an artistic angle on fighting. Gary was a courageous man. He illustrates France in a beautiful way during WWII, and he left us the most beautiful 20th century French literature.