Pink on Finally Ending Her Feud with Christina Aguilera: "We Grew Up"
They clashed over their "Lady Marmalade" collaboration.
---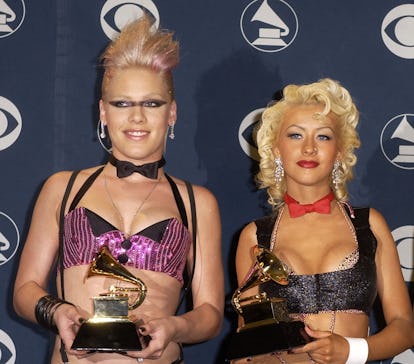 SGranitz/Getty Images
The early aughts were a time of Juicy tracksuits, super-low-rise jeans, and many, many high-profile celebrity feuds, including the one between Pink and Christina Aguilera. And although the "Lady Marmalade" collaborators have since squashed their beef, enough time has evidently passed that they can now look back on it and laugh, as Pink did during an appearance on Watch What Happens Live on Thursday.
While playing "Plead the Fifth" — basically a truth-only version of Truth or Dare — with host Andy Cohen, the "So What" singer explained why she and Aguilera clashed so viciously at the time. "We were super young and super new at the whole thing, and I think I'm an alpha, and she's an alpha," Pink said. "I'm used to taking my altercations physical and she's used to having them verbal. We're just very different, we're very different. And we were very young and new."
"Women have to learn how to support each other. It's not taught to each other in the playground," she continued, before revealing that one time, things between her and Aguilera, now ages 38 and 36, respectively, almost took a very playground-esque turn. "Actually, she swung on me in a club. Hilarious!" she said. "I was like, 'What's happening right now? What's happening?'"
But, according to Pink, there are no hard feelings between them now. "She's so talented and, deep down, I've had bad days, too. She's a really sweet person. We made up on The Voice," she said. "I hadn't seen her in years and years and years." She added that their make-up all comes down to one thing: "We became moms. We grew up. We hugged it out. It's that simple. I feel so good about that."
In a VH1 Behind the Music special in 2009, Pink revealed that the feud had begun while she, Aguilera, Lil' Kim, and Mya were recording "Lady Marmalade" for the Moulin Rouge! soundtrack in 2001, when they were in their early 20s, according to People. "[Label executive] Ron Fair walked in. He didn't say hi to any of us and said, 'What's the high part? What's the most singing part? Christina's going to take that part,'" she said. "I stood up, and I said, 'Hi. How are you? So nice of you to introduce yourself. I'm Pink. She will not be taking that part. I think that's what the f*cking meeting's about.'"
But earlier this year, Pink revealed that she and Aguilera had settled their differences. After someone tweeted that she was nothing but an "Xtina backup singer," Pink replied, "Want to point out an awful new phenomenon of the last 10'years. We can no longer be happy for each other. I ❤️Xtina, we've made amends….Music brings us all together. The best part of music is- there's room for everyone to win at the same time. Don't be what's wrong w/da world."
Hollywood's Juiciest On-Set Feuds, from Dustin Hoffman vs. Meryl Streep to Sarah Jessica Parker vs. Kim Cattrall
Dustin Hoffman reportedly took up method acting just in time for Kramer vs. Kramer, Robert Benton's 1979 film that saw Hoffman star opposite Meryl Streep. That meant, when it came time for the pair to fight, he actually punched Streep while filming—and took it upon himself to get her appropriately riled up for her performance by teasing her about her boyfriend's lung cancer diagnosis and later death.

Columbia Pictures/Getty Images
The Icelandic enigma that is Björk made it more than clear than she could act by stealing the show—even from Catherine Deneuve—with her performance as a struggling factory worker saving up for her son's eye operation in Lars Von Trier's 2000, Palme d'Or-winning film, Dancer in the Dark. Still, even though she took home the Best Actress award from the Cannes Film Festival, Björk hasn't acted since: her experience on-set with von Trier was so fraught that she vowed to never make another movie—even though it was actually Björk, according to the director, who missed their first meeting because she had to jet off to a Greek island and took up greeting him by spitting on the ground.

Pool BENAINOUS/DUCLOS
Though Cameron Diaz, Drew Barrymore, and Lucy Liu all seemed to get along just fine on the set of 2000's Charlie's Angels, Bill Murray took it upon himself to liven things up mid-scene by reportedly turning to Liu and telling the actress she couldn't act. Liu, for her part, stayed in character by throwing Murray a punch—and came out on top by landing a role in the sequel, which Murray definitely did not.

Archive Photos/Getty Images
Not many would characterize Bruce Willis as an "emo b—h," but that's exactly how the director Kevin Smith described Willis after working with the actor on his 2010 buddy cop film Cop Out, which also starred Tracy Morgan. The experience, according to Smith, was both "soul-crushing" and "terrifying," thanks to Willis's intimidating demeanor and diva-like preference for the real movie-star treatment.

Abbot Genser, © 2010 Warner Bros. Entertainment, Inc.
Decades before Faye Dunaway added a heavy dose of drama to this year's Academy Awards, the actress starred in Chinatown and reportedly got so heated with Roman Polanski, who allegedly pulled a hair out of her head that was getting in the way of his shot, that she threw a cup of urine at him when he wouldn't let her pause to pee.

© Paramount Pictures
George Clooney and David O. Russell apparently got so heated shooting Russell's 1999 film Three Kings that the pair got into a physical fight. Russell, apparently, was not taking well to a cutback in the film's budget, and in the final days of shooting, threw an extra—and, later, Clooney—to the ground in a supposed demonstration. Four years later, in 2003, Russell was still holding a grudge: for a comment on the actor for a Vanity Fair profile, the director offered up, "George Clooney can suck my dick."

Getty Images
Jake Gyllenhaal's role as a political cartoonist plagued by letters from a serial killer in David Fincher's 2007 film Zodiac required quite a bit of vetting: Fincher initially met up with Gyllenhaal, whom he'd taken a liking to from Donnie Darko, and recorded his mannerisms before offering the actor the part. Once cast, though, filming was still hardly a breeze for Gyllenhaal: he'd repeatedly act out scenes for Fincher, only to hear the director call for the last 10 takes to be deleted immediately and everything to start again—an offense Gyllenhaal unabashedly recounted to the New York Times.

Tony Barson Archive/Getty Images
In 1991, Julia Roberts reportedly landed herself the nickname "Tinkerhell" thanks to her role as Tinkerbell in Steven Spielberg's Hook, a live-action version of Peter Pan. "It was an unfortunate time for us to work together," Spielberg later said of the experience on 60 Minutes. (Roberts had just broken off her engagement with Kiefer Sutherland a few days before.)

Getty Images
"Once and for all, what's my opinion on Jamie Foxx?/He pussy/Pussy ain't funny as Chris Rock," a line in LL Cool J's 2000 song "U Can't F–k With Me," is just as explicit of a call-out as it sounds. The pair took their fight scene in Oliver Stone's 1999 football film Any Given Sunday a little too literally, getting so physical that the crew eventually called the police.

Getty Images
George Clooney is hardly the only actor with whom David O. Russell's lost his cool. Before the director made Amy Adams cry on the set of American Hustle, but three years after his 2004 film I Heart Huckabees already came out, footage emerged of Russell calling Lily Tomlin, one of its stars, a "b—h" and a "c–t" and sending things flying behind the scenes. Tomlin later acknowledged the director was under pressure, while Russell made sure to tell the New York Times that the pair "love each other" in 2013.

Jason LaVeris/Getty Images
Though they were the best of friends on Golden Girls, Betty White and Bea Arthur didn't exactly vibe off-screen. Arthur reportedly called White a "c–t" when she was receiving a lifetime achievement award, and wasn't too pleased that White was the first of the show's four actresses to win an Emmy (an award they'd all eventually end up with).

Desiree Navarro/Getty Images
It took a dozen years, but Sarah Jessica Parker and Kim Cattrall's reported difficulties with each other when filming Sex and the City hit a peak when the pair was filming the series's film sequels, which only magnified their dispute over unequal salaries. Not that they've brought any of it out into the open: Parker, for one, has made public peace offerings in the way of well-wishing Instagrams.

Kevin Mazur/Getty Images
Watch: Pink Gets Interviewed by a Cute Little Kid