The Pink Star Diamond Will Be Auctioned Off by Sotheby's for a Record-Breaking Price
The massive, "internally flawless" stone is valued at a whopping $72 million.
---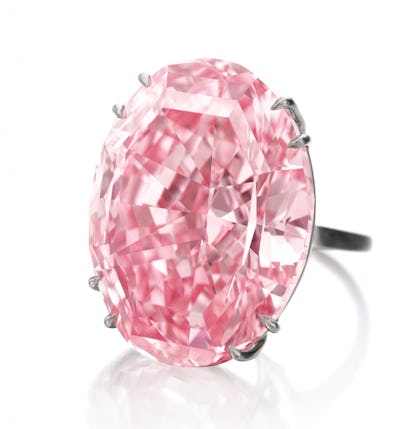 Courtesy of Sotheby's
The Pink Star diamond, a hefty 59.6-carat stone, is going to be auctioned off by Sotheby's Hong Kong on April 4, 2017. It's the largest internally flawless fancy vivid pink diamond the Gemological Institute of America has ever graded, and it is valued at a mind-bending $72 million. Needless to say, it's above and beyond the typical celebrity jewelry splurge. To put things into perspective, when it comes to massive diamond rings, a 10- to 15-carat stone is usually enough to make headlines. Over the years some famously elegant celebrities, like Grace Kelly, Jackie Kennedy, Kim Kardashian, and Beyoncé, have worn diamonds closer to 20 carats. And then there was Elizabeth Taylor's 1969 engagement ring from Richard Burton, which weighed in at a whopping 69 carats.
But who will buy the Pink Star Diamond, which is listed by Sotheby's as "one of the world's great natural treasures"?
The diamond was first discovered by De Beers in South Africa in 1999. It took a design team more than two years to figure out how to cut and polish the rare stone, which then weighed 132.5 carats. In the early 2000s, the Pink Star diamond appeared in several museum exhibitions, including one at the Smithsonian National Museum of Natural History in Washington, D.C., as well as the Natural History Museum in London. Then, in 2013, Sotheby's Geneva sold the Pink Star diamond to New York-based diamond cutter Isaac Wolf for a record-breaking $83 million. Only Wolf, who was said to be representing a group of investors, defaulted on the sale, forcing Sotheby's to partner with two other firms and buy the diamond from its owner for its guaranteed price of $60 million. Now, Sotheby's is ready to give the auction another go.
Currently, the most expensive diamond ever to be sold at auction is the Oppenheimer Blue; a 14.6-carat blue Vivid Fancy stone that Christie's Geneva sold to a private investor last summer for a cool $57.5 million. Next month, the Pink Star just might make history—assuming there's a buyer out there who can drum up enough cash.
Butterflies of Paris: How Street Style Stars Do Paris Fashion Week