Introducing A Supper Club In an Urban Backyard
Pioneer Works in Red Hook launches a new monthly dinner series with prominent chefs.
---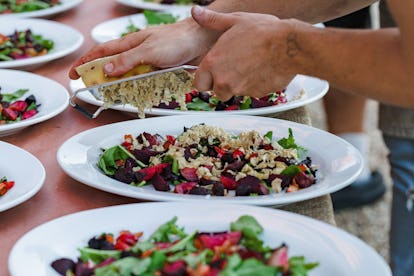 Dar Es Salaam Riser
Everyone's favorite Netflix food porn, "Chef's Table," was the topic of conversation at the inaugural Pioneer Works "Supper Club" dinner in late June. Argentinian chef Norberto Piattoni was the first to cook for the new monthly program in Red Hook, and he happens to be a disciple of the famous Francis Mallman, who is featured on season one of the show. Mallman is known for cooking Patagonian food with an open flame and saying bohemian things like, "Cooking with fire is like making love."
On this particular summer evening, Pioneer Works became the Patagonia of Brooklyn. Guests, who included artists, locals, friends, and foodies who looked like they'd only just learned Red Hook existed, each paid $120 for the experience of dining and drinking wine under romantic candlelight in the backyard of Dustin Yellin's manufacturing warehouse-turned-creative-space. Piattoni served them farmer's market fresh fish, meat, and vegetables, which were all smoked to perfection al asador on the premises. Everyone "oohed" and "ahed," forgetting for a moment about the fading Manhattan skyline behind them.
"Supper Club was conceived as a platform to celebrate chefs as artists and as a community gathering," said Pioneer Works' director, Gabriel Florenz. "Each month we'll highlight an incredible chef or group of chefs putting their creative soul into fostering unique culinary experiences."
The second edition of Supper Club featured Silkstone, the catering arm for the Fat Radish. And as for the rest of the lineup, which runs through November, you'll have to wait and see. How very bohemian indeed.
Pioneer Works Supper Club
Scenes from the second Supper Club dinner.

Robert Smith
Scenes from the first Supper Club dinner.

Dar Es Salaam Riser
Scenes from the first Supper Club dinner.

Dar Es Salaam Riser
Scenes from the first Supper Club dinner.

Dar Es Salaam Riser
Scenes from the first Supper Club dinner.

Dar Es Salaam Riser
Scenes from the second Supper Club dinner.

Robert Smith
Scenes from the first Supper Club dinner.

Dar Es Salaam Riser
Scenes from the second Supper Club dinner.

Robert Smith