At Pitti Uomo, Raf Simons Transforms Robert Mapplethorpe's Photography Into Fashion
"It's so easy to go wrong," the fashion designer explains. But somehow, he got it right.
---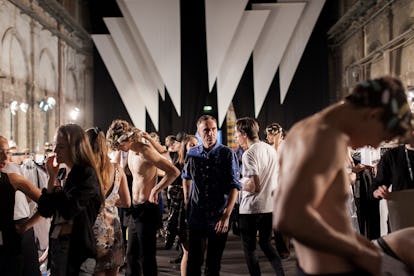 Fashion designer and former Christian Dior creative director Raf Simons has a long history of collaborating with artists. In 2009 he began an ongoing collaboration with the painter Sterling Ruby, and has also worked with sculptor Roger Hiorns. For the Spring 2017 collection of his eponymous label, Simons turned to the photographic works of Robert Mapplethorpe for inspiration. Although the photographer passed away in 1989, Simons collaborated with his estate. Here, the designer talks post-show about how the collection developed, why he showed at Pitti Uomo, and more.
You've collaborated with artists before, but never a photographer. What was that like? With Mapplethorpe, the quality [of his work] is almost shocking. It's like almost every photograph is mind blowing. The challenge for me was to deal with how difficult it is go incorporate photorealistic prints in garments. It's so easy to go wrong doing that, so I wanted the clothes to look very simple and serene.
How did you decide to dedicate an entire collection to Mapplethorpe? Usually when I work in collaboration with an artist I go ask the artist. This time I was the one who was asked to collaborate. The Robert Mapplethorpe Foundation contacted me because they wanted to know if I was interested in finding a way to do something together. As soon as we started talking I began to feel that they're really in another world. I was curious to find out why they wanted to do this and then I was interested to see what kind of schedule they had in mind. Maybe this was something they wanted to do in relation to the retrospective that was going to open, the documentary that's about to come out and the film that's been shot.
What was your first step? I went through all the work. Mapplethorpe kept all his original contact sheets. The archive is very beautiful to look at. Every print is in the same scale so you can see everything. There's a huge number of books with categories for famous people, black guys, flowers, Lisa Lyon, her portraits, Polaroids… I was familiar with most of it, but there were also many things I'd never seen before. I was quite struck from the emotional impact seeing portraits of artists and certain people I admire who have passed away.
Were there any that were especially memorable? Alice Neel, the incredible painter. Her portrait is mind blowing. I also love the Willem de Kooning, and the double portrait of Rauschenberg and Trisha Brown is phenomenal. I thought it was very important to juxtapose this kind of sensitive work with the Mapplethorpe photographs we all know that so may people have criticized, like the sex scenes which were banned from museums and caused law suits.
But you didn't shy away from that with the Spring 2017 collection. The backs of the shirts have all the naughty bits. I think it's important to show the world that there's a relationship between the portraits and the bodies. I wanted to do a show where each boy represents at least one work. My approach is very curatorial, as if it was a museum show, or in a gallery, which is very often what other people have done when it comes to Mapplethorpe like Cindy Sherman or David Hockney. The shows are always in a gallery, always in the same kind of context, in the same kind of format. I'm a fashion designer, so I thought the biggest challenge for me was not to be boring and show Mapplethorpe's work in a gallery again, but instead to show it in relation to my own environment.
I could go on and on but for me it's not so relevant that everything be explained and analyzed. I want to challenge myself for the foundation to hopefully make this believable to a different audience that isn't used to seeing Mapplethorpe's work in a gallery. The work itself is very challenging, very beautiful and emotional. It's an incredible, emotional body of work.
How much time did you spend on this collection? It was a very beautiful, emotional experience over a couple of months. We also had a lot of discussions with people who knew Mapplethorpe, like Robert Sherman with whom I spoke extensively, or families like Alice Neel's. You can't just take a Mapplethorpe you like and use it. I had to negotiate with everyone. This was complicated because there were some people the foundation had no contact with so we didn't even know if they were still living.
What keeps drawing you back to Pitti Uomo? I have beautiful memories here. Many years ago, in 2003, I showed in the same place [the Stazione Leopolda]. I'd been asked to be part of a group show and I remember Alexander McQueen had a pool of water the models walked through to get wet. I think Terry Jones was curating, and I said to myself, "I don't want to put my clothes on a pedestal under glass." So for the show, I built an apartment with all the rooms you need, but no outside walls. Two boys lived there wearing the clothes throughout the fair. They just had to be there during museum hours and after that they were free, so I think they had a pretty good time.
Why did you decide to stage a second retrospective of your work now? I did the retrospective here ten years ago with a show, a new collection, a book and an archive video footage presentation. So I didn't want to come back and do an exhibition or a book again. But I did want to come back here because the people are amazing and Lapo Cianchi [Pitti Immagine Director of Communication and Events] is an incredible personality, beautiful heart, amazing brain, amazing eye. I'm interested in coming back here because of the people. They support you and you can do a bit more. That's how all the mannequins came in. I've never showed the archive anywhere, except for editorial. When museums contacted me I never felt comfortable doing it because I couldn't think about the format. So that was an interesting challenge, going through my archive, trying to find all these personalities, not to have a kind of museum in there with all the same theme and everything. After doing these three things: the retrospective, the collection and the rest, I'm like dying for a holiday now.