For Pitti Uomo 91, Tim Coppens and Paul Smith Chart a Course for Florence
And the Victoria's Secret Fashion Show turns 21, heads for Paris.
---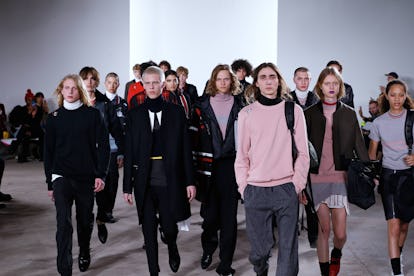 Gamma-Rapho via Getty Images
Coppens, Tim And Smith, Paul: Newly announced guests at the 91st Pitti Immagine Uomo in January 2017.
Fashion Show, Victoria's Secret The lingerie brand's annual runway bonanza just reached legal drinking age, so for its 21st birthday, it's touching down in Paris.
Jones, Rashida All about comfort jewelry.
Law, Iris The model daughter of Jude Law and Sadie Frost is still getting her bearings on the fashion industry. Good thing her godmother is Kate Moss.
Rihanna Marie Antoinette had her moment. Now, Rihanna is all about Japanese street style.
Vans The next Stan Smiths? Maybe, if Frank Ocean (and the ubiquitous "Damn, Daniel" meme) has anything to say about it.
Viti, Fabrizio The Louis Vuitton shoe designer is striking out on his own with Alexia and Gisela Niedzielski, and it's made him the hottest shoe designer in fashion.