Meet the Photographers Behind Places + Faces, Hip Hop's Favorite Tumblr
How to turn a British accent into inside access to everyone from A$AP Rocky to Wiz Khalifa.
---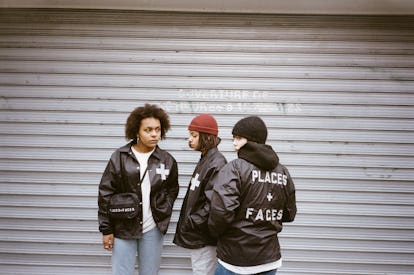 Imran Ciesay and Solomon Boyede, the founders of hip-hop's favorite Tumblr, "Places + Faces," have always been in the right places at the right time. Both London natives, Ciesay, 23, moved to New York in 2013 to live with his uncle, which is when he started worming his way into rap shows with his camera. He swears it's his British accent that won over big names like Drake, Kendall Jenner, and even Kanye West at parties and concerts, with all of whom he has become friendly. But it started when he saw A$AP Ferg in an elevator and simply asked if he could hang out with him and take his picture. Ferg agreed, and three years later he still texts Ciesay, practically begging to see more images.
While Ciesay is out and about snapping photos and making fast friends, Boyede, 24, handles the production side of things. The duo now have a merch line, a Youtube series, and will release their latest zine, "L.I.T.," today, featuring candid nightlife photographs in New York, London, and Tokyo. We spoke with Ciesay while he was out in London; throughout the call, he paused to say 'what's up' to numerous familiar faces.
What was it like in the beginning, shooting concerts and people in New York? One of the first notable people I met was A$AP Ferg. We met in an elevator in the Bronx. I was shooting on the roof and was trying to go down to leave, and when the elevator came up, the doors opened and it was Ferg with his laptop. I was like, "Oh, hey. What are you doing?" And he was like, "I'm going to the studio." And I said, "Can I come?" We just hung out and took some pictures. At the time I was like, "Hell yeah!" But when I look back at the photos now, the focus is off and they're all filtered like an Instagram. Like, Jesus.
A lot of your photos seem to be the result of being in the right place at the right time. Why do you think strangers are open to you randomly taking their picture? I'm reckless all the time. But it's also about how you carry yourself with someone. I'm a very quiet person, but I'm also friendly and can talk to people. I have good communication skills. Other people might go to a show to see their favorite artist and just take the picture and keep moving. Whereas, I would ask, "Hey, can I take your picture?" So people know. And then I'm like, "Can I get your email to send you the picture?" That's how I've formed relationships.
What makes your photos different from other concert or nightlife images? I capture a different side. I'm not standing where a lot of people are; they're more intimate moments. Like with Wiz Khalifa, the first time I met him was in a radio station. I shot him in the studio and then he invited me to his hotel the next day to shoot his whole day out.
How did you talk your way into concerts in the beginning before you had a press pass? Even though I was self-conscious and shy, I still mustered up the courage to be confident. I would go up to security and say, "Hey, I've been flown all the way out from London to document this event." Or, "I work for 'x' company." I would make it up. I guess because I'm from London people were like, "Oh, he's supposed to be here." I wasn't like every other kid in America with a camera. I didn't have anything to lose. I had to at least try. I don't think I ever got turned down.
Do you ever get nervous going up to people? I was nervous when I first started, but because I shoot on film, I'm nervous about whether or not I got the shot. Like when I shot Kanye, I was like, "Man, did I get it?!" When I met Drake … that was cool, I guess. I'm used to it now. I used to want to go to every show, but now I'm like, "Mmm I'm good."
You now have your own merch line and video series. What steps did you take to build your brand and why? The brand started because I wanted something for Sol and I to wear that allowed people to recognize us when we covered events. The idea was to make reflective hoodies so that when you take pictures with flash, our logo pops up. It really f—ks up your photos because it focuses on our name. And then everyone went crazy like, "Oh shit, I want one!" So I was like, I guess this is something I can use to help fund our lifestyle. I started selling the hoodies and t-shirts that said, "No photos allowed." It all has to do with photography so people look at our brand not as a clothing or merch thing.
Because we have access to places where a lot of people can't go, we started bringing a GoPro with us for episodic YouTube videos. It's like our day-to-day. I was inspired by Wiz Khalifa's day-to-day videos I watched growing up.
Do you consider yourself a documentarian? What do your photos say about youth culture or music today? I would definitely say that I'm documenting what's happening right now. It's a weird moment in hop-hop right now. Trap music is genre and sound of this generation. There are different styles of trap, but when it all comes down to it, trap music is the voice. Because of the Internet and everything happening so fast, we're getting diluted with new content every day. The kids aren't really buying music and they don't really care about albums or music videos anymore. They just care about showing up to the club and being able to do their thing.
What are some of your favorite places and faces? Tokyo is my number one favorite place. It's different than anywhere else I've been. I was just in awe. I also used to live in Gambia. I feel like everyone has this misconception of Africa, but they know as much as we do. They know about the style. They're up next. In terms of faces, I really like A$AP Ferg because every time I see him he remembers me and says like, "Look at you! You're the guy now!" He texts me now like, "Yo! I need those photos!"
Who is someone you've never photographed but dream to? I would love to see Pharrell, but Skateboard P. Pharrell.
Why film? It's easier to carry around. Also, the paparazzi have DSLRs snapping away with flash, and I think it puts people off if I have a big camera like that. If I have a film camera or even a disposable one, they know it's more playful and relaxed.
Where do you see Places + Faces in the future? I want to do an exhibition in New York or L.A. this year. I also want to go on a road trip this summer with my friend Eileen Kelly, Killer and a Sweet Thang. I don't want to be known for just shooting rappers and celebrities. I'm kind of over the whole celebrity culture.
It's L.I.T: Photos From the New Places + Faces Zine