Planning Your Next Adventure? Jennifer Fisher Has Some Tips For You
Just back from a trek to India, the New York-based designer and globetrotter dishes on some of her best-kept travel secrets.
---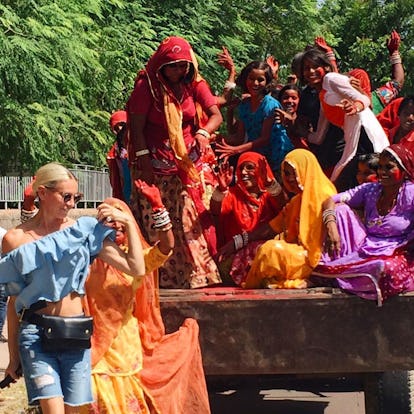 Jewelry designer Jennifer Fisher has her travel routine down to a science. Fisher, just back from a big trip to India, shared her some of the best travel hacks she's learned along the way. From the best beauty products to steal from a flight to her favorite off-season destination, here's how this stylish jetsetter does it.
Favorite mode of travel? I love helicopters. Ever since I was a stylist and did a location shoot with a stunt helicopter, I've been obsessed.
Best travel shoe? Gucci mule loafers.
Go-to travel outfit? NSF denim (it's SO soft) and cashmere sweaters (my favorites are currently Gucci and Marc Jacobs).
Best or worst person you have ever been seated next to on a plane? I cannot repeat my best…but the worst is always a chatty talker. I like to catch up on work and design while flying and am pretty quiet.
Best freebie you've stolen off a plane? Caudalie is always a great snag. I keep the samples in my clutches at night (always good as hand cream mid-day, too).
What's your fall vacation destination? We love going to Santa Barbara to visit my family in the fall. This year we are skipping and they are coming to us because I'm cooking a feast for Thanksgiving…but we normally drop the kids with my parents and check into the Four Seasons Biltmore on the beach in Montecito where I grew up. It's heaven.
Best beauty products for travel? As most people know from my social and Snapchat (jfisherjewelry) I'm a beauty product junkie and always give honest reviews (not sponsored). Glossier The Supers are one of my new favorites in Bounce; La Prairie Skin Caviar; Clinique Pep Start Eye Cream; Caudalie Moisturizing Sorbet is the best light moisturizer and comes in a TSA-size tube, so it's always in my bag; Tatcha Deep Hydration Eye Masks (the entire line is in my rotation but I use these always while traveling). Also their serums are insane. Joanna Vargas Daily Serum (it also smells amazing)
Name five essential pieces of clothing/accessories you can't travel without: Saint Laurent cashmere bandana neck scarf (I always cover my neck while flying to avoid getting sick), and also take Supradyn (it's the European Boracca and I think it is stronger); Slip black silk eye mask; Celine Cabas Phantom tote; Tumi Vapor V3 luggage in black (it's so light weight you can load it up without going 
over the weight limit) ; Mini Steamer (I steam everything…once a stylist, always a stylist) ; universal adaptor ; the best mini retractable lint roller called Flint. Best souvenir you have ever picked up on a trip? This recent to trip India – cashmere heaven.
Airline with the best or worst food? I don't normally eat the food on airplanes. I'm gluten and dairy free so I normally pick up food from Mulberry and Vine in Tribeca and carry it on.
What's your favorite hotel in the world? That is tough.I was recently at Hotel Escencia in Tulum for my friends Jason and Gustavo's wedding. The hotel has the most amazing sense of detail. As a designer, I love those small extras. Also, the food is amazing and it has the most beautiful beach and wild peacocks…
Most luxurious hotel bathroom you've ever seen? I loved the bathrooms in the Upper House in Hong Kong. The bathtub overlooks the city so at night it's the best bath.
Favorite off-season destination? Aspen. I despise the winter there, but love the spring/early summer.