Catching Up with Poppy Delevingne
The international It girl talks about the time her sister Cara Delevingne gave her a tattoo, how she's celebrating her first anniversary, and the films she most wants to see at the Cannes Film Festival.
---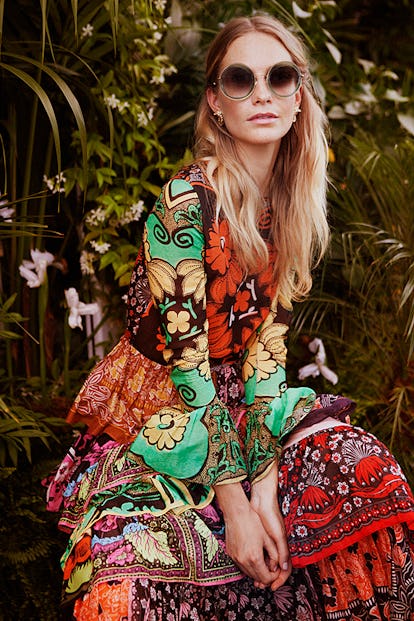 Poppy Delevingne may seem like a natural at the Cannes Film Festival, but it's actually her first time in attendance. "I've only been here for Chanel Cruise, but never for the festival," she explained, hiding behind Miu Miu shades in a Valentino frock on Sunday afternoon at a luncheon held by Chopard. "Everyone says it's a zoo out there." In between film screenings and parties, Delevingne plans to relax—and celebrate her one-year wedding anniversary to her husband James Cook. "Today, I'm going to grab lunch with my hubby and then I'm dying to dip my toes in the water," she says, "I also need to work on my freckles!" Find out more about her Cannes plans here:
How would you describe the Cannes Film Festival in three words? Blue. Steamy. Omelette. I had one this morning it was marvelous.
What film are you most excited to see? [Carol], the Cate Blanchett film by director Todd Haynes. I'm seeing it tonight! I'm just hoping I don't fall flat on my face at the red carpet – it's the first time I'm doing it and it looks really spooky since I'm a complete klutz.
Is there anything you're dying to do while you're here? I want to swim naked in the sea in Chopard diamonds. Even if that means I'll have to be flanked by two massive bodyguards watching over the diamonds with beady eyes.
You can have your own Titanic ending – the diamonds can fall to the bottom in the end. Yes! Exactly what I'm thinking. But I'll be there to retrieve them.
In the spirit of throwing diamonds in the sea, what's the most memorable thing you've done lately? I got a tattoo on my neck a few weeks ago. It's a bull because I'm a Taurus through and through: I'm super shy if you can believe it, but I'm also a raging bull. It's cooler than a normal Taurian sign. It's my second tattoo. The only other one I have is a heart that Cara [Delevingne] actually did a while back.
She did it herself? Yes! It was so random and wild. We had an impromptu tattoo party. It wasn't meant to happen. I woke up in the morning and I totally forgot I had it. I turned to Cara and was like, "did I get a tattoo last night?" and she goes, "Yes, I did it myself and it's on the back of your neck."
Did you give her one? I didn't dare go there.
What other projects are you working on? I have so much stuff coming up but it's so terribly annoying because I can't talk about any of it! Why does everyone have to keep everything a secret? I'm a massive blabber mouth. I'm really always getting in trouble.
Dressed to Impress at the Cannes Film Festival