Poppy IRL: Meet the Internet's Most Mysterious It Girl as She Takes New York Fashion Week by Storm
The pop sensation talks about skincare, Marilyn Manson, and her upcoming world tour.
---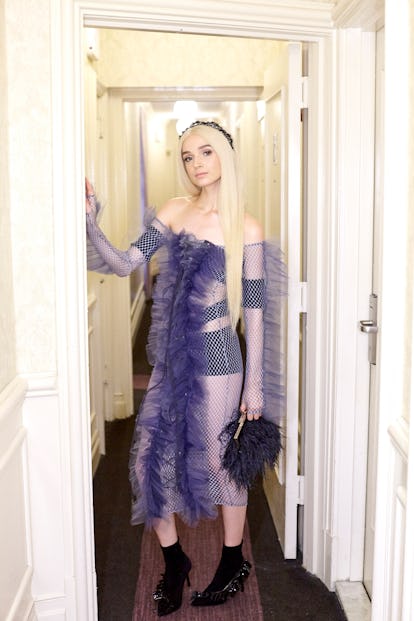 LEA WINKLER
Trying to explain Poppy, the blonde, big-eyed Internet pop sensation, to the uninitiated would be a disservice to everyone involved. The only way to understand Poppy is to experience the singer firsthand, by watching some of her many YouTube videos—the medium on which she skyrocketed to fame—which range from club bangers with collaborators like Diplo and Grimes to more cerebral shorts in which she interviews a plant or simply says "I'm Poppy" for 10 minutes. The experience will likely lead you to the many Reddit threads that discuss the mysterious star, or to her Instagram feed, where avid fans comment on her every post.
But even after that, you will still be left with little information about Poppy. Her age, her background, and even her last name are not known; it would almost appear as if she were a creature born straight out of the Internet.
But she's not; Poppy is a real person. On Thursday morning, I went to her hotel room on the Upper West Side. I knocked. The door opened. "Hi, I'm Poppy," she said.
Of course.
In person, Poppy looks exactly like she does online, with waist-length platinum-blonde hair, large wide eyes, and flawless skin (more on that later). She was wearing a lavender-colored feathered coat, despite the fact that it was close to 100 degrees outside.
But for every Poppy-ism that seems to be a 2-D figure come to life, she also keeps you plenty on your toes. For instance, the pop ingenue immediately started talking about her love for Marilyn Manson. "I like his art a lot," she said. "I got to meet him recently, at one of his shows. It was the show where he was playing with Rob Zombie. It was great. He was really, really nice, and said he likes my videos. It was pretty awesome. He's a legend, and very talented."
While Poppy speaks in only measured, clipped sentences, no more than 10 words a piece, online, in person—while equally measured and thoughtful in her responses—it is both possible and surprisingly easy to have a normal conversation with her.
"Yeah Yeah Yeahs, Gary Newman, Nine Inch Nails, and Cornelius. He's kind of similar to Beck," she continued, listing off her favorite musical artists. The topic of Manson had come up as she had been listening to his audiobook when flying into New York the previous night. "I really like listening to books. I listen to them at twice the speed so I can listen to more books," she said. "I just reread 1984. I'm also rereading The Tipping Point."
Poppy has been on plenty of planes recently; she just flew into town for New York Fashion Week—her first full season since attending Coach's show last February. "That was my first real fashion show," she said, looking back at the experience. "It was so cool. I got to meet Selena Gomez. She is very beautiful. I got to sit front row, so it was wonderful."
On Thursday morning, she was getting ready to attend W's It Girl lunch, her first event of the week, and had selected a sheer, blue, ruffled polka-dot number worn with bondage-y undergarments for the occasion. "I think [fashion] found me," she explained. "With my videos that I make on YouTube, me and my stylist Samantha get to come up with a lot of really amazing looks and to experiment. It just felt natural to start attending fashion week."
Of her personal style, Poppy said, "I still like to wear exciting things. In my videos, the overall look is very eccentric. In my Poppy life, I usually go for one piece being very loud." And she's not exaggerating. Her favorite look she's donned in the past, for example, involved wearing a birdcage as a headpiece. Another was her custom-made ensemble for the music video "Moshi, Moshi." "I really like cages," she explained, "so it was an owl in a cage skirt, and it had pointy shoulder pads and birds on the chest. One of my favorite bands, Of Montreal, has a song called 'Suffer for Fashion.'"
Post–Fashion Week, the singer's life will only get busier, when she leaves for her world tour. "I just found out that I am going to Spain, and that will be very exciting," she said. "I'm also very excited to go to the Netherlands and Brussels." To prepare, she's been rehearsing multiple times a week. "My dancers are very talented and very beautiful," Poppy added. "There is a lot more dancing this time. I love dancing." But she's not nervous about it. In fact, she said that she never gets nervous before getting on stage. "No, I just get excited to do Poppy."
Of course, it helps that she has some very dedicated fans—Poppy Seeds, as they call themselves—there to support her. "The gifts that they give and the paintings that they paint are really beautiful and elaborate," she said. "I really like this one gift that was a Poppy Barbie doll. It looks just like me."
And the singer truly does look like a Barbie, thanks to that flawless, and seemingly pore-less, skin. When asked her secrets, Poppy deflected to her makeup artist, who said: "We've been obsessed with Rodial. Their Pink Diamond line is amazing. And we always use the Peter Thomas Roth hyaluronic underneath, for taking away inflammation. And she's really good about taking good care of her skin. She's on it."
Poppy flashed a small, toothless smile, "Yes," she said. And it's true: If Poppy is anything, she is certainly on.
Go Inside W's It Girl Lunch With Emily Ratajkowski, Katherine Langford, and Brooklynn Prince
Emily Ratajkowski at W magazine's It Girl Luncheon on Thursday, September 6, 2018, at the Mr. C Seaport Hotel, in New York City. Photo by Lea Winkler for W magazine.

LEA WINKLER
Katherine Langford at W magazine's It Girl Luncheon on Thursday, September 6, 2018, at the Mr. C Seaport Hotel, in New York City. Photo by Lea Winkler for W magazine.

LEA WINKLER
Elizabeth Debicki and Brooklynn Prince at W magazine's It Girl Luncheon on Thursday, September 6, 2018, at the Mr. C Seaport Hotel, in New York City. Photo by Lea Winkler for W magazine.

LEA WINKLER
Dree Hemingway at W magazine's It Girl Luncheon on Thursday, September 6, 2018, at the Mr. C Seaport Hotel, in New York City. Photo by Lea Winkler for W magazine.

LEA WINKLER
Debby Ryan at W magazine's It Girl Luncheon on Thursday, September 6, 2018, at the Mr. C Seaport Hotel, in New York City. Photo by Lea Winkler for W magazine.

LEA WINKLER
Condola Rashad at W magazine's It Girl Luncheon on Thursday, September 6, 2018, at the Mr. C Seaport Hotel, in New York City. Photo by Lea Winkler for W magazine.

LEA WINKLER
Olivia Palermo at W magazine's It Girl Luncheon on Thursday, September 6, 2018, at the Mr. C Seaport Hotel, in New York City. Photo by Lea Winkler for W magazine.

LEA WINKLER
Lori Harvey at W magazine's It Girl Luncheon on Thursday, September 6, 2018, at the Mr. C Seaport Hotel, in New York City. Photo by Lea Winkler for W magazine.

LEA WINKLER
Hayley Kiyoko at W magazine's It Girl Luncheon on Thursday, September 6, 2018, at the Mr. C Seaport Hotel, in New York City. Photo by Lea Winkler for W magazine.

LEA WINKLER
Delilah Belle Hamlin at W magazine's It Girl Luncheon on Thursday, September 6, 2018, at the Mr. C Seaport Hotel, in New York City. Photo by Lea Winkler for W magazine.

LEA WINKLER
Denée Benton at W magazine's It Girl Luncheon on Thursday, September 6, 2018, at the Mr. C Seaport Hotel, in New York City. Photo by Lea Winkler for W magazine.

LEA WINKLER
Luna Blaise at W magazine's It Girl Luncheon on Thursday, September 6, 2018, at the Mr. C Seaport Hotel, in New York City. Photo by Lea Winkler for W magazine.

LEA WINKLER
Lynn Hirschberg, editor at large of W magazine, welcomes guests to W magazine's It Girl Luncheon on Thursday, September 6, 2018, at the Mr. C Seaport Hotel, in New York City. Photo by Lea Winkler for W magazine.

LEA WINKLER
Leven Rambin at W magazine's It Girl Luncheon on Thursday, September 6, 2018, at the Mr. C Seaport Hotel, in New York City. Photo by Lea Winkler for W magazine.

LEA WINKLER
Bel Powley at W magazine's It Girl Luncheon on Thursday, September 6, 2018, at the Mr. C Seaport Hotel, in New York City. Photo by Lea Winkler for W magazine.

LEA WINKLER
Poppy at W magazine's It Girl Luncheon on Thursday, September 6, 2018, at the Mr. C Seaport Hotel, in New York City. Photo by Lea Winkler for W magazine.

LEA WINKLER
Nina Agdal at W magazine's It Girl Luncheon on Thursday, September 6, 2018, at the Mr. C Seaport Hotel, in New York City. Photo by Lea Winkler for W magazine.

LEA WINKLER
The table setting at W magazine's It Girl Luncheon on Thursday, September 6, 2018, at the Mr. C Seaport Hotel, in New York City. Photo by Lea Winkler for W magazine.

LEA WINKLER
Emily Ratajkowski at W magazine's It Girl Luncheon on Thursday, September 6, 2018, at the Mr. C Seaport Hotel, in New York City. Photo by Lea Winkler for W magazine.

LEA WINKLER
Condola Rashad and Kelsey Asbille at W magazine's It Girl Luncheon on Thursday, September 6, 2018, at the Mr. C Seaport Hotel, in New York City. Photo by Lea Winkler for W magazine.

LEA WINKLER
Whitney Port at W magazine's It Girl Luncheon on Thursday, September 6, 2018, at the Mr. C Seaport Hotel, in New York City. Photo by Lea Winkler for W magazine.

LEA WINKLER
Rainey Qualley at W magazine's It Girl Luncheon on Thursday, September 6, 2018, at the Mr. C Seaport Hotel, in New York City. Photo by Lea Winkler for W magazine.

LEA WINKLER
Manami Konishi at W magazine's It Girl Luncheon on Thursday, September 6, 2018, at the Mr. C Seaport Hotel, in New York City. Photo by Lea Winkler for W magazine.

LEA WINKLER
Nell Diamond at W magazine's It Girl Luncheon on Thursday, September 6, 2018, at the Mr. C Seaport Hotel, in New York City. Photo by Lea Winkler for W magazine.

LEA WINKLER
Kayli Carter at W magazine's It Girl Luncheon on Thursday, September 6, 2018, at the Mr. C Seaport Hotel, in New York City. Photo by Lea Winkler for W magazine.

LEA WINKLER
Sofia Achaval de Montaigu and Manami Konishi at W magazine's It Girl Luncheon on Thursday, September 6, 2018, at the Mr. C Seaport Hotel, in New York City. Photo by Lea Winkler for W magazine.

LEA WINKLER