Portia Doubleday on Season 2 of Mr. Robot: "People Will Be Shocked"
The actress talks season 2 of the Golden Globe-winning hacker drama, and the harrowing time she got hacked IRL.
---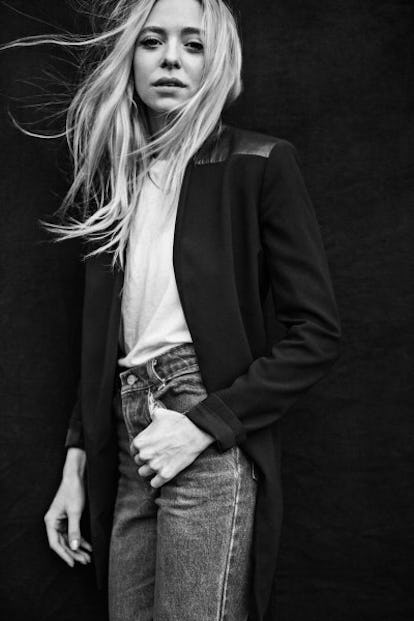 Photo by Victoria Stevens
On Sunday night, the cast of the Golden Globes-winning hacker drama Mr. Robot gathered in New York, where they are still wrapping up production on the second season, to hack the traditional TV launch. Inside the West Chelsea concept store Story, the windows of which had been mysteriously papered over, they revealed a line of Mr. Robot merch (you can buy the black hoodie that has become Rami Malek's second skin). Minutes later, at 8:30 p.m., the first half of the two-episode season premiere (it aired last night on USA) dropped with no advance warning on Twitter, followed by Snapchat, Youtube, and finally the USA website.
The stunt may have felt more like an idea that plays better in a marketing meeting than it does online, but it's the latest example of the show's unusually high engagement and credibility with the Internet and the hacking community (Wired called it "the best hacking show yet"). The Internet, of course, likes to return the favor.
"I've been hacked so many times," said Portia Doubleday, 28, who plays Angela Moss, the childhood friend of Elliot Alderson (Malek). We were sitting on a bench on the nearby High Line; the wind whipped her long blonde hair around her face as she told the story: Once, when hackers got into her travel plans and found that she would be unreachable during a flight to Los Angeles, they called her grandmother and pretended to have kidnapped her, demanding a ransom in exchange for Doubleday's safe return. When she got off the plane, Doubleday, still blissfully unaware, drove toward her parents' house.
"I don't know how in the universe this happened, but my grandmother, who was there looking for me, saw me driving by," Doubleday recalled. "She was on her way to the bank to get the ransom money! And she drove past me and was like, 'You're alive!' I said, "What?!' It was super gnarly. It's scary how easy it is."
Portia Doubleday, Star of Mr. Robot
Photo by Victoria Stevens
Photo by Victoria Stevens
Photo by Victoria Stevens
Photo by Victoria Stevens
Portia Doubleday
In many ways, the show's operating system seems to have bled into the real world, and vice versa. Among several timely parallels to real events over the first season was the scene in the final episode, in which Angela, who had just started working for Evil Corp, the company responsible for the death of her mother, stood nearby as a co-worker shot himself on live TV, the blood splattering against her white pumps. (The episode had to be delayed a week because of the on-camera shooting of two journalists in Virginia, which occurred the same day as the finale was scheduled to air.)
The beginning of season two finds Angela a month later: She has a sleek, power-suited new look, and an icy attitude to match. But like Elliot, underneath the flat display she's a wreck. "She is still trying to acclimate to this environment that's incredibly dangerous and intimidating," Doubleday explained. "She's trying to control her own mind. A huge theme for her this season is suppressing her emotions, being able to think in a more robotic way."
In the season premiere, we find that Doubleday has become a master of the thousand-yard stare. No one seems sure whether Angela, whose crossover to Evil Corp was a shock, is trying to change the system from within, or trying to burn the whole thing to the ground—least of all, the actress playing her. "That's what I don't know," Doubleday confessed, adding that showrunner Sam Esmail won't reveal his intentions for her character in order to keep Doubleday's performance so perfectly conflicted. "But people will be shocked by what happens to her this season; no one will be able to believe it. And think about it: If you were in her position, would you want to work at the company that killed your mother? A lot of people say no, but others would say, 'If you want to actually make a difference, do it from within the system.' But then what happens when you find yourself in that environment, and you get seduced by it?"
I ventured that for Doubleday, who first broke out at age 18 opposite Michael Cera in the comedy Youth in Revolt, this particular pitfall might be a fitting analogy for Hollywood itself.
"Oh my gosh, come on!" She rolled her huge eyes dramatically. "Yes. Yes."