Inside the Kitsch Wonderland That is the Notorious Portia Munson's Latest Over-the-Top Installation
The American artist's slightly suffocating new show at P.P.O.W. is filling Instagram to the brim with bric-a-brac.
---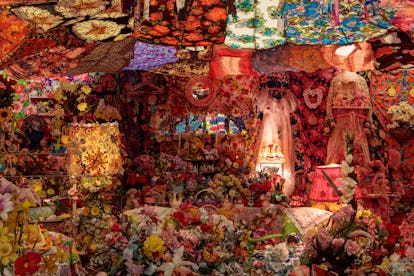 JSP Art Photography, courtesy of the artist and P.P.O.W
After stealing the show at Frieze London with some of the most Instagrammed art of the year, the American artist Portia Munson is back with her boatloads of bric-a-brac, this time in quite a few more shades than pink. For "The Garden," her new exhibition at P.P.O.W Gallery in Chelsea, Munson has relegated her troves of the bubblegum-hued items she's been collecting since childhood to a clear coffin, and topped them off with many more of the assemblages she's made stretching back to the '90s, when she first burst onto the scene as part of "Bad Girls," a notorious feminist show at the New Museum.
Among the many knickknacks in her latest are paintings and animals bones, some of which are formed into a woman-shaped shrine, or else stuffed into a dollhouse. The bulk of them, though, are found inside the titular garden, a garish take on a woman's bedroom that's filled to the point of near suffocation, topped off with quilted floral dresses that form a low-hanging canopy. Of course, all that just means more to Instagram, which visitors have already dived right into just two days in.
15 Female Artists to Follow On Instagram
See Kendall Jenner, Performance Artist, Channels Icons Like Marina Abramovic and Yoko Ono