Labor Party
For some new moms, childbirth is a VIP affair with blowouts, mani/pedis, and videographers. Vanessa Lawrence RSVPs.
---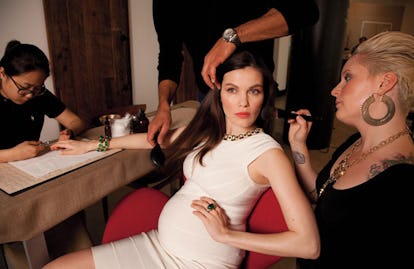 When Beyonce Knowles gave birth to Blue Ivy Carter at New York's Lenox Hill Hospital earlier this year, it was as if a future leader of the world had emerged. The pop star reportedly contracted both private and hospital security to ensure her and the baby's safety, had bulletproof glass installed in the windows of her maternity suite, and took over an entire floor of rooms, for $1.3 million. She also incurred the wrath of many new parents who were kept out of the neonatal unit to make way for the star and her child. Last spring Mariah Carey carefully crafted her delivery demands like one of her tour riders, insisting that the doctors have a live ­recording of her song "Fantasy" piped into the delivery room at the exact moment that her twins, ­Moroccan and Monroe, were born in a Los Angeles hospital. Not to be outdone, a pregnant Jessica ­Simpson didn't skimp on stratospheric requests: The Fashion Star mentor allegedly shelled out $1.3 million for 30 armed guards to fend off potential kidnappers on her special day.
But it's not just celebrities who are insisting on diva-style deliveries. Wealthy ladies from Los Angeles to London are turning their newborns' ­arrival into a red carpet event, complete with pregnancy concierges, professional photo-op moments­, and that last-minute bikini wax. To make sure they're camera-ready, many of them avoid the whole sweaty, obscenity-­spewing mess of traditional birth by opting for a Caesarean. In London, they refer to it as "too posh to push," in honor of Victoria Beckham's preferred delivery style. Stateside, New York ­author Jill ­Kargman suggests ­another explanation for the popularity of the C-section among the socialite set: "They say, 'You're ­going to be the Holland Tunnel. Don't do it vaginally; your husband will thank you for it.' "
In fact, most women enjoy looking picture-perfect in their first mommy-and-me photos. London-based Lisa Martin learned that because her daughter was in breech, she would need a C-section. The day before her operation, she prepared herself: She got a manicure, a pedicure, and a blowout. And before heading to the hospital, she applied a full face of makeup. She was holding her daughter by 9 a.m. "My sister looked like Heidi Klum when she sent out her photos," says Martin's sister, Lara Meiland-Shaw, a buyer for Myhabit.com, who had her first child a week later—after a grueling 20-hour labor (ending in an emergency C-section) without hair and makeup. "There's no photo of me."
To help orchestrate these airbrushed extravaganzas, type-A mommies-to-be enlist pregnancy concierges to handle every detail of their maternal event. In Los Angeles, Ellie Miller and Melissa Gould run the Baby Planners. True to their slogan, "We take the labor out of your delivery," they find fashionable scrubs for dads and create ecofriendly nurseries. New York–based Rosie Pope, the star of the Bravo show Pregnant in Heels and the owner of an eponymous Madison Avenue maternity boutique, helps clients with everything from hiring the best baby nurse to setting up Demi Moore–style pregnant nude photo shoots to booking a bikini wax midcontraction. "The J Sisters will give you a Brazilian up to four centimeters dilated," she says. While Pope is used to momzilla demands, she's still getting her head around the latest request—orgasmic birth. That's right: Some sybaritic moms are forgoing the epidural for a medically approved vibrator. "Right before each contraction, they pleasure themselves to release [the hormone] oxytocin, which is a natural painkiller. It's insane," Pope admits.
From left: Jessica Simpson posing (à la Demi Moore) for Elle magazine, April 2012; a pregnant Mariah Carey on the cover of OK! magazine, April 2011
Michele and Francesco Spiezia, owners of Films by Francesco, a company that shoots social events for the rich and famous, haven't come across any such X-rated behavior in the births they've recorded over the years. Wealthy couples with upwards of six figures in pocket change have enlisted the duo—whose more conventional gigs have included Chelsea Clinton's ­wedding—to make a documentary of their entire pregnancy, culminating in the actual delivery. In these cases, uncertain timing comes into play. "You know six months in advance the exact day you're getting married," Michele says. "With a birth, it's so ­unpredictable. Just like the doctor, you're on call for a week or two." An emergency C-section is an extra curve ball that can make filming impossible. "It's sort of like if a hurricane happens at a wedding—it's out of our control. It's part of a contractual thing."
So how do doctors react to all these fancy deliveries? Laura Schiller, M.D., an ob-gyn on New York's Upper East Side who counts Gwyneth Paltrow among her patients, has never encountered a cameraman in the hospital room. And when it comes to the more prosaic salon services, she remains rational and firm. "The highest priority is the medical care," Schiller says. "Everything else is sideline. There's nothing wrong with it, but do you really need a mani/pedi when you're in labor? With obstetrics, most of what happens is normal stuff. At the end of the day, you could deliver your baby in Central Park and be fine."
Styled by Lindsey Frugier; hair by Sam Leonardi at Raybrownpro.com; Makeup By Ashleigh Ciucci at raybrownpro.com; Polina at Expecting Models; special thanks to Iplaza; Beyonce: Newscom