Post Malone's New Rosé Is Good, According to My Mother
When a bottle of Maison No. 9 showed up on my doorstep, I decided to try it out in true pandemic fashion: in front of the TV with my mom.
---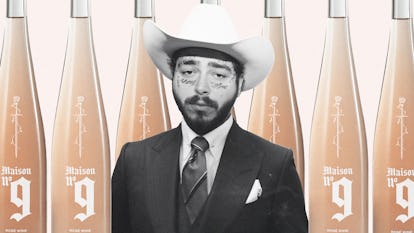 Photograph courtesy of Adam DeGross. Collage by Tilden Bissell.
An alcohol brand of one's own is the jewel in the crown of multi-platinum pop star success. The most iconic example is Diddy's Ciroc vodka, but there's also Jay Z with his Armand de Brignac champagne, Justin Timberlake's Sauza 901 tequila, and Myx Moscato, the flavored Muscat drink partly owned and occasionally rapped about by Nicki Minaj.
It's a flawless marketing equation as old as MTV: music + alcohol = party = sex = power. Slow-motion shots of liquor getting poured over glossy blocks of ice are as common a feature in music videos of the past 20 years as suicide doors, tiny bikinis, and gold chains.
Wine is trickier to make work. It doesn't automatically scream "party" like exploding bottles of champagne or a frosty glass of tequila. Framed in the wrong way, wine can come across as either off-puttingly snooty or downright boring. No one fantasizes about getting showered in room temp Cabernet Sauvignon.
Leave it to Post Malone to come zooming in on a glittering pink Vespa to somehow nail the formula. Earlier this summer, the musician announced his latest project, a Provencal rosé called Maison No. 9. On the wine's website, a video features him and his partners in the venture, music executive Dre London and entrepreneur James Morrissey, rolling around the South of France on scooters, caressing grapes on the vine with tattooed hands, and clinking glasses beneath massive stainless steel tanks. At the bottom of the homepage lies a single quote: "Rosé is for when you want to get a little fancy." — Post Malone.
There's something inherently funny about a hip-hop-slash-pop musician known for his stoner-bro aesthetic launching a product that's typically associated with bronzed aristos getting drunk at lunch in St. Tropez and "white girls" in general. But even with the cheekiness of the marketing materials and the dissonance between rosé and the brands he's associated himself with up until this point (Bud Light, Doritos, Crocs) Post doesn't maintain any sort of ironic distance from the product itself. "Families have spent generations committing their lives to the art of winemaking, and I have so much respect for that," he wrote in an email this month. "Being hands-on in the process is always important to me. We've got a responsibility to make this product as good as it can be."
In between concerts all over the world, Post, London, and Morrissey spent as much time at the vineyard in France as possible, working with award-winning winemaker Alexis Cornu to develop a Méditerranée IGP blend of 45% Grenache Noir, 25% Cinsault, 15% Syrah, and 15% Merlot. "I always loved the Mediterranean—there's just something about the lifestyle out there. When you venture into the hills of Provence, it's a special vibe," Post said. "The people have always been so nice to us, we are always welcomed. I just like the pace of life."
Post first got into "the juice," as he refers to pink wine, because of Mark Wahlberg. "I was hanging out with him at his house and he has this crazy wine collection. He really turned me on to the good stuff," he said. "After that me and Dre [London] started exploring new wines in restaurants, and got a real taste for it."
Ah, restaurants. Remember those? It's been a while since I've taken a performative whiff of anything poured by a sommelier. Instead, most of my drinking these days takes place on the couch. So when a bottle of Maison No. 9 showed up on my parent's doorstep, where I'd been spending most of my life since mid-March, I decided to try it out in true pandemic fashion: in front of the TV with my mother.
The bottle, which I stashed in the fridge along with a Post-it note reading "DO NOT DRINK—FOR ANDREA'S WORK," is sleek and simple, with Gothic font etched in white directly onto the glass. The logo, a sword encircled with a climbing rose, evokes the look of the tattoo that extends down from Post's right temple (the name of the wine is inspired by his favorite tarot card, the Nine of Swords, which represents overcoming daily challenges). In place of a cork, he designed a custom glass cap (to encourage people to reuse the bottle) with crenellated edges, meant to mirror the shape of a chateau near the vineyard where the grapes are grown. (For what it's worth, it took me a few tries and a dish cloth to pry it open, but I got there.)
I poured a few tumblers and handed one to my mom as she turned down the volume of CNN. While she appraised the pale salmon pink color of the wine, I told her it was made by multi-platinum recording artist Post Malone. "Who?" she asked. I tried to hum a few bars of Circles, but got a blank stare. She took a sip and declared it "Good!" I did the same, and it is— bright and juicy with a mineral finish and a delicate citrus aroma. Very smooth and drinkable, not at all sweet like the mass produced versions that give rosé a bad name. It's refined, like a slightly lighter version of Whispering Angel or a distant cousin of Clos Beylesse. It's also nice over ice, if you're into that.
As for how he'll be enjoying his wine this summer, Post's plans are not that far off from anyone else's. "I'll just be spending most of my time in Utah, working on new music," he wrote. "Playing Call of Duty and drinking some Maison with the boys."
Related: One Designer's Guide to Making a Shakerato (The Italian Version of Fluffy Coffee)