How Fashion is Updating Power Dressing for 2017
What should a modern woman wear to show she's in it to win it? If power dressing in 1977 was simple, sexless, and boringly steadfast, 40 years later it is ­wide-ranging and refreshingly individualistic.
---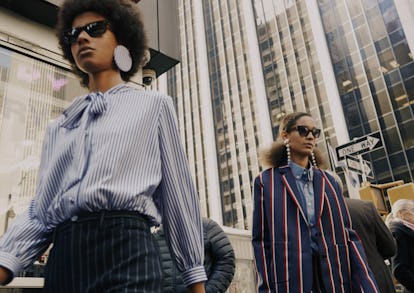 Photographs by Fanny Latour-Lambert, Styled by Alexandra Carl
In the late 1970s and early '80s, business-minded women began dressing—if not for power, then simply to fit in. They were joining a boys' club, and if they wanted to be taken seriously, they had to assume the uniform—which is to say, a slightly below-the-knee skirt suit, preferably in gray or dark blue, with a white blouse, a scarf tie, sensible pumps, and skin-toned pantyhose.
"Anything else at work is unthinkable," proclaimed John T. Molloy in his best-selling 1977 manual, The Woman's Dress for Success Book. Having spent years conducting "scientific" research, the image guru also counseled women to avoid platform shoes, peasant dresses, floral patterns, and sweaters. "[They] give out nothing but negative impulses," he stated of the latter. "They say 'lower middle class' and 'loser.' "
But as women made strides in the corporate world, so did their wardrobes. Donna Karan, who at that time was working as the head designer at Anne Klein, noticed that all the women around her looked like office drones, and she wondered, 'Where is the sensuality?' Aside from Giorgio Armani, who had started cutting suits with freer, more-fluid lines, few designers were considering the working girl's feminine side. "My whole thing was having a woman feel like a woman," says Karan, who launched her own line in 1985, providing on-the-go gals with soft-shouldered jackets, cashmere knits, skirts that wrapped like a ballerina's, and stretchy bodysuits with her signature "cold shoulder" cutouts: Take off the jacket and you were ready for a night on the town.
"Nobody understood how busy our lives were," she says. "And those power suits were holding us back!" Her functional, ­comfort-driven, quasi-athletic take on fashion was decades ahead of its time, as was her 1992 ad campaign shot by Peter Lindbergh, featuring the model Rosemary McGrotha running for president. "I called Peter the night before and said, 'I know this is crazy, but let's do it.' Needless to say, we showed her being sworn in."
But while the body-con silhouette raged, the smell of teen spirit started to seep in. By the mid-'90s, few could deny the power of grunge or the slack, ambisexual style of its poster child, Nirvana frontman Kurt Cobain. "Grunge ushered in an age of effortless dressing and beauty," says Melanie Ward, who served as muse and stylist to the designer Helmut Lang for more than a decade. "We played on this way of thinking, mixing masculine and feminine, uptown and downtown." Lang, with his androgynous tailoring and tech-y, transparent tops, put a chicly subversive spin on power dressing. And thanks to him and Jil Sander—the leading force of '90s minimalism—the suit was suddenly the epitome of cool.
Of course, both Sander and Lang left holes in many wardrobes when they exited their companies in 2000 and 2005, respectively; and they weren't truly filled until Phoebe Philo took the reins at Céline in 2008. Her cerebral, cut-the-bull designs mirrored the attitude of smart, cultured women. As Philo took risks—sending out carelessly saggy pants and fur-lined Birkenstocks, for instance—so too did her followers.
For Spring 2017, Philo, like many other designers, is pushing fashion forward by looking back and rethinking '80s office-wear, with its big shoulders, button-down shirts, and banal pumps—this time around in imaginative, ultra-feminine, and not entirely un-risky ways. At Céline, a slouchy suit looked as though it had been ­layered over a fluid skirt. At Louis Vuitton, a Prince of Wales check blazer was cut into a cape. Prada made a case for marabou-trimmed pencil skirts, and Balenciaga offered a pinstriped jacket with a linebacker's silhouette paired with spandex-cinched pant-boots ("poots"). Indeed, under the wrong circumstances, these looks could be wildly inappropriate. But with the right attitude and some deft styling, they can—and undoubtedly will—be worn by authoritative women in all types of industries. Because if power dressing in 1977 was simple, sexless, and boringly steadfast, 40 years later it is ­wide-ranging and refreshingly individualistic.
"It's all about what's appropriate to your field, which, thankfully, has opened up greatly for women since the term 'power dressing' came about," says Linda Fargo, the 50-something senior vice president of Bergdorf Goodman.
So, while she still regards a traditional well-tailored jacket as the clearest signifier of she-means-business, Fargo, as a fashion insider, is inclined to sport more-daring clothes like sheer leopard-print blouses, hothouse-­patterned dresses, and lamé pantsuits. ­"Personally, I like my 'power looks' to be a combination of drama, nonconformity, restraint, surprise, modesty, and playfulness," she says. "That's when I feel strongest and the least vincible."
On the other hand, Emily Weiss, the 31-year-old founder and chief executive of Into the Gloss and Glossier, a beauty website and direct-to-consumer beauty brand, just likes to be ­comfortable. Her outfits often consist of skinny black Rag & Bone jeans, Adidas shell-toe sneakers, and a sweatshirt emblazoned with her company logo—even when she's conducting meetings. "I definitely fall into that start-up-business fashion stereotype," she says, adding that she keeps her hair and makeup decidedly undone as well. Weiss does, however, put more thought into what she wears on her fundraising trips to ­Silicon Valley.
"A very small percentage of female-run companies are funded by venture capitalists, so already I feel a certain pressure and total bewilderment about how to present myself in that environment," she says, noting that she'll swap out her kicks for kitten-heel boots, which give her some "height and swagger." "The first time I went there, I remember wishing I was wearing an Armani power suit," she recalls. "And the president of my company was like, 'You'd be the only one.' The tech world's sense of power dressing is a Patagonia fleece and khakis—the more inconspicuous you look, the more important you are."
Power Dressing Through the Years
Power dressing takes a forceful turn (from left): Balenciaga blouse and pants; Celine sunglasses; Balenciaga earring. Mulberry shorts suit and Vetements x Comme des Garçons shirt; Oliver Goldsmith sunglasses; Ben-Amun by Isaac Manevitz Earrings.

Photographs by Fanny Latour-Lambert, Styled by Alexandra Carl
Mulberry suit; Magda Butrym suit.

Photographs by Fanny Latour-Lambert, Styled by Alexandra Carl
DKNY blazer, Off-White c/o Virgil Abloh shirt, DKNY Pure shorts; DKNY blazer, Jil Sander shirt, DKNY Pure shorts, Sies Marjan stole.

Photographs by Fanny Latour-Lambert, Styled by Alexandra Carl
A Céline spring 2013 look.

IMAXTREE
A Helmut Lang fall 1995 look.

Getty Images
Donna Karan's "presidential campaign," 1992.

Courtesy of the Designer/Peter Lindbergh/Rosemary Mcgrotha, icon focus models
A Jil Sander fall 1990 look.

MVC photo
A Giorgio Armani ad campaign from 1984.

Aldo Fallai, Courtesy of the designer.
A power look photographed by Patrick Demarchelier in 1988.

Patrick Demarchelier: Conde Nast
Perhaps, then, power dressing in this day and age has less to do with style than with substance. Gabriela Hearst, whose 2-year-old luxury-sportswear line has become a go-to for natty, no-nonsense women, says she believes in clothes that are crafted responsibly. The ­Italian mill that manufactures many of her woven pieces, for example, is owned and operated by women.
"My designs have to be beautiful and utilitarian but also made with a clear conscience," she says. "There is an overload of product out there, so you have to choose things that are better for you as well as the environment. I find that to be very empowering."
Ten Evan Rachel Wood-Worthy Suits to Wear Now
Watch W's most popular videos here: