Why Does the New Rita Repulsa Look So Much Like Susanne Bartsch?
Power Rangers's original Rita Repulsa was an evil witch. Elizabeth Banks's update to the character looks like she's going to give you drink tickets at Le Bain.
---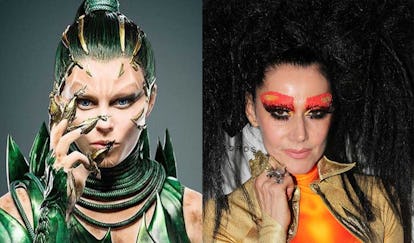 Power Rangers is the latest franchise to come out shiny and new from Hollywood's reboot factory. The big screen adaptation of the ultimate '90s kid TV show hits theaters this weekend. Of course, one of the curious pleasures of any reboot, whether one actually sees it or not, is seeing how costume designers rework iconic characters' looks with a new edge and a blockbuster budget.
In most cases, the Power Rangers crew kept relatively true to the source material. But the biggest exception? Main villain Rita Repulsa. Originally played on the small screen by Japanese actress Machiko Soga, '90s Rita was styled as something of a granny witch with a helmet of gray, pigtailed hair meant to look like devil horns. Her go-to outfit was a voluminous brown dress with gold accents.
Elizabeth Banks's take on the character is something different. Her Repulsa is sleek and sexy in a green bodysuit. The main stylistic nod to the original: just her golden staff.
In fact, the new look Rita reminds us not of the original, but someone else completely. We can't help but think that production designers found inspiration in the most surprising of sources: NYC party promoter icon Susanne Bartsch.
The Swiss-born Bartsch has been a mainstay on the New York nightlife circuit since the '80s, and in that time she's helped guide the careers of every legendary club kid to come through the city: everyone from Amanda Lepore to RuPaul. Bartsch has also developed an eye-popping personal style of her own, one iconic enough to receive its own exhibition at the Museum at FIT in 2015.
Even though promo material for the Power Rangers flick have revealed just two of Rita Repulsa's looks, it certainly seems she's been taking a few style cues from Ms. Bartsch.
An ornate, skintight bodysuit that seems as fit for a night at the club as it does a meeting of the world's evilest super villains?
It's also a Bartsch staple.
Sure, maybe Bartsch doesn't have that exact same green suit, but you could imagine her fighting Banks for it if there was only one left on the rack at whatever boutique one would buy such a thing.
Though, maybe it's more the beauty look that really drives things home.
Pulled-up black hair, a smokey eye, and most importantly, some shiny stuff on the face. It's certainly very Bartsch-ian.
Or how about these matching photoshoots?
Or their mutual preference for claw-like jewelry.
There's also the fact that Banks plays the character with a husky, heavily accented voice not dissimilar from Bartsch's own deep-toned, Swiss-accented voice.
Compare this short, Rita-heavy teaser trailer:
And this short interview with Bartsch.
We're not saying it was intentional, nor are we insisting on a true verisimilitude. We're just saying that the new Rita Repulsa looks nothing like the '90s original, but she does look like someone you might try to hound for drink tickets at Le Bain.
Elizabeth Banks Performs Drake's "Hotline Bling":