Prada and Mubi Will Honor Showgirls as a Cinematic Masterpiece
Fondazione Prada and MUBI are giving credit where it's due with their joint curation of films that are considered to be "Perfect Failures."
---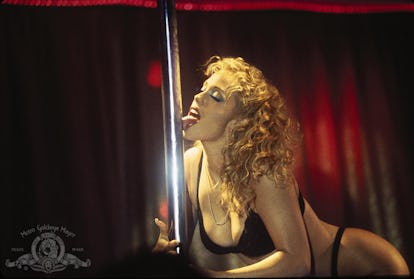 Photo courtesy of IMDb and MGM.
What do films like Showgirls, Fedora, and Southland Tales have in common?
According to the Fondazione Prada and MUBI, the streaming service for cinephiles, they're all essential pieces of cinema that were "widely misunderstood" at the time of their original release, and they're all films that are way past due for being inducted into the canon.
So, the Fondazione Prada and Mubi are launching a joint curatorial effort, driven by the goal of spotlighting those films that have been regarded as so-bad-they're-good, or simply just ahead of their time. They're calling them "Perfect Failures."
Per a statement released by Fondazione Prada, "This cinematographic journey includes features box office flops, critical disappointments, shocking divergences from a beloved artist or burdened with a difficult production, films ahead of (or ingeniously behind) its time, missteps of prominent directors. It proves that a movie's original reception is not the final word on its true value, as happened to these films initially greeted with confusion, rejection and repulsion."
Beginning April 5, MUBI subscribers will be able to stream these "perfect failures" from home. The selection includes Richard Kelly's Southland Tales, Charlie Chaplin's A Countess from Hong Kong, Billy Wilder's Fedora, Kelly Reichardt's Night Moves, and Chantal Akerman's Un divan à New York (A Couch in New York).
Finally, the service will screen Paul Verhoeven's NC-17 box office flop Showgirls, which was panned by critics upon its release in 1995 and won seven Razzies, despite exhibiting performances from Elizabeth Berkley and Gina Gershon as Las Vegas showgirls, and Kyle MacLachlan as a club's entertainment director.
Critics hated Showgirls, but even MacLachlan, one of the film's stars, called it "horrible" when he saw it, and the film's screenwriter Joe Eszterhas referred to this particular erotic thriller as "one of the biggest failures of our time."
Initially reviled, Showgirls has since become widely revered as a camp masterpiece. At first it was a film to be enjoyed ironically, but now, people generally admit that it's actually quite a good satire of Hollywood. A handful of the other "Perfect Failures" are regarded as such now, too. Audiences hated Chaplin's last comedy, even though it starred Sophia Loren and Marlon Brando, Reichardt was accused of plagiarism when she released Night Moves in 2013, and Southland Tales, a sci-fi alt-history thriller starring the affable Dwayne "The Rock" Johnson was practically booed out of Cannes in 2006. Maybe now, as part of the "Perfect Failures" assortment, these films can be reconsidered by those who watch.
Remember that "camp" is both an aesthetic and a sensibility that could be appealing because it was made in poor taste, but recall where camp intersects with failure, too. There are practically infinite interpretations of the concept, yet something can only be truly described as camp if its initial intent was not necessarily to create a bad product on purpose.
Verhoeven, Wilder, Reichardt, and more of the filmmakers in the "Perfect Failures" collection didn't necessarily intend for their films to flop at the time of their release, but when we look back at them over time, we can recognize these films as ingenious in their own right. The only movies missing from this selection of "perfect failures" are probably Reefer Madness, Pret-A-Porter, and Mommie Dearest, but who's to say there's not going to be a "Perfect Failures: Part Deux" in the future?
In any case, this collaborative project couldn't have come at a better time. What else do you have to do in quarantine besides catch up on all the films you've always pretended to have seen but haven't actually laid eyes upon? Now's your chance.