Ansel Elgort, Miuccia Prada and the Restoration of Shanghai's Stunning Rong Zhai Mansion
Inside the three days of celebrity-studded parties that unveiled the six-year renovation of an architectural marvel from Shanghai's belle époque.
---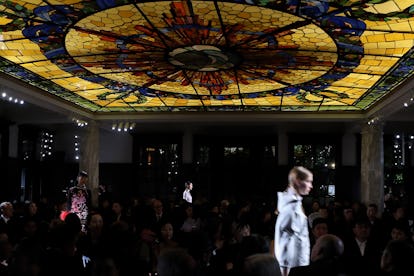 Emmanuel Wong
"Shanghai is one huge compelling thing," said Michael Rock, creative director and co-founder of New York-based creative agency 2×4, and curator for the inaugural exhibit at Prada Rong Zhai, a newly restored heritage mansion by design doyenne Miuccia Prada and her husband, Prada Group chief executive Patrizio Bertelli, in the city's affluent Jing'an District, just north of the former French Concession. "It has always been an international city with a European-Chinese nexus too," Rock continued, citing the rich and dynamic history of the Chinese metropolis.
Tucked away behind a gated compound on 186 North Shan Xi Road, Prada Rong Zhai is as discreet as it is a cultural tour de force, which Prada, alongside longtime collaborator, renovation specialist and architect Roberto Baciocchi, and a cadre of Italian artisans and Chinese scholars and craftsmen, painstakingly restored beginning in 2011. The garden villa, which harps back to Shanghai's decadent prime in 1918, when Yung Tsoong-King, an influential industrialist and businessman from Wuxi, known as the "Flour King," first purchased the idyllic home for his family.
"He used to hide in the staircase watching all the activities," said John Con-sing Yung of his grandfather, Hung Ching Yung, who, as one of Yung Tsoong-King's last remaining children, grew up as a small boy in the mansion. "They used to have grand parties which lasted 48 hours [in the ballroom]…there were three swing beds, which rotated non-stop, and you weren't allowed to leave until it was over." Even celebrated Beijing opera star Mei Lanfang, most known for pioneering his sensational performances in exclusively female lead roles, performed at the Yung mansion.
Of course then, Shanghai was a bustling port city of creativity and commerce, the streets filled with expatriate enclaves and a decidedly forward-thinking contingent of Chinese artists, tailors, intellectuals, bankers and entrepreneurs. This was Modern China at its belle époque, a time when communities and cultures from disparate worlds converged. Jazz music played in gentlemen's clubs, women wore risqué cheongsams, and debates roared on how best to usher in modernity while remaining decidedly Chinese.
Today, that same spirit lives on throughout Shanghai, if not Prada Rong Zhai itself. A weeklong series of events meticulously organized by Prada marked the buildings big reveal and coincided with Shanghai Fashion Week, including a Prada Resort 2018 fashion show and dinner last week among China's elite—from actresses like Zhang Ziyi and Dong Jie to cinematographer Yang Fudong, director Wang Bing and artist Cao Fei. Ansel Elgort, the face of Prada L'Homme fragrance, stopped by days later for another party while Kitty Cash played a DJ set while fresh-faced models like Liu Wen, Qin Shupei and Ju Xiaowen danced underneath the ballroom's sprawling sixty-nine paneled, stained-glass skylight.
On Saturday, as guests wandered throughout Prada Rong Zhai's multiple floors, the exhibit unfolded, highlighting the myriad materials and rooms, which were intentionally left empty, save for a few 3D models and renderings of Prada Rong Zhai and the brand's other architectural projects, whether newly constructed avant-garde experiments, like its epicenters in New York, Los Angeles, and Tokyo, or its more quiet, restoration projects in Italy, like Milan's Galleria Vittorio Emanuele II and Venice's Ca' Corner Della Regina.
"We made the decision to leave the house spare," Rock explained. "To tell the story about what they did, because the exhibit is about the house itself. The process was really important because it's about craftsmanship, detailing, and doing things that aren't superficial. We didn't want to try to create 'lifestyle,' and the content we brought answers [the question], 'How does Prada use architecture? How has it been important to the brand?'"
"I think that with a lot of these big Western brands, they want something from China," he continued. "They want people to buy their bags. They come in, they set up a big event in a hotel, and then they disappear. What's interesting about this project is that it was really about doing something real. In the world now, everything you go to is a sort of branded backdrop. Every party, you feel like 'Am I really here?' Or am I here to service the set for something else. There's a kind of thinness to that experience and I think this house feels opposite of that. It's solid. It's not a façade. It's been done with care."
More materially, the unique Western-style architecture and its Chinese deco components, combined with Classical and European influences, run the gamut, from stained-glass in sunburst motifs and Chinese scene-scapes to stucco and plaster walls (in their original hues), bronze metal and chandelier lamps, intricate, hand-carved wooden teak in a fireplace or dado paneling. From the inlaid Chinoiserie details, and the ceramic tiling and gilded ceilings, all were arduously restored with a singular approach, what Baciocchi said is shared among all Prada projects: "The constant pursuit of quality."
"From China I have gotten confirmation of the fact that good craftsmen, when they are motivated, stimulated and involved, can take part in the work, learning with enthusiasm and growing to reach their full potential," Baciocchi said of the teams between Italy and China that he oversaw. "The Chinese craftsmen did a magnificent job on the parts in wood, executed with true mastery. The patina was then patiently completed in collaboration with Italian artisans. This cooperation happened in an extraordinary atmosphere of harmony, so much so, that no interpreters were required."
Baciocchi said there's one aesthetic feature that's not to be missed: "It's worth noticing the light, the extraordinary atmosphere that is created thanks to the combination of multiple elements: colored glass, waxed-wall panels, calcimine and natural pigments, that produce a unique effect of vitality and depth through the light and the color that it reflects."
It seems, whether 20th century or 21st, the past or present, China or the West, perhaps artistry, as it always has, transcends time.
Prada Rong Zhai will play host to cultural activities throughout Shanghai, and is open to the public from October 17 to November 12, 2017.
See the Best Street Style From Shanghai Fashion Week Spring 2018
Street style in Shanghai during Shanghai Fashion Week spring/summer 2018. Photo by Adam Katz Sinding for W Magazine.

2017 Adam Katz Sinding
Street style in Shanghai during Shanghai Fashion Week spring/summer 2018. Photo by Adam Katz Sinding for W Magazine.

2017 Adam Katz Sinding
Street style in Shanghai during Shanghai Fashion Week spring/summer 2018. Photo by Adam Katz Sinding for W Magazine.

2017 Adam Katz Sinding
Street style in Shanghai during Shanghai Fashion Week spring/summer 2018. Photo by Adam Katz Sinding for W Magazine.

2017 Adam Katz Sinding
Street style in Shanghai during Shanghai Fashion Week spring/summer 2018. Photo by Adam Katz Sinding for W Magazine.

2017 Adam Katz Sinding
Street style in Shanghai during Shanghai Fashion Week spring/summer 2018. Photo by Adam Katz Sinding for W Magazine.

2017 Adam Katz Sinding
Street style in Shanghai during Shanghai Fashion Week spring/summer 2018. Photo by Adam Katz Sinding for W Magazine.

2017 Adam Katz Sinding
Street style in Shanghai during Shanghai Fashion Week spring/summer 2018. Photo by Adam Katz Sinding for W Magazine.

2017 Adam Katz Sinding
Street style in Shanghai during Shanghai Fashion Week spring/summer 2018. Photo by Adam Katz Sinding for W Magazine.

2017 Adam Katz Sinding
Street style in Shanghai during Shanghai Fashion Week spring/summer 2018. Photo by Adam Katz Sinding for W Magazine.

2017 Adam Katz Sinding
Street style in Shanghai during Shanghai Fashion Week spring/summer 2018. Photo by Adam Katz Sinding for W Magazine.

2017 Adam Katz Sinding
Street style in Shanghai during Shanghai Fashion Week spring/summer 2018. Photo by Adam Katz Sinding for W Magazine.

2017 Adam Katz Sinding
Street style in Shanghai during Shanghai Fashion Week spring/summer 2018. Photo by Adam Katz Sinding for W Magazine.

2017 Adam Katz Sinding
Street style in Shanghai during Shanghai Fashion Week spring/summer 2018. Photo by Adam Katz Sinding for W Magazine.

2017 Adam Katz Sinding
Street style in Shanghai during Shanghai Fashion Week spring/summer 2018. Photo by Adam Katz Sinding for W Magazine.

2017 Adam Katz Sinding
Street style in Shanghai during Shanghai Fashion Week spring/summer 2018. Photo by Adam Katz Sinding for W Magazine.

2017 Adam Katz Sinding
Street style in Shanghai during Shanghai Fashion Week spring/summer 2018. Photo by Adam Katz Sinding for W Magazine.

2017 Adam Katz Sinding
Street style in Shanghai during Shanghai Fashion Week spring/summer 2018. Photo by Adam Katz Sinding for W Magazine.

2017 Adam Katz Sinding
Street style in Shanghai during Shanghai Fashion Week spring/summer 2018. Photo by Adam Katz Sinding for W Magazine.

2017 Adam Katz Sinding
Street style in Shanghai during Shanghai Fashion Week spring/summer 2018. Photo by Adam Katz Sinding for W Magazine.

2017 Adam Katz Sinding
Street style in Shanghai during Shanghai Fashion Week spring/summer 2018. Photo by Adam Katz Sinding for W Magazine.

2017 Adam Katz Sinding
Street style in Shanghai during Shanghai Fashion Week spring/summer 2018. Photo by Adam Katz Sinding for W Magazine.

2017 Adam Katz Sinding
Street style in Shanghai during Shanghai Fashion Week spring/summer 2018. Photo by Adam Katz Sinding for W Magazine.

2017 Adam Katz Sinding
Street style in Shanghai during Shanghai Fashion Week spring/summer 2018. Photo by Adam Katz Sinding for W Magazine.

2017 Adam Katz Sinding
Street style in Shanghai during Shanghai Fashion Week spring/summer 2018. Photo by Adam Katz Sinding for W Magazine.

2017 Adam Katz Sinding
Street style in Shanghai during Shanghai Fashion Week spring/summer 2018. Photo by Adam Katz Sinding for W Magazine.

2017 Adam Katz Sinding
Street style in Shanghai during Shanghai Fashion Week spring/summer 2018. Photo by Adam Katz Sinding for W Magazine.

2017 Adam Katz Sinding
Street style in Shanghai during Shanghai Fashion Week spring/summer 2018. Photo by Adam Katz Sinding for W Magazine.

2017 Adam Katz Sinding
Street style in Shanghai during Shanghai Fashion Week spring/summer 2018. Photo by Adam Katz Sinding for W Magazine.

2017 Adam Katz Sinding
Street style in Shanghai during Shanghai Fashion Week spring/summer 2018. Photo by Adam Katz Sinding for W Magazine.

2017 Adam Katz Sinding
Watch: Ansel Elgort and 3 More Young Stars Share The Best Advice They've Ever Received
Ansel Elgort and 3 More Young Stars Share The Best Advice They've Ever Received