Prada Is Auctioning Off Fall 2020 Runway Pieces for Charity
The proceeds from Kaia Gerber and Gigi Hadid's runway ensembles will benefit UNESCO.
---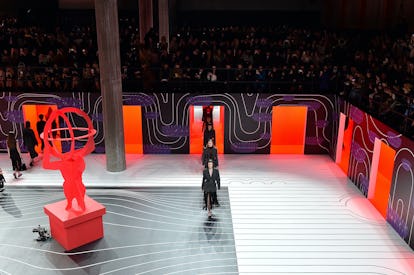 Tullio M. Puglia/Getty Images
Despite the industry's best efforts, the past month's largely virtual fashion weeks just haven't been the same. It's perfect timing, then, for Prada to look back at its last two IRL runway shows, which took place earlier this year. Typically, the house would announce the release of its men's and womenswear collections via more traditional format, like a splashy ad campaign. But this time around, it's doing something entirely different: an online auction in partnership with Sotheby's.
From today until October 15, one-of-a-kind items from the "universes" of Prada's fall 2020 Milan Fashion Week showings will be available for purchase. And these aren't just Prada pieces you could buy online, or at a store; the clothes and accessories for sale are the same ones that models like Gigi Hadid and Kaia Gerber actually wore down the runway earlier this year. The sales also happen to benefit the United Nations Educational, Scientific and Cultural Organization (UNESCO), and specifically its efforts to address the educational disruptions that 90 percent of the world's students have experienced during the pandemic.
Among the offerings are show invitations, seat cards and an assortment of "fashion items," like a vinyl version of the soundtrack's inspirations. You might want to take some measurements before bidding on some of the runway décor; the two wooden AMO and Rem Koolhaas statues that divided up the runway stand at more than 12 feet. (All things considered, the $122 shipping fee to New York City seems surprisingly cheap.)
There are also the clothes and accessories that made it down the runway, like a pair of yellow-tinted sunglasses, a re-nylon vest, a wide variety of nylon and leather bags, and a sheer silk organza dress. And finally, there's the most affordable option: the photographic prints taken of scenes backstage. Anok Yai, Freja Beha Erichsen, and Rianne Van Rompaey make cameos, as do fellow models Gerber and Hadid. The latter, an amateur photographer, got behind the camera, too.
In a statement, Prada described the auction as "a reflection and memory of this specific time when people were unable to come together, to commune to create." The campaign and auction, titled "Tools of Memory," is also a reminder of the so-called Before Times, when IRL runway shows regularly took place. Apart from being the last—at least for now—that Prada held traditionally, the fall 2020 runway is especially significant for marking the last womenswear collection Miuccia Prada designed solo. It was just a few days later that Prada announced Raf Simons's appointment as Mrs. Prada's co-creative director—a moment the industry will never forget.