The Best Tweets of Despair About the First Trump-Biden Debate
Or, as some put it, about "the worst Verzuz ever" and episode of "American Horror Story: America."
---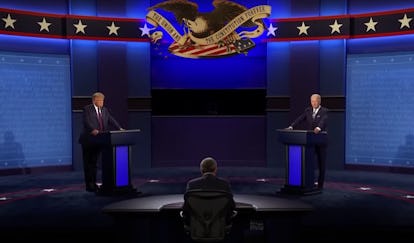 Courtesy of Guardian News
The close of a presidential debate typically signals the queue for endless news anchors, pundits, and political commentators to deliver their analyses and takeaways. But when Tuesday night's debate between Donald Trump and Joe Biden came to a close—which NBC's Savannah Guthrie ventured must be "music to your ears"—many were simply in a state of shock. "I'm a bit at a loss here," she continued, and for a moment all she could muster was that what we'd just witnessed was an "all time low in American politics." "I've seen better-organized food fights at summer camp," the Republic strategist Michael Steel said.
Between the constant misinformation and the shouting that made what policy talk there was indecipherable, there wasn't much in the way of any real political substance to Tuesday night's melee. And what there was of it was grim, like Trump refusing to denounce white supremacy when asked to do so directly. "I'm willing to do that," Trump responded, then immediately countered with "almost everything I see is from the left wing, not from the right." When Biden suggested he specifically denounce the Pride Boys, Trump essentially egged the extremist group on. "Proud Boys: Stand back and stand by," he said. "Somebody's got to do something about antifa and the left." (He also wavered on the subject of climate change, which he said he only believed "to an extent.")
Biden did his best to ignore Trump, whom he called "a racist," "a fool," and "the worst president America has ever had." He instead looked directly at the camera to ask the audience questions like "How well are you doing?" when Trump boasted about the economy, and assert that "he's not worried about you" when Trump defended the rallies he's held against medical advice. He squeezed in a few zingers, like "shut up, man," "keep yapping, man," and "that was a productive segment, right?" But as could only be expected from a former reality TV star, many of the most regrettably memorable lines came from Trump, whose aim seemed to be interrupting Biden rather than making the case for himself.
It didn't help that the moderator, Fox News's Chris Wallace, either couldn't get a word in or only added to the chaos. Trump readily admitted that Wallace was in his line of fire, too: "I guess I'm debating you, not him," he said. Wallace, for his part, asked Trump if he wanted to switch seats.
It's unclear who exactly the debate was for. Certainly not undecided voters, though perhaps Trump supporters taking it all in with delight. On Twitter, some offered alternatives as what the "presidential debate" really was.
But for the most part, many of the Twitter users brave enough to tune in simply commiserated over their misery. Creativity often thrives in times of crisis, and their commentary might be the best bet for making it through the two presidential debates to come.
Related: Julia Louis-Dreyfus Went Above and Beyond in Her DNC Mockery of Trump