From Etsy to Jane Fonda: The Story of Millinery Label Preston & Olivia
Designer Dara Kent-Cobb combines southern charm with an urban sensibility in her cult-favorite collection.
---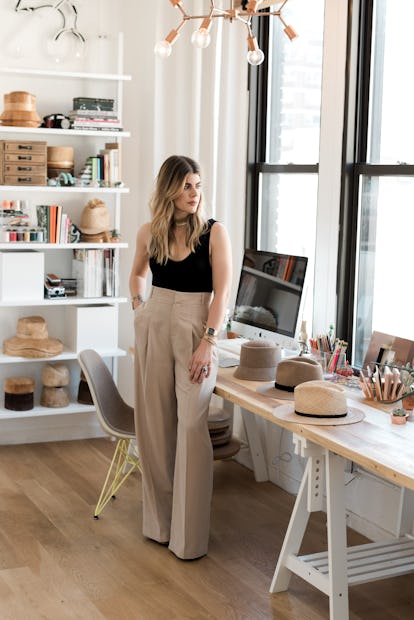 Since launching in 2011 as an Etsy shop, New York millinery label Preston & Olivia has grown into a cult brand complete with both women's and men's styles that range from wide-brimmed brushed felts to packable sun hats ideal for summer getaways. Founder Dara Kent-Cobb draws inspiration from her native Louisiana, and her current home New York, for a collection that is both tough and charming. With summer holidays and necessary sun coverage on the mind, the budding milliner opens up about how to wear statement accessories, growing her business and why hats are an integral style staple for the modern woman.
How did you get your start in fashion? I studied textiles, apparel, and merchandising with a concentration in apparel design at Louisiana State University. After graduation, I moved to New York, and began freelancing while I continued to study accessory design at FIT. I started with leather and handbag design courses, but once I took my first millinery class, that was it!
What was the experience of getting your business off the ground? I would say my strategy has been "slow and steady wins the race." I started my business as an Etsy shop selling only bridal accessories back in 2011, while working full time and studying at FIT. I had no idea how long it would take to "make it." I had no timeline, I've just sort of allowed the company to grow organically. Today, Preston & Olivia is still very much a small business that I run with my husband. We plan to expand on the product line in the coming seasons, and we are now working with retailers to bring P&O to stores across the country.
What styles most popular with your customers? I've seen a shift in style popularity over the past few seasons. It used to be the Ashby hat, our widest brimmed style, but it's now the shorter brimmed Milford hat. Second to the Milford, the Marti Braided style has been very popular this season, as it's an easy packable style that offers great sun coverage.
What accessories trends are you seeing among women right now? I'm seeing a lot of statement accessories with nods to the '70s or '90s. Bold shoes, large earrings, and choker necklaces are all accessories that stand out when paired with the clean minimalist clothing. As for hats, I see women fearlessly wearing color and strong silhouettes, but I also find that the majority of my customers want a hat that they can live in and wear with everything. I feel that's why I've seen my shorter brimmed styles become more popular, they're easy to pair with any look.
Has there been a favorite moment since you launched? Um, the full spread of Jane Fonda wearing the Isabelle hat in the June/July 2015 issue of W Magazine? That was pretty amazing, I must say.
Let's talk your Fall 2016 collection. How did you come up with the concept? With each collection, I always draw inspiration from photography, colors, textures, an overall feeling, etc. It's rarely one single thing. Our Fall 2016 collection is reminiscent of the '90s. It is our most stripped down collection yet, embracing clean minimalism and natural tones. We focused on this idea of uniform dressing with paired down looks, a strong play in neutral colors with a pop of color. This season we are opting for interesting details and focusing on texture like leathers, boucle ribbons, velvet and tassels. It's very much a story of masculine meets feminine, and southern meets city.
Talk to me about your plans for the future. What's next? We're developing the Spring Summer 2017 collection now and also continuing to work with retailers across the country…it's exciting to see Preston & Olivia in stores!
Photos: From Etsy to Jane Fonda: The Story of Millinery Label Preston & Olivia
Dara Kent-Cobb. Photo by Trent Bailey Studio.
Dakota and Elle Fanning in W's February 2015 issue. Photo by Trent Bailey Studio.
Preston & Olivia's office. Photo by Trent Bailey Studio.
Preston & Olivia's office. Photo by Trent Bailey Studio.
Preston & Olivia's office. Photo by Trent Bailey Studio.
Preston & Olivia's office. Photo by Trent Bailey Studio.