Troian Bellisario On Life After Pretty Little Liars
As her popular TV series comes to an end, the actress opens up to W about filming the cast's last scene together and what's to come, including her first film as a writer.
Photographs by Alexander Saladrigas
---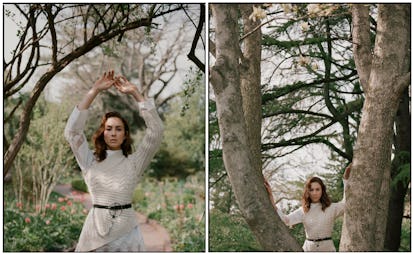 Photo by Alexander Saladrigas, styled by Caroline Grosso. Visual Editor: Biel Parklee. Hair by Lucas Wilson for Bumble and bumble, makeup by Min Min Ma at Honey Artists. Photography Assistants: Yoshi Park, Casanova Cabrera. Special thanks to Brooklyn Botanic Garden.
The first question I ask Troian Bellisario is more of a statement than a question, and an odd one at that: "I'm glad you didn't die."
Bellisario takes it in stride; at this point it comes with the territory. After seven seasons as Spencer Hastings, one of the the titular liars on the hit Freeform show Pretty Little Liars, her character is in the home stretch, having dodged death at nearly every turn by the hands of the nefarious über-villian, known only as 'A'. But the actress is not pleased.
"I definitely tried [to get killed off]," she said. "A) You want a death scene, and B) On our show, your character becomes infinitely more interesting when you die. I honestly felt that for this world to be truly dangerous, one of the Liars would have to die. Otherwise, 'A' is just always putting them in danger and still saving them."
If most of the above sounds like gibberish you, than you are not one of the 2 million viewers who avidly watch the show each week and speak the language: 'A,' 'Über A,' 'Spoby,' 'Sparia,' 'The Jenna Thing.' It's a dialect that Bellisario has been fluent in for the past eight years, but come the series finale in June, things are about to change.
"I was 23 when we shot the pilot," said the actress, now 31. "It's longer than you go to high school for, it's longer than you go to college; the only thing that has barely outlasted it in my life is the relationship with my now husband. This will always be my family and my home. I know it will be so different from this point on, but I don't know how I can really say goodbye to something that is so integral to me."
Though the final episodes just began to air last week, the show wrapped filming in October, making the last six months something of an extended goodbye tour for Bellisario and her fellow cast members, Lucy Hale, Shay Mitchell, Ashley Benson, and Sasha Pieterse. And an emotional one, at that.
"When they said, 'That's a series wrap on Keegan Allen [who plays Bellisario's character's romantic interest on the show],' I was like, 'Oh my God, my boyfriend is dead,'" recalled the actress. "And the next day, they were very nice and had us all do a scene together, so it was all the girls. I'll never forget the last shot we did was of Lucy, and we were all behind the camera hysterically crying…Afterwards, we knew they were going to take us outside, and usually there are maybe 15 people [from the crew] hanging around. There were like 50 people hanging around because we had these yearbooks and everyone wanted to be there. I'll never forget, everybody got kind of quiet and started to kind of push us [forward]. We were just moving as a fivesome, and I realized, 'They are about to say the words.' And then it was done."
The actress is going out with a bang, though, having directed the fourth episode of the season, set to air May 23rd, after years of encouragement from the crew. "When I got to actually direct, I couldn't believe it had taken me so long," she said. "And everyone was so supportive; everywhere I went there were high-fives."
It's an exciting time for Bellisario, no question about it, but an uncertain time, as well.
"I definitely had that crisis of 'Will I ever work again?' Because it's like suddenly I didn't have a job, and I've always known for eight years that I'd be going back to work in March, have my same parking spot, the same dressing room, all of that," she said. "I've never really dealt with unemployment—I was incredibly fortunate where I graduated from college, got a job in a play, where I met my husband, and got Pretty Little Liars, and now we are here."
But for anyone who meets Bellisario, even if just for a moment, it's clear that she's not about to sit around for the next few years. She's full of life and unabashedly passionate about acting and the world it encompasses. It makes sense, since it's the world she grew up in thanks to her parents: the actress Deborah Pratt and Donald P. Bellisario, who created Magnum, P.I., Quantum Leap, JAG, and NCIS. "From a very young age, I remember being involved in the craft," she said. "It wasn't just about being an actor or being famous because I saw my mom and dad go to work every single day. I saw them come home late at night and they were exhausted. I knew I was going to have to work my ass off."
So that's what she's doing. The actress recently wrapped Clara, a sci-fi film which will see her co-starring alongside her husband, Suits actor Patrick J. Adams. "It's really one of the greatest things when you get to go to work with one of your best friends," Bellisario said. "I know a lot of people don't like that, and want to have separate lives, but we had separate lives for seven years. I was in L.A. and he was in Toronto and we would see each other for 24 hours maybe twice a month. We really are such independent people and we don't need to work together; it's just fun for us."
Then there is Feed, a film Bellisario wrote when she was 23 about her own experiences with an eating disorder, due out this summer. "When I was in high school, I was confronted because I had lost a lot of weight and people around me were concerned, and they said, 'If you don't gain weight, you aren't going to college.' And I was like, I can't go from being the valedictorian of my graduating class to not going to college," she recalled. "I thought I was an utter failure, so I said, 'No problem, I'll eat.' But that wasn't the problem. The problem was I was suffering from a mental disease that is not solved by just putting on a few pounds."
The following year, while going to school on the East Coast, she was sent home and hospitalized for the illness. "I thought it was the end of my life, but then I realized it was a whole new way to start," she said. "Coming out of being hospitalized, the most frustrating thing to me was the people that I loved still didn't understand my experience with the disease…So I sat down for a long while and realized that if what I feel the most comfortable doing is telling stories, then why don't I tell a story about this? I wanted to try to put people like my father or my mother or my best friend in my shoes so that they could experience what I felt, and maybe understand."
Due to her busy Pretty Little Liars schedule, it wasn't until recently that the film became a reality, with Bellisario also taking on the lead role. "I really wrote this because I wanted to embody this role, even though a lot of people said, 'That might be putting yourself in a dangerous position,'" she said. "But the good thing with the more time that passed, the more emotional distance I felt from my engagement with the illness. The tough thing is that is always alive in you and when you engage with it, that is so loud, but I am at a different point in my life."
The actress is understandably equal parts thrilled and petrified. "It's a film that means the world to me, but it's also a first film," she said. "It's not a perfect film. I'm very nervous especially to share a darker side of myself with my fan base, who have only ever been supportive of me, but at the same time, that makes you really not want to let them down, especially when it comes to this issue that is this important. It's terrifying."
It's that combination of emotions that perfectly sums up Bellisario at this time, arriving at a crossroads of sorts.
"I feel like my life is going to be a little unrooted for awhile, and that's exciting and scary, which are kind of the same feeling," she said. "I do feel like for the first time in my life I get to decide who I want to be, and that's going to be a journey."
"Women's Rights Are Human Rights": 62 Fashion Insiders Speak Out in a Powerful Video for International Women's Day