Relive the Glory of Prince and the Revolution: Live in New York
The 1985 show, featuring performances of "Little Red Corvette" and "Purple Rain" is, frankly, way more thrilling than anything we could come up with in quarantine.
---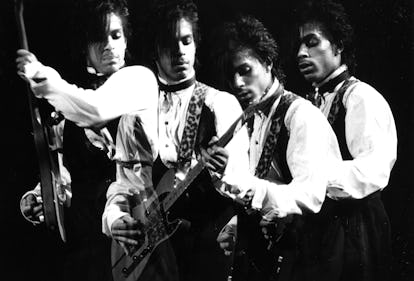 "Hello, Syracuse, and the world. My name is Prince, and I've come to play with you."
On March 30, 1985, Prince and the Revolution traveled to upstate New York at the height of Purple Rain mania, to perform at the Carrier Dome. Amid clouds of smoke, thousands of lighters in the crowd, and screams from his fans, Prince Rogers Nelson spoke these words to open his Live concert, starting the show with his hit, "Let's Go Crazy."
Today through Sunday night, you can revisit this performance through a streaming event YouTube is running in conjunction with the Prince estate. Via the YouTube video, donations can be made—each one will be matched by Google, and proceeds go to the COVID-19 Solidarity Response Fund for the World Health Organization.
The full Prince and the Revolution: Live album has also been made available today for stream and purchase on Spotify, Apple Music, and through the iTunes store.
Back in the Eighties, this was the first live concert footage Prince ever released—at that time, it was both televised, and on sale as a video tape for home viewing. At this nearly two hour-long show, he performed all the classics, including "When Doves Cry," "Darling Nikki," and "Purple Rain."
The nostalgia of watching such a huge, live spectacle from a legendary musician is not lost on us—and we're surprised it took this long into lockdown for the music industry to dip into the archives for content. Although it's great to watch Lady Gaga and Paul McCartney deliver performances from home, as they recently did for the "One World: Together at Home" benefit concert, it's much more exciting to recall a gig we might have attended in real life before the coronavirus pandemic began. There's a treasure trove of archived footage piled into some dusty corner that could be released, to the public's great joy. Why not throw Live Aid into the mix, too?
It's no different for fashion. While we were amused by the digital runway show put on by Carine Roitfeld at the beginning of May, there are plenty of presentations from the past to mine, not to mention the exemplary vintage fashion moments available on YouTube.
The addition of Prince's show-stopper from 1985 to the quarantine culture canon is a welcome gift. But it's difficult to decide what's more thrilling: listening to the vocals, iconic on their own, sung by Prince in "Little Red Corvette" and "I Would Die 4 U," or watching the enduring performer dance onstage, going through multiple costume changes—from a fur shoulder piece, to a cream-colored blouse, and then a sequined suit. Either way, you can now do both. It's just nice to hear his voice again.