The Royals' Birthday Tributes to Prince Andrew Predictably Backfire
The comments section of its Instagram tribute is well worth a read.
---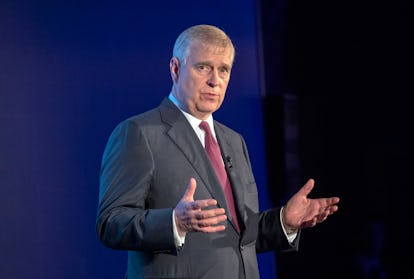 WPA Pool/Getty Images
Every year, on February 19, the royal family celebrates Prince Andrew's birthday. And somehow, this year is no different—never mind the fact that his 60th comes at a time when the subject of the Duke of York couldn't be more fraught. Over the past few months, Andrew has been forced to address his ties to the late sex offender Jeffrey Epstein, and to say that he's completely botched it might be an understatement. Eventually, even Andrew himself acknowledged as much; he stepped back from his royal duties in November. And yet he's still making trouble. Just a few weeks ago, a U.S. prosecutor publicly called out the duke for ghosting the FBI, despite promising to cooperate with its Epstein investigation.
Meanwhile, Andrew's mother, Queen Elizabeth II, has steadfastly maintained that the royals are still one big happy family. But on Andrew's 60th on Wednesday, it was clear that the rest of the world—including the British establishment—begs to differ. The Department for Digital, Culture, Media, and Sport has lifted the requirement for government buildings to fly the British flag in Andrew's honor, which is typically mandated on the birthdays of the Queen's children. The plan to promote Andrew to an admiral has also been scrapped.
Back in November, the Sunday Times of London reported that the Queen had preemptively cancelled the bash planned to mark Andrew's milestone. Whether or not she did have something grand in the works for Andrew, his birthday party on Wednesday was notably subdued. Only about a dozen guests gathered for a private dinner at the Windsor residence that Andrew shares with his ex-wife, Sarah Ferguson, though that seems to be more than was expected. According to the Daily Mail, enough of those invited claimed to be unavailable that Ferguson's assistant was tasked with sending out last-minute invites to "second-tier" replacements.
It's unclear if the Queen—who spent a portion of the day opening a hospital specializing in dental, ear, nose, throat, and hearing research—ever showed face. But Ferguson and her daughters with Andrew, Princess Beatrice and Princess Eugenie, did end up coming through. (Andrew is still expected to walk Beatrice down the aisle when she marries the millionaire property tycoon Edoardo Mapelli Mozzi in May.) Ferguson also paid tribute to Andrew on her Instagram, though Eugenie—who, unlike Beatrice, has a public Instagram account—has yet to follow suit.
Ferguson's support is to be expected. The same goes for that of Westminster Abbey, which stuck to its customary bell ringing in celebration of the birthdays of senior royal family members. (It's under direct jurisdiction of the monarch.) But for the royal family's official Instagram account to send its birthday wishes to one of the largest causes behind the Queen's second-ever annus horribilis? To many of @theroyalfamily's 7.5 million followers, that came as a shock. Ten hours after the standard birthday tribute was posted, its comments section was still blowing up.
"Hmmmm. I am not sure this message is appropriate considering what he has been a part of," reads a comment that has gotten more than 3,200 likes. Plenty others have likes in the thousands, too—especially those calling for the post to be deleted, and for Andrew to report to the FBI. Some reacted with sarcasm—"Good try"—and others with pure contempt.
And then there were those who couldn't resist making jabs at Andrew's infamous, catastrophic BBC interview. "Is that sweat I see on his brow?" read one of several references to Andrew's attempt to refute Virginia Giuffre's allegation that he had sex with her when she was 17. ("I have a peculiar medical condition which is that I don't sweat or I didn't sweat at the time," Andrew said in November, when disputing Giuffre's version of events.)
Strangely enough, even the crudest of comments—"He was such a cute baby, I'm sure he thinks so as well 😜" among them—remain untouched. @theroyalfamily gets plenty of engagement, but it's been known to curate the comments sections of its posts. (A number of less than glowing comments disappeared from its announcement of Megxit, for one.)
Many of the posts currently at the top of @theroyalfamily's feed have comments in the hundreds, but the tribute to Prince Andrew has 3,810 and counting. It seems that, almost immediately, they took on a life of their own. "Just here for the comments…" one person commented within minutes of it going up. It quickly earned its own comments section, and the laughing-crying emoji-filled replies in agreement have yet to stop.
Related: The Most Absurd Things Prince Andrew Said During His BBC Interview About Jeffrey Epstein