Fit for a King
Prince Charles launches a new line of luxury home products.
---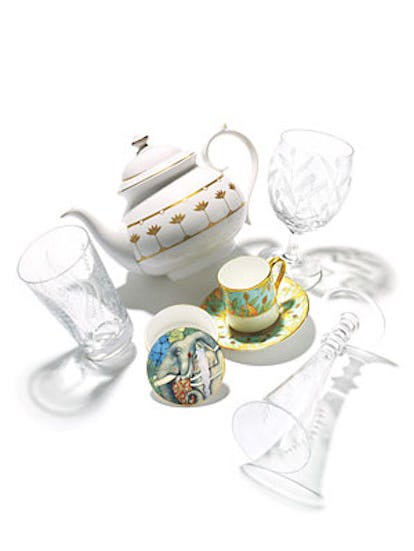 If there's anyone who already owns plenty of nice things, it's Prince Charles, but that hasn't stopped him from producing a few more. The heir to the British throne has unveiled a line of luxury goods and aims to take on the Tiffanys, Wedgwoods and Waterfords of the world.
Called Traditional Arts, the collection consists of china, crystal and silver designed by graduates of the Prince's School of Traditional Arts in East London and other young designers. The products went on sale in Britain and the Middle East in January and are set to debut in American stores later this year. Their colorful and delicate designs—featuring lotuses, suns and moons, swirling arabesques and tiny geometric patterns—are inspired by 11th- century Islamic manuscripts, miniature Mughal paintings and motifs from Egyptian myths.
Each design has a raison d'être, an approach that embodies the philosophy of the school, which is dedicated to reviving and preserving arts and crafts traditions. "Nobody else is doing what we're doing," says Nick Robinson, chief executive of Traditional Arts and formerly the managing director of Wedgwood UK and Europe. In particular, he points to the company's decision to produce the items at small companies—including Caverswall China, Staffordshire Crystal and Grant Macdonald—throughout Europe. Traditional Arts also takes custom orders, unlike most major brands.
Of course, this isn't the first time the Prince has parlayed his royal position into a business. In 1992 he helped pioneer the environmentalist craze in the UK, launching his Duchy Originals line of organic food and soaps, which now generates $100 million in annual sales. As with Duchy Originals, all the profits from Traditional Arts will be channeled directly into the Prince's Charities Foundation, the umbrella organization that includes the arts school, one of just a few in the West that teaches subjects such as stained-glass-window making, gilding, lettering and Islamic calligraphy. This fall the brand will move beyond the tabletop, offering cuff links, neckties and carpets. There are also leather journals made of the hides of deer that roamed the Balmoral estate, the royals' summer residence in Aberdeenshire, Scotland.
And while the project may seem a bold commercial move on the Prince's part—something unthinkable for his parents' generation—industry watchers believe it has legs. One reason for Duchy Originals' success, says Rita Clifton, a top London branding consultant, is that buyers knew the story behind the products and trusted that they were authentic. "Authenticity," Clifton adds, "is very important these days."
Retouching: Taylor Light Co.