Prince Charles Tried to Use Princess Diana's Style Icon Status Against Her
A new tell-all about the royal family reveals that Prince Charles implied that Princess Diana was "frivolous" because of how much she loved fashion.
---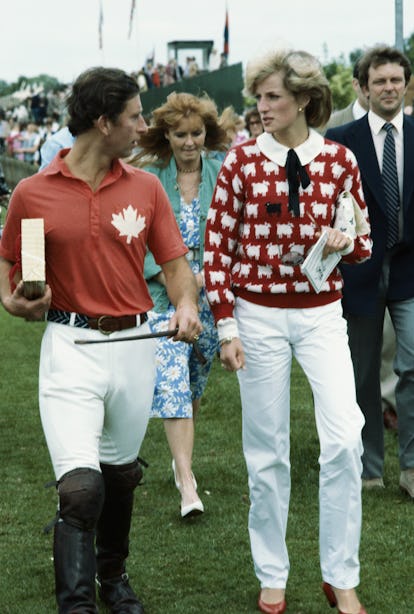 Princess Diana Archive
Thanks to a new season of The Crown, everyone's already got Princess Diana on the brain—but there's also a new tell-all that was published this week, and it covers everything you need to know about the late royal's love of fashion. It's called HRH: So Many Thoughts on Royal Style, and was written by fashion journalist Elizabeth Holmes.
As seen in season four of The Crown, when Princess Diana was initially introduced to the royal family, they delighted in her popularity and charm. Eventually, the story goes, they came to resent her for those very same attributes.
We continue to think of Princess Diana as a style icon. She had a keen interest in fashion, wearing everything from Versace glam to those very '80s shoulder pads, and even two decades after her death one could say she inspired the resurgence of the bike shorts trend.
But according to Holmes, Prince Charles used Diana's "interest in fashion, and the interest in her fashion, to paint her as shallow or frivolous" when the relationship between the two had completely soured. "What an outdated and unfortunate line of critique, especially because these women use their clothing so savvily," Holmes said. "Learning that, and learning that her clothes were used against her, was really sad to me."
It's sad, but not surprising, especially for those who have been catching up on season four of The Crown, which not only took painstaking efforts to recreate the looks worn by Diana in the early years of her relationship with Prince Charles, but also made sure to paint a portrait of the would-be king as someone who was clearly not over his ex-entanglement Camilla Parker Bowles and possibly a little bit jealous of the attention paid to Diana by the public (and attention paid to his sister Princess Anne, instead of him, by his father, Prince Philip).
When Prince Charles and Princess Diana split, she was already in the process of dedicating her life to philanthropic and humanitarian causes. The People's Princess, as she was called, remains beloved by many, so it's safe to say the plan to paint her as a flippant fashionista (when a love of style does not automatically equate to idiocy in the first place) backfired.
Related: The Crown Fact Check: Were the Queen's Cousins Hidden in an Asylum?