Breaking: Prince's Favorite Color Wasn't Purple, According to His Sister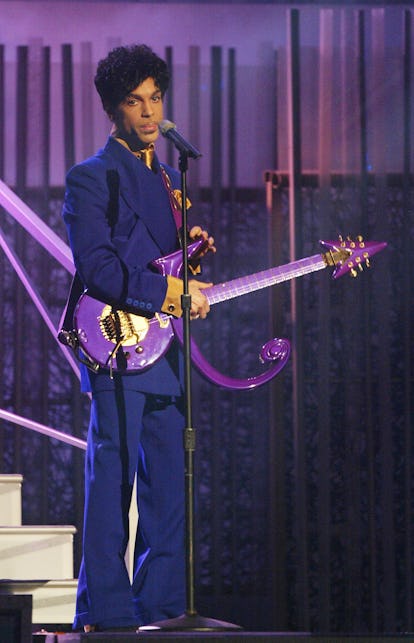 Getty Images
Though he died over a year ago, tragically and unexpectedly at age 57, Prince has continued to dominate the news cycle since, with a seemingly endless supply of unseen photos and untold stories emerging, from that time he snuck up on Cindy Crawford on the dance floor to his butler's reveal about the true extent of his boss's obsession with breakfast.
It's no surprise, then, that along with all that, there's also an upcoming exhibition, My Name Is Prince, opening this October in London, with unseen possessions and artifacts delivered straight from Paisley Park, including his stage outfits for the 1984-5 Purple Rain and the 1988-9 LoveSexy tours, his cloud suit from 1985's "Raspberry Beret," and his more recently used diamond-studded cane. The show is billing itself as the first ever official exhibition dedicated to him, which is a bit of a revelation in and of itself.
But the real truth bomb—if you can believe it's the truth—came this week in an interview about the show with the late musician's sister, Tyka Nelson, who's Prince's only remaining full-blood relative. "It is strange because people always associate the colour purple with Prince, but his favourite colour was actually orange," she said casually, while discussing the fact that the "stand out piece" for her in the show is Prince's orange Cloud guitar.
Not only is this earth-shattering anecdote sending Prince fans into a frenzy, but it's also not the best news for Pantone, who earlier this month announced a new shade of purple in honor of the musician.
There does seem to be some evidence to back up Tyka Nelson's claim: If you take a look at back at some of Prince's most memorable style moments, there's nary a swatch of purple in sight. He did, however, perform at the 2007 Super Bowl in orange, turn up to last year's Grammy Awards in a sparkly orange tunic, and make other such carrot-hued appearances over the years.
"It was always his wish to make all of the material made public, and I will do everything in my power to make sure his wish comes true," Nelson said of the thousands of hours of unreleased studio material, albums, live recordings and video footage that currently remain hidden away at Paisley Park. Who knows what else may be in store, but at least this time, she's giving us a bit of warning.
Exclusive: Never-Before-Seen Pictures of Prince, on His Birthday
Prince in the recording studio at Paisley Park.

Nicole Nodland
On the set of the "Love Sign" video, directed by Ice Cube.

Nicole Nodland
On the soundstage at Paisley Park, 1994.

Nicole Nodland
On the soundstage at Paisley Park, 1994.

Nicole Nodland
With The New Power Generation.

Nicole Nodland
With The New Power Generation in Miami, 1995.

Nicole Nodland
Prince with The New Power Generation.

Nicole Nodland
On the soundstage at Paisley Park.

Nicole Nodland
On the balcony of the Ritz Hotel in New York, 1995.

Nicole Nodland
Related: Salma Hayek Remembers Prince
Cindy Crawford, Chris Evans, Rami Malek & More Share Their Memories of Prince: