Prince Harry Says He Was 'Close to a Complete Breakdown' in Years Following Princess Diana's Death
The royal said he sought counseling.
---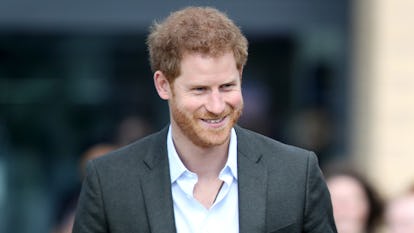 Chris Jackson/Getty Images
The royals have recently become major public advocates for mental health, but now, one member of the family is opening up about his own mental health challenges. Prince Harry spoke in a new interview about seeking counseling to cope with grief over his mother's death after enduring years of "total chaos" in his 20s.
Prince Harry opened up to The Telegraph in a 30-minute conversation for its Mad World podcast , revealing that while he's now in "a good place," he "[shut] down all his emotions" after Princess Diana died in a car accident in 1997 when Harry was just 12 years old.
"I can safely say that losing my mum at the age of 12, and therefore shutting down all of my emotions for the last 20 years, has had a quite serious effect on not only my personal life but my work as well," he said. "I have probably been very close to a complete breakdown on numerous occasions when all sorts of grief and sort of lies and misconceptions and everything are coming to you from every angle."
The prince, who acknowledged that he's sought therapy "a couple of times, more than a couple of times," buried his feelings over the loss of his mother in an attempt to seem like "life is great or life is fine."
"My way of dealing with it was sticking my head in the sand, refusing to ever think about my mum, because why would that help? [I thought] it's only going to make you sad, it's not going to bring her back," Harry said. "So from an emotional side, I was like, 'Right, don't ever let your emotions be part of anything.'"
Eventually, though, his brother, Prince William, convinced Harry to seek help for his issues. The younger prince said, "My brother, you know, bless him, he was a huge support to me. He kept saying, 'This is not right, this is not normal. You need to talk to [someone] about stuff. It's OK.'" The two princes, along with Prince William's wife, Kate Middleton, now work together on their foundation, Heads Together, to promote mental wellness.
Another way Harry learned to deal with his emotions: physical activity. Particularly, the prince revealed that he has a penchant for boxing. "During those years I took up boxing, because everyone was saying boxing is good for you, and it's a really good way of letting out aggression," he said. "And that really saved me because I was on the verge of punching someone, so being able to punch someone who had pads was certainly easier."
Prince Harry expressed that ultimately, seeking help has allowed him to progress both professionally and personally — the royal is, after all, currently in a serious relationship with actress Meghan Markle.
"Because of the process I have been through over the past two and a half years, I've now been able to take my work seriously, been able to take my private life seriously as well, and been able to put blood, sweat and tears into the things that really make a difference and things that I think will make a difference to everybody else," he said.
Related: Prince Harry and Meghan Markle Are Reportedly Moving Into Kensington Palace Together
See What's Trending in W Video: