Prince Harry and Meghan Markle Are Reportedly Moving Into Kensington Palace Together
A royal relationship milestone.
---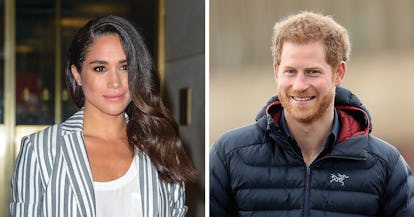 Composite. Getty Images
It seems that the U.K.'s royal family is making way for a new resident in London's famed Kensington Palace. Prince Harry's girlfriend, actress Meghan Markle, is reportedly moving into her beau's new apartment on the palace grounds, at least according to the British tabloid press.
The Daily Mail purports that the prince's two-bedroom apartment, known as Nottingham Cottage, is undergoing renovations in preparation for the couple, and Harry has been keeping a watchful eye on their progress. "He keeps popping round and asking when it will be ready," a source told the Daily Mail. "He seems in a real hurry to move in with Meghan."
Markle, meanwhile, is already reported to be a frequent visitor to Prince Harry's Kensington Palace abode. Of course, other royals in residence at the palace include Prince William, Duchess of Cambridge Kate Middleton, and their two young children, Prince George and Princess Charlotte. The family has also been making updates to its own wing of the castle, where they will reside permanently beginning in September, when George starts school. Harry's quarters are said to be closer to those of William and Kate, who boast a living space said to consist of 22 rooms and two kitchens.
Kensington Palace has not yet commented on Prince Harry's living situation, calling the topic a "private matter," nor would the palace comment on speculation of an imminent engagement of the two, although the Daily Mail's source said, "'It's sweet that Harry and Meghan will be living next to William and Kate."
Although moving in together is a major relationship milestone for the prince and the Suits star, the pair hax already taken their love on a global tour since the royals confirmed their relationship in November. Already, the couple has visited Jamaica's Montego Bay, and they made their way north to Norway to take in the romantic Northern Lights.
In case you're wondering what the Royal family's stance on living together before marriage is, it seems to be no big deal now. William and Kate also co-residing before officially tying the knot.
Watch Greta Gerwig Defines Royalty
Greta Gerwig Defines Royalty
Celebrate Queen Elizabeth II's 90th Birthday With Her, and the Rest of the Royal Court
Her Majesty Queen Elizabeth II.
© Hugo Rittson-Thomas.
Prince William, Duke of Cambridge.
© Hugo Rittson-Thomas.
Earl Marshal.
© Hugo Rittson-Thomas.
Garter Principal King of Arms.
© Hugo Rittson-Thomas.
Royal Mews Lady Coachman.
© Hugo Rittson-Thomas.
The Sovereign's Piper.
© Hugo Rittson-Thomas.
Yeoman of The Guard.
© Hugo Rittson-Thomas.
York Herald of Arms in Ordinary.
© Hugo Rittson-Thomas.
"The Queen's People," published by Assouline.