Prince Harry Interviewed President Obama, And Looked Endearingly Nervous Doing So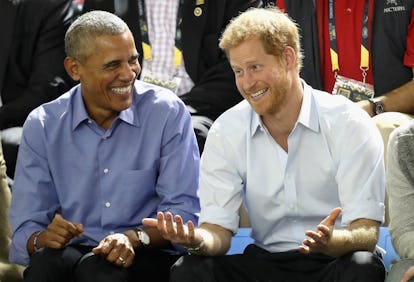 Photo by Chris Jackson/Getty Images for the Invictus Games Foundation
Prince Harry and (former) President Barack Obama is the bros-on-a-road trip movie we did not know we needed but now cannot live without. During Obama's visit with Harry during the Invictus Games in September—the very place where Harry was first publicly spotted holding hands with now fiancée Meghan Markle—the two men recorded an interview that will be broadcast in ten days on the BBC Radio and released as a podcast, per CNN. In a teaser for the interview released by the Palace Twitter account, Harry looks visibly (and somewhat adorably) nervous preparing to interview Obama. He tells him that if he takes too many pauses, he will get "the face," and Obama says he doesn't want to get "the face," but knowing Obama, he probably spoke as calmly and slowly as ever. He then offers to interview Harry, perhaps to put him at ease which the redheaded royal quickly declines.
Per the Palace's Twitter, the interview "includes [Obama's] memories of the day he left office and his hopes for his post-presidential life, including his plans to focus on cultivating the next generation of leadership through the @ObamaFoundation." Assumedly there will also be plenty more wit and banter between the charismatic pair. According to CNN, at one point Obama asked the royal, "Do I need a British accent?"
The interview will air on December 27 as part of Harry's "guest editorship" of BBC Radio 4 and "focuses on their shared interest in building platforms for the next generation of young leaders," per the Palace's Twitter. Additionally, Obama is said to have opened up about life post-presidency, memories of leaving the office, and his work with the Obama foundation. No word if the topic of a certain former Suits actress came up, however.
Related: Prince Harry Admits Meghan Markle Engagement is an "Unbelievable" Victory for Redheads
10 Elegant, Nearly Nude Nail Polish Colors That Will Shine Next To an Engagement Ring