Prince William's Coronavirus Diagnosis Shouldn't Come as a Surprise
Prince William reportedly caught the coronavirus back in April and was struggling to breathe—but should anyone be surprised?
---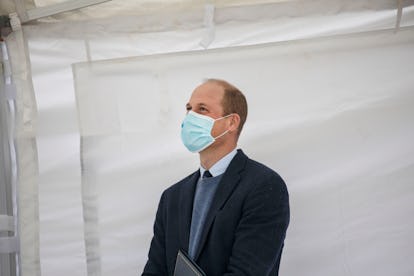 Getty Images.
Earlier this year, Prince William was caught up in a secret battle that none of us knew about, but probably should have suspected given the circumstances: he contracted the coronavirus in April.
The story—which the BBC published after hearing first reports in The Sun—is that the royal kept his diagnosis a secret because "there were important things going on and I didn't want to worry anyone."
Apparently, while the royal was reportedly having a hard time breathing, he self-isolated in Anmer Hall, the family's home in Norfolk, and was given treatment by palace doctors. He carried out some phone and video engagements during the month of April, but reportedly took about a week off to rest.
It does make some sense that Prince William did not want to alarm the public with the news of his diagnosis back in April, when the threat of the pandemic was arguably at its most confusing. After all, he is the second in line to the throne, and a handful of royals contracted the virus early on. His father, Prince Charles, was the first member of the British royal family to test positive for COVID-19. Hardly two weeks before testing positive, Prince Charles had been rubbing elbows with strangers across Europe on an international tour with Camilla, Duchess of Cornwall. He canceled the tour soon after the government began encouraging everyone to take the spread of the virus more seriously.
What's more interesting, though, is that after the royals resumed their public engagement duties in June, Kate Middleton was often spotted without a mask. One might think that after witnessing so many close family members contract the coronavirus, they would have gone out into the world as shining examples of how to demonstrate going out into the world safely.
Related: Kate Middleton Finally Realizes She Should Wear a Face Mask