Princess Anne Cautions the Younger Royals Against Getting Too Experimental
The self-described "boring old fuddy-duddy at the back" has a message for younger royals and their approach to philanthropy.
---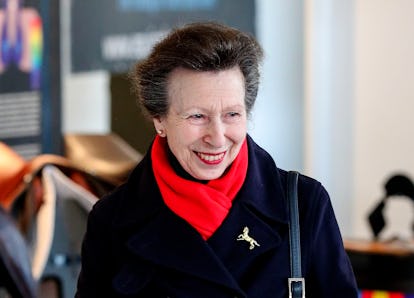 Photo courtesy Getty Images.
Princess Anne has a message for her younger counterparts.
In a Vanity Fair cover story, the Queen's daughter speaks about her nearly 70 years as a royal. Though she was never Princess Margaret-level wild, Princess Anne has never been one to follow rules to a tee, earning the reputation as a "rebel" and becoming an unlikely style icon over the decades.
The interview, which took place a month after Meghan Markle and Prince Harry announced they would be giving up their royal titles, included hints of support for the younger generation of royals, though some publications have already taken a few of Princess Anne's comments out of context.
Her suggestion that "You may need to go back to basics" have been taken by some publications to mean that she is chiding younger royals for shaking up the royal traditions, but this recommendation was not with regards to any presumably scandalous turn from any of the younger royals to shirk their positions and titles.
Princess Anne was ahead of her time years ago when she had her two children, Zara Tindall and Peter Phillips, and opted to not give them royal titles. "I think it was probably easier for them, and I think most people would argue that there are downsides to having titles," she told Vanity Fair. She strayed from making any solid political statements, but one could assume that she may support Meghan and Harry's decision to leave royal life behind. That "back to basics" comment was actually a suggestion regarding the approach to philanthropy, not living with or without royal titles.
"I don't think this younger generation probably understands what I was doing in the past and it's often true, isn't it?" she said, at risk of sounding like the self-described "boring old fuddy-duddy at the back."
"You don't necessarily look at the previous generation and say, 'Oh, you did that?' Or, 'You went there?' Nowadays, they're much more looking for, 'Oh let's do it a new way.' And I'm already at the stage, 'Please do not reinvent that particular wheel. We've been there, done that. Some of these things don't work. You may need to go back to basics,'" she went on.
Princess Anne Is a Modern Fashion Icon Hiding in Plain Sight
Princess Anne at the Chelsea Flower Show in London, two days after Meghan Markle and Prince Harry's royal wedding, May 2018.

Chris Jackson/Getty Images
Princess Anne on the grounds of Sandringham House, February 1970.

Central Press/Getty Images
Princess Anne with her arm in a sling after she fell off her horse in Kiev, Russia, for a championship competition, September 1973.

Tim Graham/Getty Images
Princess Anne on the opening day of the 2010 Olympic Games in London, July 2012.

Paul Gilham/Getty Images
Princess Anne on the grounds of the Windsor International Horse Trials in Windsor, May 2004.

Carl De Souza/Getty Images
Princess Anne on a visit to Kiev, Russia, September 1973.

Tim Graham/Getty Images
Princess Anne on the course of the first Gatcombe Park Horse Trials in Glouchestershire, August 1983.

David Levenson/Getty Images
Princess Anne at a theater in London, September 1973.

Tim Graham/Getty Images
Princess Anne at the Windsor Horse Trials in Windsor Great Park, May 1984.

David Levenson/Getty Images
Princess Anne at the Derby in Epsom, 1983.

Tim Graham/Getty Images
Princess Anne at Horse Trials in the U.K. with members of the Royal Canadian Mounted Police, 1968.

Jeremy Fletcher/Getty Images
Princess Anne with her cell phone and walkie-talkie at the Whatley Manor Horse Trials at Gatcombe Park in Stroud, September 2017.

Max Mumby/Indigo/Getty Images
Princess Anne at age 23, with her fiancé Captain Mark Phillips, at the London premiere of Jesus Christ Superstar, August 1973.

AFP/Getty Images
Princess Anne at John Smith's Grand National horse racing meeting in Liverpool, April 2011.

Max Mumby/Indigo/Getty Images
Princess Anne on a visit to the Ackworth Group of the Riding for the Disabled Association, June 1983.

PA Images/Getty Images
Princess Anne at St Giles' Cathedral's Thistle Service in Edinburgh, July 2016.

Max Mumby/Indigo/Getty Images
Princess Anne with Queen Elizabeth II and her grandson, Peter Phillips, at the baby's christening, December 1977.

Hulton Archive/Getty Images
Princess Anne in Gambia for Save the Children, February 1984.

Tim Graham/Getty Images
Princess Anne and her second husband Timothy Laurence at the 2016 Braemar Highland Gathering in Scotland, September 2016.

Mark Cuthbert/Getty Images
Princess Anne, pregnant with her daughter Zara, and her husband Mark Phillips, in Great Somerford, May 1981.

Tim Graham/Getty Images
Princess Anne on a visit to Zagorsk, Russia, May 1990.

Tim Graham/Getty Images
Princess Anne with her children Peter and Zara At the Royal Windsor Horse Show, May 1984.

Tim Graham/Getty Images
Princess Anne at a parade at Sandhurst Military Academy, August 1973.

Tim Graham/Getty Images
Princess Anne at the race course of the Cheltenham Festival, March 2017.

Max Mumby/Indigo/Getty Images
Princess Anne at the Save The Children Festival Of Trees in London, ca. 2000s.

Tim Graham/Getty Images
In other words, Princess Anne is very happy with the way the royals have taken on acts of service in the past, which for her involves working with the Save the Children foundation for 50 years, and being nominated for a Nobel Peace Prize. Could this be perceived as a snub towards Meghan and Harry's rebrand under the Archewell umbrella, which includes a non-profit rather than a foundation? Well, not exactly. It's just that she really values an on-the-ground approach to philanthropy. "It's not just about, Can I get a tick in the box for doing this? No, it's about serving," Princess Anne said. "It comes from an example from both my parents' way of working and where they saw their role being. I mean, my father served. It was a more direct form of service, I suppose you could argue."