Watch Princess Ayako of Japan's Formal Engagement Ceremony to Commoner Kei Moriya
The princess is giving up her royal title for love.
---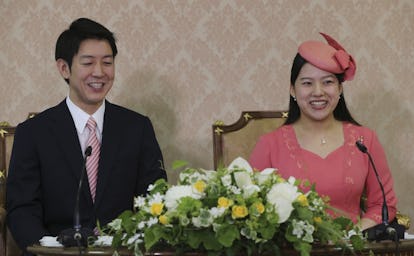 KOJI SASAHARA/AFP/Getty Images
In July, it was announced that Princess Ayako of Japan was following in the footsteps of England's Prince Harry and William by marrying a commoner, fiancé Kei Moriya. However, whereas Meghan Markle recently became a duchess—the Duchess of Sussex, to be specific—after her May 19 royal wedding, Moriya isn't scoring a similarly swanky title when he marries Princess Ayako. In fact, the Japanese royal is giving up her own title in order to wed her love. How's that for a fairytale? The engagement became official this weekend in a formal engagement ceremony in Tokyo.
According to Japan Times, the August 12 engagement ceremony—known as Nosai no Gi—is the first formal rite 27-year-old Princess Ayako and Moriya, a 32-year-old shipping firm employee and nonprofit board member, must complete before their wedding. In this particular ceremony, a messenger sent by Moriya paid a visit to the bride-to-be and her mother, Princess Hisako, with gifts of sake and sea bream—a formal display of the proposal.
The next ceremony on the docket is Kokki no Gi, the rite of announcing the wedding date, set to be held on September 19 at the Takamado imperial residence, per Japan Times; another formality, as the big day has already been set for October 29 of this year.
See more: 30 Royal Wedding Dresses You Have to See
Princess Ayako isn't the first of Japan's royals to give up her title all in the name of love. Last year, Princess Mako—Princess Ayako's second cousin and the eldest granddaughter of Emperor Akihito and Empress Michiko—announced that she would be renouncing her own title to tie the knot with her longtime boyfriend and commoner Kei Komuro. (It was announced in February that their nuptials will be postponed until 2020). And prior to this pair of princesses, Princess Sayako—Princess Mako's aunt and the Emperor's only daughter—also ditched her princesship to wed her commoner hubby.