Monaco's Princess Charlene Posts Photos of Twins Prince Jacques and Princess Gabriella After First Haircut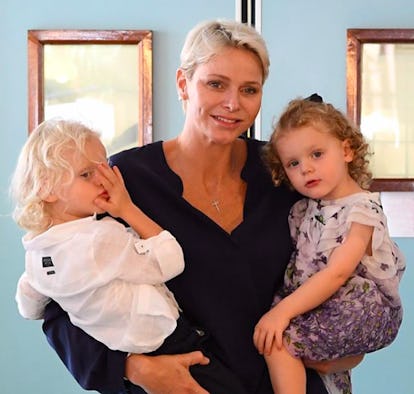 Eric Mathon/ Palais Princier
Instagram knows no stature or class as former president Barack Obama and, more recently, Princess Charlene of Monaco know. The latter couldn't help but share a moment from her twin children Prince Jacques and Princess Gabriella's first haircut, and it's easy to see why. The twins define adorable in the photos Princess Charlene posted, which show Princess Gabriella's freshly trimmed wavy bob and Prince Jacques' swooped side part in which he appears to have lost the ponytail he had been spotted in on his mom's prior Instagram posts. While a first haircut is often daunting for some kids, the Monaco royals seemed to have a blast throughout the process.
Afterwards they even hugged, presumably to many "aww"s in the hair salon. "Our First Haircut," Princess Charlene captioned the photo, which is currently full of heart emojis in the comments section. For comparison, you can see Prince Jacques and Princess Gabriella's longer hair in the photos that preceded it.
The twins' haircuts come on the heels of a recent news item about their royal relatives. Last week, it was revealed that Grace Kelly treated her future husband Prince Rainier as any other suitor during their courtship period, requesting that he actually help out around the house. The details around their relationship were shared by Kelly's sister Lizanne Kelly Levine in a new biography on Kelly by Jay Jorgensen and Manoah Bowman titled Grace Kelly: Hollywood Dream Girl. "Don and I were at our own little apartment, and we asked them over for dinner," she told the authors. "He fit in very well—even helped with the dishes. Rainier, when we first met him, I think might have been a little shocked with us when we'd say 'Come on, Rennie,' you know. But he fit into the family beautifully."
While Princess Charlene takes after Kelly's blessed genetics, it is actually her husband Prince Albert who is a descendent of Kelly and Prince Rainier. Albert, who has two sisters Princess Caroline of Hanover and Princess Stéphanie, married Princess Charlene in 2011. Together, the couple have two children, Prince Jacques and Princess Gabriella. As for which twin is first in line for the crown, after their births it was revealed that despite the fact that Princess Gabriella came into this world two minutes ahead of Prince Jacques, according to People, Monaco's law that the firstborn son receives royal inheritance means that her brother will be the first one anointed.