Why Princess Diana's Infamous 1995 Interview Is Back in the News
A quarter-century later, there are still doubts as to why the late royal got so candid with Martin Bashir.
---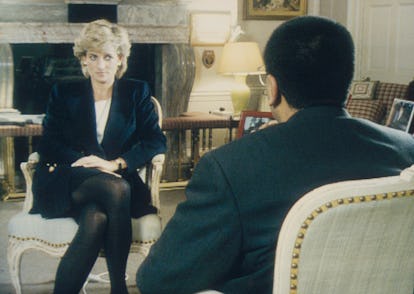 © Pool Photograph/Corbis/Corbis via Getty Images
Almost everything we know about Princess Diana's personal life stems from her 1995 bombshell interview with Martin Bashir. She opened up about her mental health issues, including "rampant bulimia," and expressed her doubts as to whether her husband, Prince Charles, could handle being king. And, most notably, she openly discussed their infidelities. (Who could forget her remark that "there were three of us in this marriage," in reference to Charles and Camilla Parker Bowles?) Needless to say, the royals were stunned; even Queen Elizabeth II encouraged the couple, who were then legally separated, to divorce.
So, how did Bashir pull off such a coup? According to some—most prominently Diana's brother, Earl Spencer—Bashir secured her trust by doctoring bank statements, suggesting that royal employees close to Diana were being paid to spy on her. The BBC first investigated such claims in 1996, ultimately deciding to clear Bashir. But at Spencer's urging, they're once again conducting "a robust and independent" investigation. "The BBC is taking this very seriously," Tim Davie, the network's director general, said on Monday. "We want to get to the truth."
The BBC has apologized for the forged documents, but still insists they played "no part" in Diana's decision to do the interview. Investigations into a handwritten letter in which apparently she says much are ongoing.
According to the BBC, Bashir is currently unable to participate in its latest investigation. (He's recovering from both quadruple bypass surgery and Covid-19.) In the meantime, the graphic designer he reportedly commissioned is finally speaking up. In a documentary aired on BBC's rival network ITV earlier this week, Matt Weissler readily admitted that he created the documents, but claims that Bashir never informed him of how they would be used. (Weissler now blames the incident for ruining his career.)
Regardless of when the investigation concludes, renewed interest in the interview is guaranteed to continue over the next few years. Peter Morgan, the creator of The Crown, has confirmed that the series will lead up to the early 2000s, meaning the series will cover it in seasons five or six.
Related: Prince William Addresses Princess Diana's Bulimia for the First Time